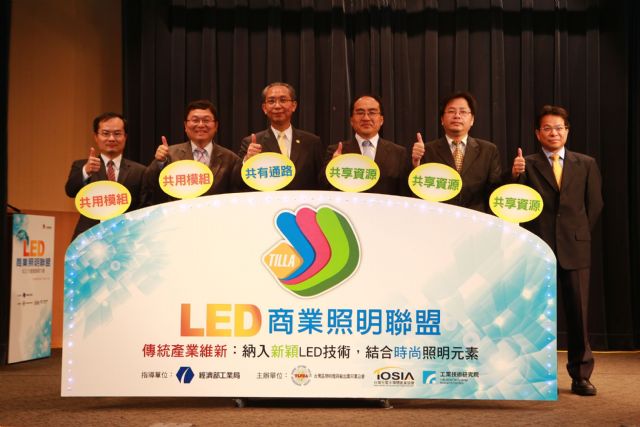 (From left to right) TILLA inaugurated by EORL Director General C.T. Liu; TOSIA Chairman B.L. Wang; TLFEA Chairman Steven Lin; IDB Deputy Director J.H. Leu; Senior Executive Officer J.Y. Chou of Department of Industrial Technology (DoIT), MOEA,; Director H.T. Lin of 3rd Division of Bureau of Foreign Trade, MOEA.
Endorsed by the Ministry of Economic Affairs (MOEA), the government-backed Industrial Technology Research Institute (ITRI), the Taiwan Lighting Fixture Export Association (TLFEA), and the Taiwan Optoelectronic Semiconductor Industry Association (TOSIA) have co-formed the Taiwan Intelligent LED Lighting Association (TILLA) to reinvigorate Taiwan's LED-lighting industry.
The TILLA will prioritize developing common modules, strengthening design capability, building quality distribution channels, and pushing LED-lighting demonstration projects, ultimately to help the island's LED-lighting makers seize business opportunities in the global brand market.
According to TLFEA Chairman Steven Lin, alliance members will integrate own advantages in a common resource pool to develop common modules, which will help bring down production cost of the island's LED-lighting makers, and to enhance design capability by emphasizing lighting-fixture marketability and features, as well as lighting effect on users.
Lin pointed out that the alliance will build quality international distribution channels for the island's LED-lighting makers with brick and mortar stores, export, direct selling by lighting manufacturers, and e-commerce network. And the demonstration projects will target commercial lighting this year, residential lighting next year, and intelligent lighting the following year.
The alliance will operate for three years to start, during which operating goals will be set depending on market penetration of LED lighting.
The alliance is made up of around 50 local lighting-fixture makers and LED makers aboard, including China Electric Mfg. Co., Ltd., Rodan (Taiwan) Ltd., Epistar Corp., Everlight Electronics Co., Ltd., and Lextar Electronics Co., Ltd.
According to Deputy Director General J.H. Leu of the Industrial Development Bureau (IDB), MOEA, the LED-lighting alliance is one of the 12 industrial alliance projects the government has been promoting since 2012 to reinvigorate the 12 traditional industries, including tourism and hand tool.
Director General of Electronics and Optoelectronics Research Laboratories (EORL), ITRI, C.T. Liu pointed out that the laboratories will continue developing system-integration technologies for the island's LED-lighting industry.
TOSIA Chairman B.L. Wang pointed out that LED lighting's market penetration will rise to an estimated 20% worldwide by the end of this year. Inspired by the bright market forecast, the alliance will coordinate traditional lighting-fixture makers, LED-module makers, and lighting-fixture designers to develop more application products for LED to build more brands globally. (KL)