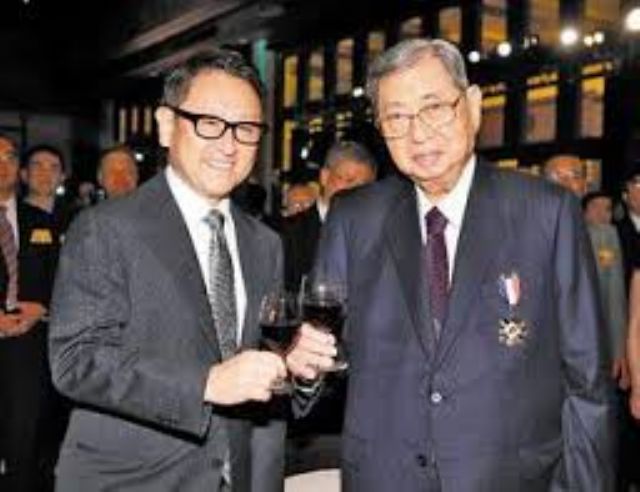 Akio Toyoda (left), president of Toyota Japan, and Kuozui's former chairman Su Yann-huei at Kuozui's 30th anniversary party.
Akio Toyoda, president of Toyota Motor Corp., recently came to Taiwan for the 30th anniversary of Kuozui Motors Ltd., Toyota's auto assembler in Taiwan.
Addressing the attendees at the ceremony, Toyoda announced that Kuozui targets annual production volume of 200,000 cars, including some 100,000 units for export, with the Taiwanese subsidiary expected to report revenue of more than NT$100 billion (US$3.33 billion) for the first time, making it the first world-class automaker on the island.
Kuozui is a joint venture between Toyota Japan (70%) and Hotai Motor Co. Ltd. of Taiwan, local agent of Toyota and a major car seller in Taiwan. Attending Kuozui's 30th anniversary was Toyoda's first public event in Taiwan since taking the helm as Toyota's president in 2008.
Chang Chia-juch, Minister of the Ministry of Economic Affairs (MOEA), said at the event that he hopes Toyoda would continue allow  Kuozui export locally assembled Toyotas, further expand Kuozui's production capacity, widen Kuozui's export markets from mainly the Middle East to other nations, and increase Kuozui's export models.
Toyoda also expressed appreciation for Taiwan's patronage for Toyotas, as well as Taiwanese aid to Japan after the March 11, 2011 massive earthquake.
A senior Kuozui executive pointed out that with support from Toyota Japan, Kuozui began exporting locally assembled Toyota Corolla Altis sedans in 2009 with the first annual export volume of some 7,000 units. In 2013, Kuozui's export volume increased to some 81,000 units, and is expected to outstrip 100,000 in 2014, which is expected to help generate production value of more than NT$20 billion (US$666.7 million) for the local automotive industry,
With the start of production of several new  models for domestic sales and the local automobile market recovering, Kuozui is also expected to deliver some 100,000 cars to Hotai.
Su Yann-huei, former chairman of both Kuozui and Hotai, recalled taking over a financially-troubled automobile company in 1984 and turned it into Kuozui. After 30 years of development, Kuozui is expected to finally achieve an annual production goal of 200,000 units, which was announced and pursued by the government many years ago.
Kuozui operates two auto assembly plants both in Taoyuan County, northern Taiwan: one in Chungli with annual production capacity of some 100,000 units, and another in Guanyin about 66,000 units.
Kuozui's Auto Production and Exports (2007-2014)



2007

2008

2009

2010

2011

2012

2013

2014*

Annual Production

100,300

67,900

93,300

122,300

157,000

173,600

173,700

200,000

Export Volume

--

--

7,107

30,445

50,625

66,946

81,000

100,000

*: Target
Source: Kuozui.

Caption:  Toyoda (left), president of Toyota Japan, and Kuozui's former chairman Su Yann-huei at Kuozui's 30th anniversary party.