By STEVE CHUANG

Presenting a comprehensive lineup of trend-setting security and safety technologies and products, Secutech 2014 (The 17th International Exhibition and Conference for Electronic Security, Info Security, Fire and Safety), held March 19-21 in the TWTC Nangang Exhibition Hall in Taipei, northern Taiwan, saw a bigger turnout than its 2013 edition.

Organized by Messe Frankfurt New Era Business Media Ltd., the show hosted more than 500 exhibitors from 17 countries across 1,200 booths over 35,000 square meters. The three-day event drew 26,127 visitors from 91 nations, up 1.24% than 2013 and including 2,660 from abroad, mostly from Japan, China, Korea, Malaysia, Thailand and the Philippines, according to the organizer, who adding that buyers from Afghanistan, Vietnam, Mexico, Australia, France and Belgium also increased notably.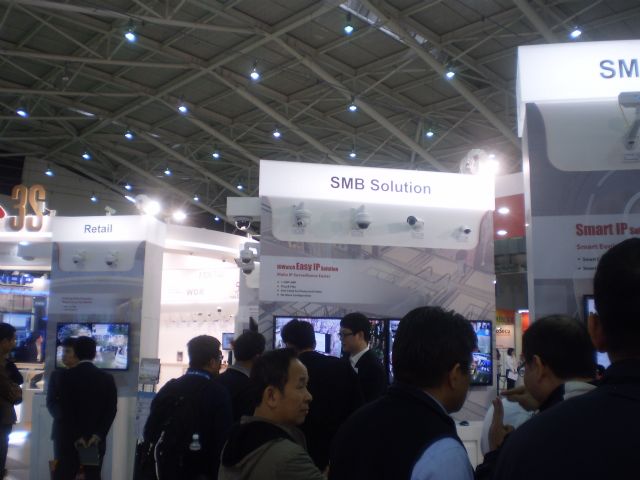 Secutech 2014 draws more than 26,000 visitors.
Parson Lee, managing director for Messe Frankfurt New Era Business Media, noted that over the past 17 years, Secutech has consistently provided one of the best opportunities to exhibitors to connect with existing customers, as well as discover new business in Asia.
Four-in-One Event
As usual, this year's Secutech was a 4-in-1 event focused on different product themes: CompoSec on storage, image processing, smart mome & IOT (Internet of Things), and related accessories; SMAhone on the newest home cameras with motion detection and value-added function, network connected solutions and cloud services; Fire & Safety on fire and disaster prevention applications; Info Security on cloud applications, APT (advanced persistent threat) attack, BYOD (bring your own device) management and regulation compliance.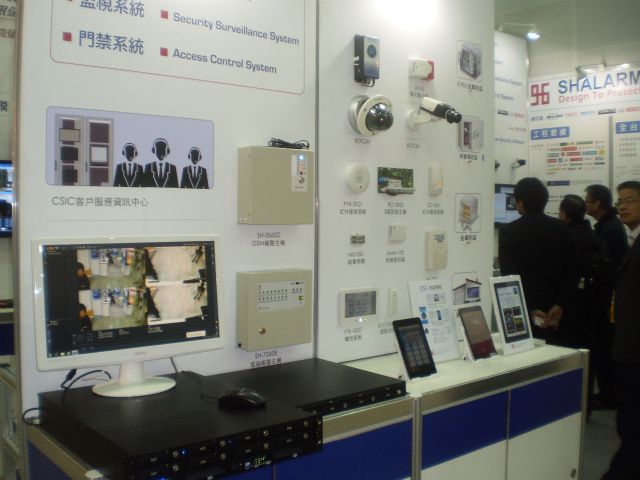 Access control systems on display at Secutech
Secutech 2014 covered IP megapixel cameras, HD surveillance cameras, video capturing and system management software, transmission and storage devices, access controllers, biometric devices, access cards and readers, locks and related hardware, intrusion alarms, smart home devices, intelligent building security systems, application solutions, vehicle security products, police equipment, personal protection products and fire protection instruments, as well as GPS and satellite communication devices, rescue tools, IT devices and related software. CCTV (closed-circuit television) upgraded cameras, and high definition surveillance cameras, along with related equipment, such as NVR (network video recorders), DVR (digital video recorders), network switches, and systems, for IP video surveillance were the biggest hits with visitors at the show.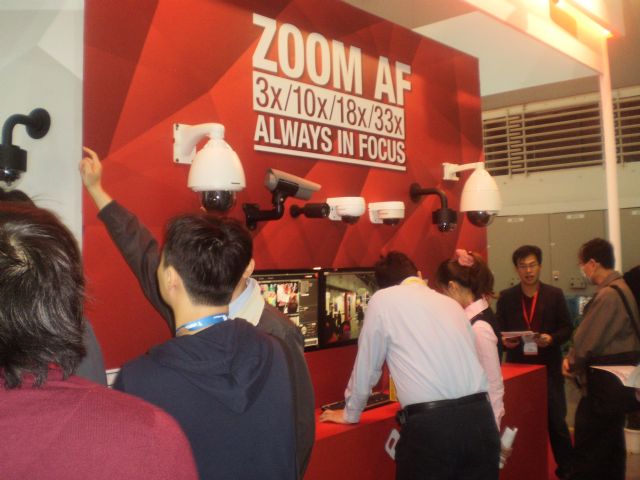 Surveillance video cameras are the most popular exhibits among visitors.
Among the exhibitors, Vivotek Inc. presented its Panoramic PTZ, a megapixel fisheye camera providing 360 degree surround view without blindspots; Compro Technology Inc., showcased TN600R, a C4Home cloud camera device with integrated remote home automation features to allow infrared control of home appliances, such as TVs, air conditioners, home theaters with a smartphone; and Ronix promoted its RWS-AFZ39SN, an auto focus zoom camera with full HD-SDI, WDR 2MP solution and the Smart Motion Zoom technology.
Added Events
In addition to the latest products and technologies, Secutech 2014 also held several supporting events that were focused on innovation and growing trends in the security industry.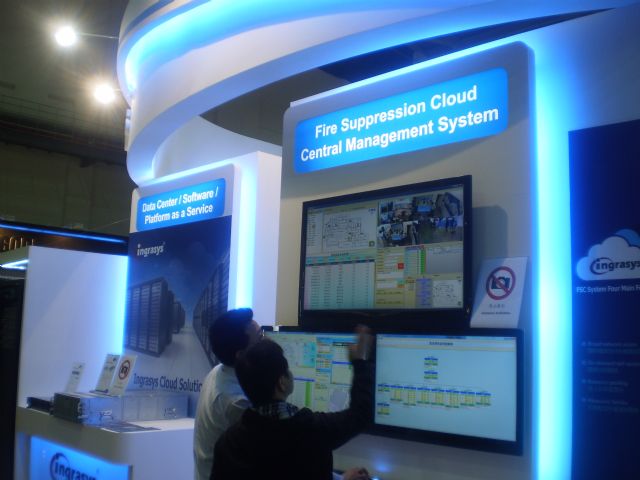 The fire suppression cloud control management system is integrated with cloud technology for easy, effective, efficient monitoring.
Secutech Excellence Award, held March 19-20, honored the best brands, including Alhua, Bosch, Hikvision, QNAP and Sony, in IP cameras and NVRs with cameras that offer superior quality under low-light environments.
Meanwhile, Global Digital Security Forum Asia 2014 provided insights into the growth of video management systems through extensive, in-depth lectures given by professionals involved in security, IT system integration, consulting and distribution, including a case study presentation from Suwich Chitkasemsuk of Digitalcom, Thailand, regarding the security management system deployed in Thailand's Customs Department. The forum was also highlighted with a panel discussion on the present and future state of video management systems from such influential brands as Aimetis, Milestone, Mirasis and Verint Systems.
SMAhome International Conference was an inaugural event focused on development of home security camera technology, covering WIFI and other wireless transmission-based security cameras for comparison purposes.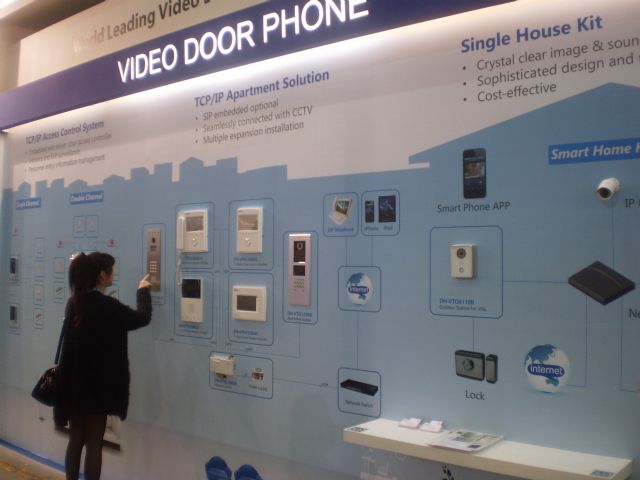 The integrated video door phone system is developed with network connectivity for both commercial and residential use.
Held for three days in conjunction with Secutech, CompoSec was a comprehensive platform for security device component suppliers to present designs and solutions as a cohesive collection, in one of the most in-demand sectors of the security market. Over 70 brands such as ADATA, Fujitsu, Hitachi, Intel, Microsoft and Semtech showcased products.
To help Taiwanese suppliers from the hardware, building materials and tools sectors expand into the security and safety market, CENS, Taiwan's most experienced export media, participated in Secutech 2014 to distribute buyer guides, including
Bath, Building Safety and Security Equipment,
Hardware
and
Guidebook to Taiwan Hand Tools
, and effectively captured attention of  quite a few foreign buyers.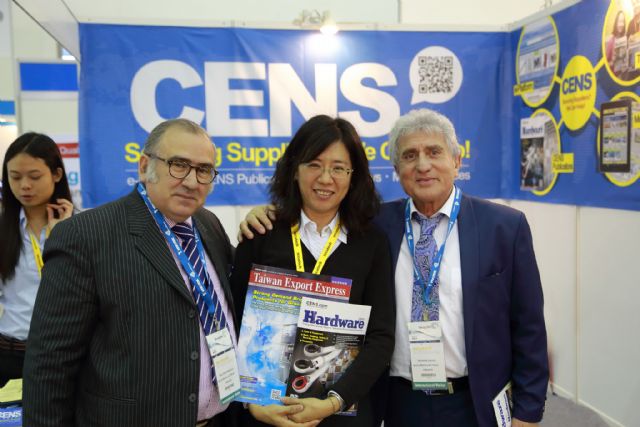 Foreign buyers give thumbs up to CENS publications.
The next Secuteh is scheduled April 28-30, 2015, in the same place.