The LED packager Solidlite Corp., founded in  2001 in Taiwan, will exhibit a series of patented LED lighting products, including package-free LED emitters, LED remote phosphor caps, LED horticultural systems, and LED sensor lamps at the 2014 Guangzhou International Lighting Exhibition scheduled for June 9-12.
 
The package-free emitters come in three sizes: 1.6mm (L) x 1.6mm (W) x 0.4mm (H), 1.5mm (L) x0.9mm (W) x 0.4mm (H), and 1.2mm (L) x 1.1mm (W) x 0.3mm (H). The largest one is rated 3W while the rest are rated 1W. Luminous efficacy is 130 lm/W for all.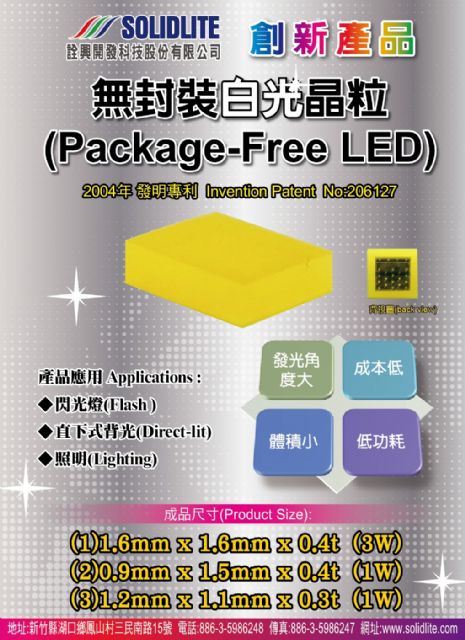 Package-free LED
The emitters feature low cost, wide beaming angle, low power consumption, and compactness, making them ideal for applications including digital-camera flash, direct-lit backlight, and lighting fixture.
The company won Taiwan patent on the emitters in 2004.
Its remote phosphor cap is bullet shaped, allowing it to fit various blue LEDs with wavelength of 455nm to generate a 3000±100K warm white light with CRI higher than 81, with conversion efficacy of 200 lumen per watt at 25C. The cap was patented in 1995.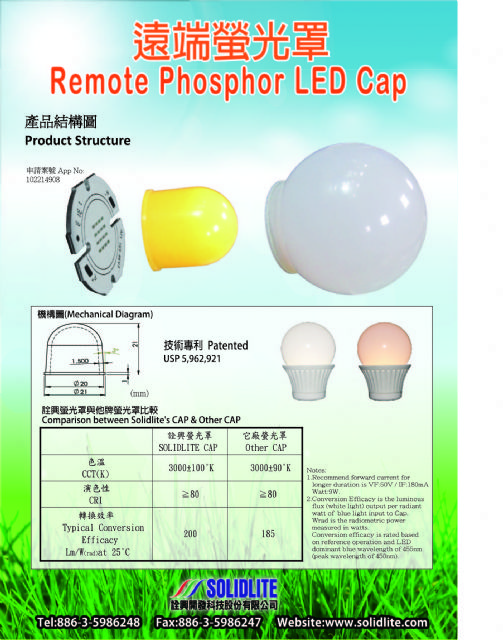 Remote phosphor cap
Solidlite's horticultural grow box doubles as an aquarium. The system comes with a number of features, including a wideband LED light source, the use of organic substances (mainly peat soil and coconut fiber) as a substitute for chemical fertilizers, and a water circulation system that pumps bio-waste fluid from the aquarium to irrigate hydroponic plants and then purifies the irrigation water for reuse in the aquarium.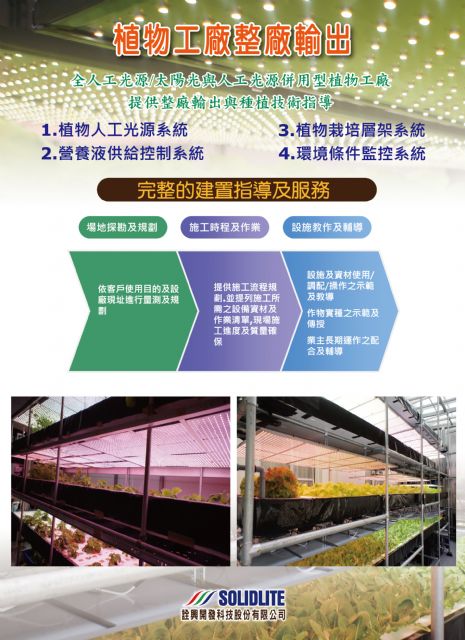 Horticultural system
The grow box is divided into two parts, with an upper space for growing plants and a lower space for fish, with the plant-fish format achieving economy by saving water and electricity.  
At a 200-plus square meter horticultural farm in China, the company's system is putting out 1.5 tonnes of vegetable a month, as well as  flowers and medicinal herbs.
Solidlite's sensor lamp generates 800 to 1,000 lumens depending on model, equivalent to that produced by 60W incandescent bulb. The lamp has effective sensing diameter ranging three to five meters. It is dimmable, with typical intensity set at 30% and 100%, or 50% and 100%. Tri-stage switch is available in the tailor-made lamp. (KL)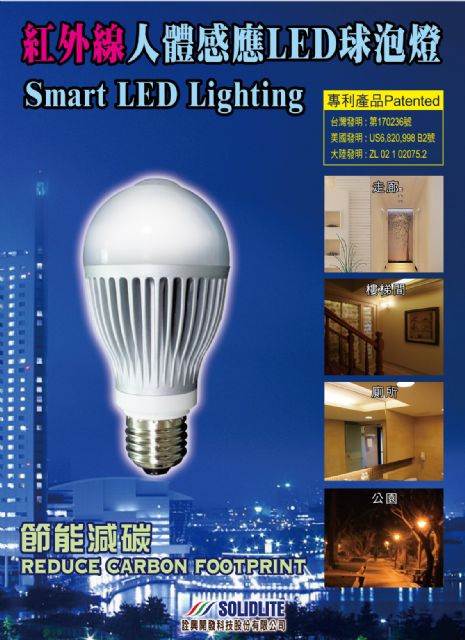 LED sensor lamp