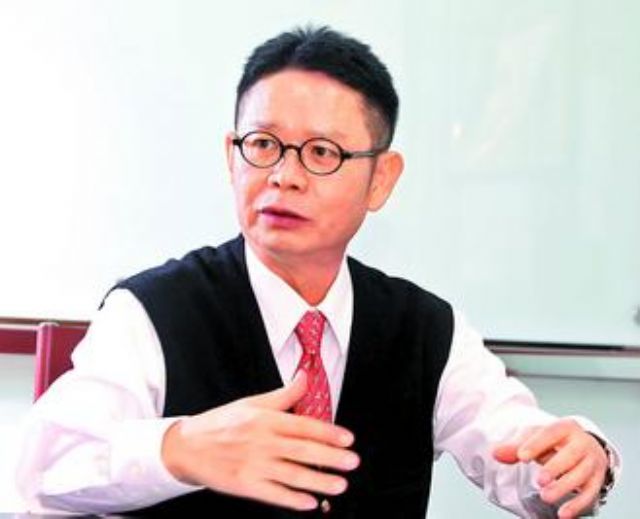 Crispin Wu, Tong Yang's president.
By QUINCY LIANG
After gaining a solid foothold in China, the world's largest automobile market, Taiwan's major auto-parts maker Tong Yang Industrial Co., Ltd. recently announced that it will focus investment over the next few years on the island.
Crispin Wu, Tong Yang's president, said that his company has set up a technical R&D center at its headquarters in Tainan, southern Taiwan, and will in 2014 invest about NT$3 billion (US$100 million) in production-capacity expansions, which will widen its lead over global competitors.
Tong Yang is the biggest global maker of automotive aftermarket (AM) plastic body-parts by market share, as well as an important original equipment (OE) body-parts supplier to most local auto assemblers, and an increasingly important supplier to global automakers.
Tong Yang decided to set up the technical R&D center in Taiwan due to easy access to personnel and related resources, Wu explains. The center has multiple functions, including designing new production facilities for global production, mapping out new capacity-expansion plans, new-product development, turnkey plant exports, and transferring experience to shorten learning period and cutting group costs.
Regarding his company's capacity-expansion projects, Wu says that the European debt problems are under control, and recovering economy and consumer confidence will ramp up new-car sales and demand for AM replacement parts. In recent years, he adds, Tong Yang has been aggressively expanding production capacity, and the goal is to be fully prepared for the future.
AM & OE
Regarding Tong Yang's AM parts business, Wu claims that his company can widen the lead from global competitors through continued production-capacity expansions. Wu is upbeat about his company's investments in raising AM-parts production capacity, and says that increasing new-car sales worldwide will generate stronger demand for AM items.
Tong Yang owns a 78% share of global AM plastic body-parts market, and about 30% in sheet-metal body parts. With vehicles aging, Wu says, most car owners are likely to use more AM replacement items for repairs rather than more-expensive OE items. The continuously expanding global demand is also greatly benefiting bigger suppliers such as Tong Yang, Wu adds.
Also fueling Wu's optimism towards the global AM parts market is the ample development space for collision parts that are replaced due to accidents such as bumpers, side mirrors, auto lamps, engine hoods, door panels, cooling radiators etc. Currently, Wu explains, the majority of car owners in Europe and the United States adopt OE parts for car repair, because of the comprehensive and mature insurance system. However, the proportion of  AM items adopted by insurers worldwide has been gradually increasing after the global recession in 2009 due to cost savings.
Quoting the United States as an example, Wu says, the adoption ratio of OE-to-AM parts for  insurance claims were about 85%-to-15% before the global recession, and now about 80%-to-20%, and that the AM-parts adoption  will continue to climb.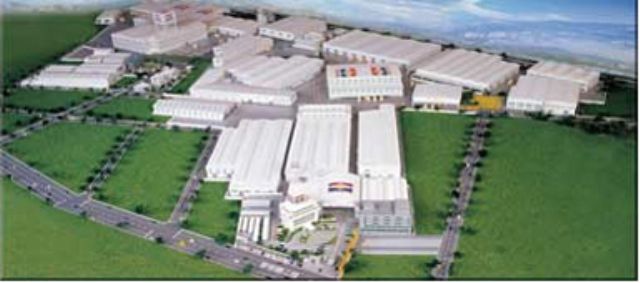 Tong Yang's 4.32 million sq. ft. plant complex in Tainan, southern Taiwan.
NT$10 B. Investment in 3 Years
Including that in 2014, Tong Yang's investment in the next three years will total about NT$10 billion (US$330 million), which, Wu deems justifiable for a company's production capacity, has to be ready before market demand peaks, lest any good opportunity should be missed.
Taiwan is currently Tong Yang's major production base of AM parts, and the company plans to add a new plastic-item production factory by the end of 2014, to ramp up such local capacity by 80%; and a new, highly automated metal fender production line, to elevate such capacity by 78%. That means, Tong Yang's AM-parts production capacity in Taiwan will quadruple that in 2011.
Tong Yang is also a major OE body-parts supplier to many local automakers. This year, Wu says, new-car sales in Taiwan are expected to continue to grow to about 400,000 units, and his company has won new orders from Nissan, while also striving to tap into Toyota's local supply chain. Since 2005, Wu says, new-car sales in Taiwan has been falling to some 300,000 units a year, and only in the past two years the annual volume has rebounded to some 360,000 to 370,000 units. Most local OE auto-parts suppliers have stopped investing in new capacity, except Tong Yang, which inaugurated a new production line at its OE-parts factory in Guanyin, Taoyuan County of northern Taiwan.
China
As the most aggressive auto-parts investor across the Taiwan Strait, Tong Yang currently operates 17 subsidiaries or joint ventures (most with Chinese automakers) in China.
Since 2010, Tong Yang has begun integrating all the resources in its Chinese subsidiaries, to sharpen competitiveness by resource relocation and for better future development. With accumulated technical capability and operating experience, Tong Yang takes part in Chinese automakers' vehicle development and has become a first-class OE supplier in the world's biggest automobile market.
Over the past 20 years, Tong Yang has set up 17 production points throughout China, making it the largest investors there among all Taiwanese counterparts. A recent example is a joint venture factory with FAW Group in Foshan, Guangdong Province, which kicked off mass production in August 2013 with annual production capacity of 300,000 sets. To date, Tong Yang's Chinese ventures have dominated  big-ticket orders from first-class Chinese automakers, including FAW, Changan Group, Dongfeng Group among others. A newly inaugurated venture in Changsha, Hunan Province now supplies parts to GACG-Fiat, and another one scheduled to kick off production by the yearend will ship parts to Dongfeng Nissan and Zhengzhou Nissan, according to Wu.
The factory of Tong Yang's Chinese subsidiary Foshan Tong Yang in Guangdong Province is being constructed, with about 50% of the new   capacity having been booked by new Toyota and Nissan cars assembled in China.
Tong Yang has tapped into the supply chains of the top-10 automakers in China, who together own an 88% share there, driving Wu's confidence in his business in China.
Tong Yang's Operation Results (2010-2013)
Details
"An enterprise's core competitiveness often comes from details. If everyone in the enterprise tries to be detail-minded, then the accumulation of these efforts becomes the core competitiveness," says Wu.
At Tong Yang's factories, a visitor won't see waste metal or oil residue on the floor as the hidden conveyers beneath the floor carry away such waste from robotic stamping for disposal. Such disposal system, one of many at the factories, cuts interruption of production lines and save cleaning costs.
Everyday Wu inspects the 4.32 million square feet plant complex in Tainan at least once, sharing photos taken with smartphone and notes with staff for immediate improvements. Wu also asks Tong Yang's senior managers at overseas facilities to report production-line improvements or plant construction status to refine every detail.
Such approach has led to fruitful results. After intensive and continued restructuring plans in the past three years, Tong Yang scored record high consolidated revenue of NT$19.62 billion (US$654 million) in 2013, and the figure may rise thanks to recovering global demand and streamlined and integrated production lines at the company's expanded factories.
"Improvement will not end. Tong Yang is always ready to meet customers' requirements. Unfavorable business climate in the market are chances to restructure and improve to harvest in good times," says Wu.