After long anticipation by the automotive industry in Taiwan, German automaker Volkswagen AG finally announced its decision to set up a wholly-owned subsidiary on the island, whose future business development will depend on the trade negotiations between Taiwan and China.

Through a video conference, Su Weiming, executive vice president of Volkswagen, and Volkswagen's Greater China and Southeast Asian operations, recently announced that Volkswagen is scheduled to set up a fully-owned subsidiary in Taiwan in January 2015, to initially take over the agency of Volkswagens  and commercial vehicles, Skoda, and Audi.

Regarding Volkswagen's decision on setting up an auto assembly plant in Taiwan, however, Su said that it depends on the progress of the negotiations of the Economic Cooperation Framework Agreement (ECFA) between the two sides of the Taiwan Strait, without involving the new subsidiary.

Su explained that by drawing more resources from the German headquarters and introducing its successful experience and know-how worldwide, Volkswagen's new subsidiary in Taiwan is expected to further expand the German automaker's business on the island. Over the next three years, he added, Volkswagen aims to elevate its annual new-car sales volume in Taiwan to some 15,000 units, also targeting a 10% share (equal to 35,000 to 40,000 units) in Taiwan's domestic automobile market.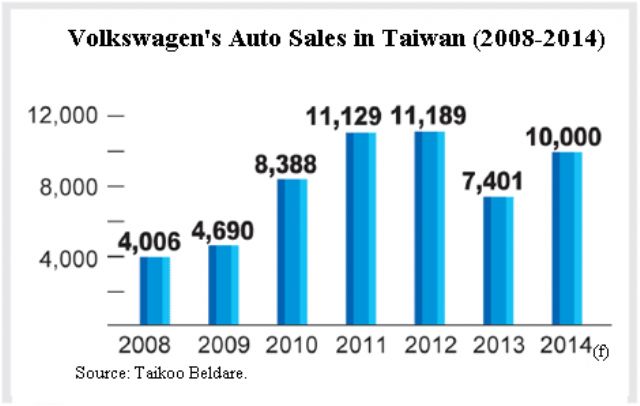 Volkswagen's new-car sales in Taiwan (2008-2014).
The new Volkswagen subsidiary will not terminate cooperation with the long-term local agent Taikoo Group, but seek further enhancement in the partnership. Su stressed that Taikoo will not only be the most important distributor of Volkswagen in Taiwan, but also a future partner in joint development of overseas markets.
Taikoo, a Hong Kong-based conglomerate covering wide-ranging business, has invested in China and Malaysia to become Volkswagen's regional distributors. Taikoo started vending imported Volkswagens in Taiwan from 2000, being the local agent of Volkswagens and commercial vehicles, as well as Skodas. Audi of Volkswagen group set up its fully-owned  subsidiary in Taiwan in 2009 to sell Audi imports, and Audi Taiwan will be merged into Volkswagen's new subsidiary in 2015.
Su pointed out that Volkswagen Taiwan will focus on sales of Volkswagen, Skoda and Audi initially, and then evaluate integrating other group brands into its operation, including Porsche, Bentley etc.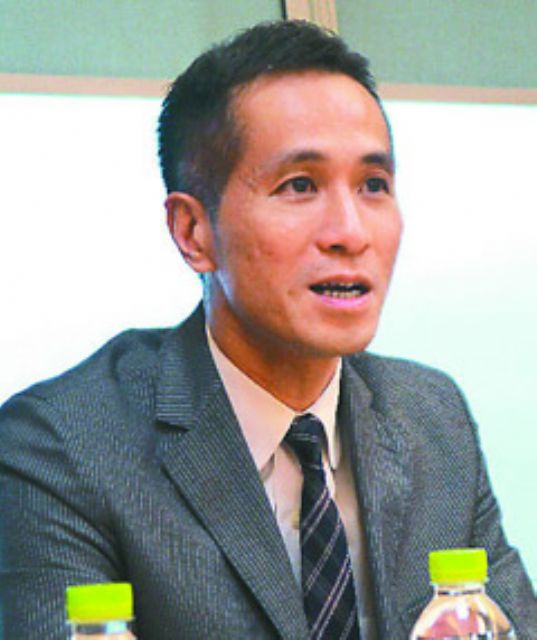 Taikoo's president S.J. Chen stresses that his company's partnerhsip with VW will be further strengthened in the future. (photo from UDN)
Assembly Plant in Taiwan?
Both the Taiwan government and local auto assemblers have been striving very hard to sway Volkswagen to invest in an auto assembly factory, or find a local assembler on the island, since the German carmaker expressed such interest. Su explicitly said that if Volkswagen finally decides to set up an assembly factory on the island, it must not eye only the domestic market.
So, industry sources say, whether Volkswagen will set up a factory in Taiwan will depend on the island's opportunities to export vehicles overseas, especially China. More importantly, if Taiwan can not further negotiate with China to include into the ECFA preferential duties on assembled-vehicles, the island will lose competitiveness in assembled-car exports and lose the chance to Indonesia or Thailand for becoming an assembler for Volkswagen in Asia.
Su assessed the tax terms and wage level in Taiwan to conclude that setting up an auto assembly plant in Taiwan will not be cost-competitive enough, so that prices for locally assembled Volkswagens will not be lower than imports. Hence the German automaker will not set up a plant only for the modest domestic market with overall annual sales volume of  about 400,000 units.
The executive vice president confirmed that Volkswagen and Taikoo intensively evaluated  the feasibility of setting up a factory in Taiwan, but further progress has been sidelined  temporarily by rocky trade negotiations between Taiwan and China. Su said that Volkswagen began evaluating the project after knowing of a possibility to export cars at low or zero duty from Taiwan to China, or export Taiwan-made auto parts to China for local assembly there. Volkswagen even evaluated the possibility of utilizing the free trade agreement (FTA) signed between China and Association of Southeast Asian Nations (ASEAN) to trans-ship Taiwan-assembled cars to ASEAN through China.
Trade talks between Taiwan and China have slowed due to the recent protest in Taiwan. However, Volkswagen has not stopped building business in the Asia-Pacific, turning to Malaysia to set up an assembly plant. Su also disclosed that the German automaker's headquarters are evaluating setting up its second ASEAN auto-assembly factory in Indonesia or Thailand.