By CARMEN LO

The annual value of China's furniture market soared from about 10 billion renminbi (around US$1.67 billion) in the 1990s to 780 billion RMB (US$130 billion) in 2010, making furniture one of the top five industries in China. Today the country's furniture industry is continuing to grow at an annual rate of 20%-30%, and hotel furniture is expected to play an increasing role in that growth.

Furniture experts comment that the design and the manufacture of hotel furniture often incorporates the ideas of hotel operators in addition to the usual requirements for convenience and comfort. Usually, classic designs appeal to middle-aged guests and eye-catching creative designs are attractive to young lodgers.

In line with the global trend toward environmental protection, the Chinese government has mapped out energy-conservation and carbon-reduction measures for manufacturers in recent years, and furniture makers are required, like everyone else, to meet the government's green standards.

Using Integrated Processes to Make Top-end Products
After almost two decades of experience, Foshan Holder Furniture Co., Ltd. concentrates on the production of office and hotel furniture. With a capitalization of around 30 million RMB (US$5 million), the company has spared no effort to upgrade its manufacturing technology and import advanced machines and equipment from Germany, Italy, and Taiwan for its modern, 50,000-square-meter plant in Foshan, Guangdong Province.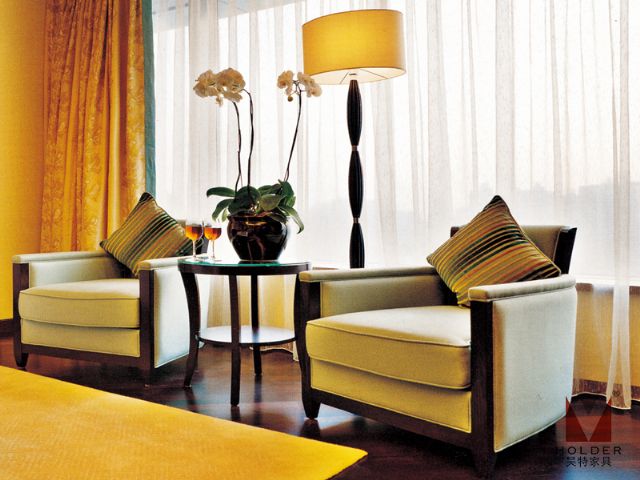 Foshan Holder's furniture sets for hotel lobbies and bedrooms are made of high-end materials that meet environmental-protections standards and carry safety guarantees.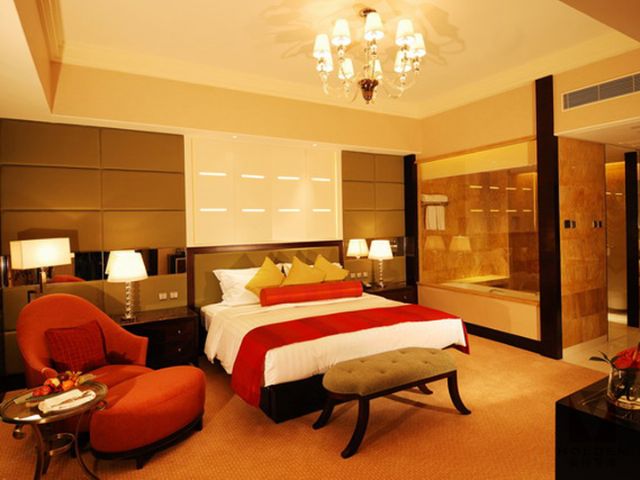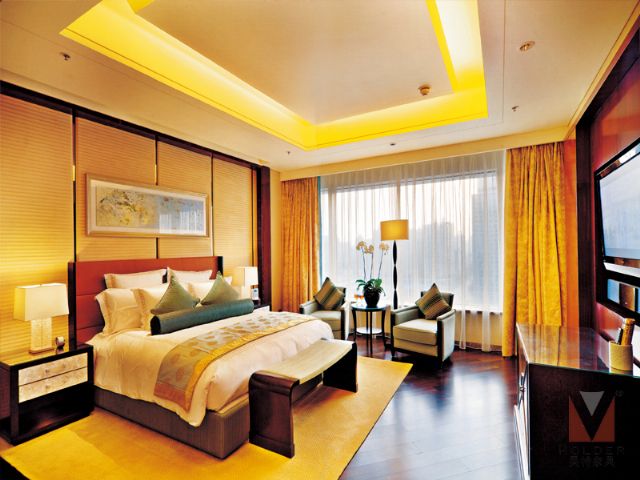 To operate effectively, Foshan Holder has adopted integrated manufacturing processes from design, production, and assembly to marketing. Today the company provides a wide range of products including executive tables, conference tables, clerk tables, rotating chairs, file cabinets, sofas, armchairs, and recliners, along with a variety of hotel furniture products that are not only sold in the domestic market but also shipped to markets in North America, Europe, the Middle East, Australia, and Southeast Asia.
Over the past three years Foshan Holder has provided furniture to many upscale hotels in China, including Zhuhai Grand Bay View Hotel, Guoman Hotel, Guizhou Park Hotel, Hyton Hotel San Ya, Guangzhou Garden Hotel, and Venetian Macao.
With all its production lines certified  to ISO 9001 quality standards, the company guarantees high-quality products and warranties its products for five years.
Designing for Special Requirements
Also located in Foshan, Shubang Furniture Manufacturing Co., Ltd. is an integrated furniture manufacturer engaged in the full range of R&D, production, sales, and after-sales service. Its 10,000-square-meter plant turns out dining sets for hotels and restaurants, mainly hot-pot tables, rotating tables, electric tables, banquet tables, round dining tables, coffee tables, tea tables, and dining chairs, among other items.
Thanks to a professional design team and well-trained workers, Shubang is able to develop high-end products as well as unique items that meet the special requirements of its customers. Its furniture products are made mainly of such high-end wood as rubber wood, oak, and birch that grow in northern China.
To strictly control quality and turn out high-end products, the company has brought in sophisticated production equipment and facilities from Germany and Italy. "Quality is the key to the success of a product, and we have built our reputation by offering quality products to our customers," a senior official at the company says.
Foshan All Vibration Furniture Industrial Co.,Ltd., founded only in 2010, is a new and rising star in furniture industry, focusing on the production of high-end hotel and villa furniture as well as multi-functional banquet tables, chafing dishes, and electromagnetic ovens.
Foshan All Vibration has developed magnificent dining-room and living-room furniture for star-rated hotels.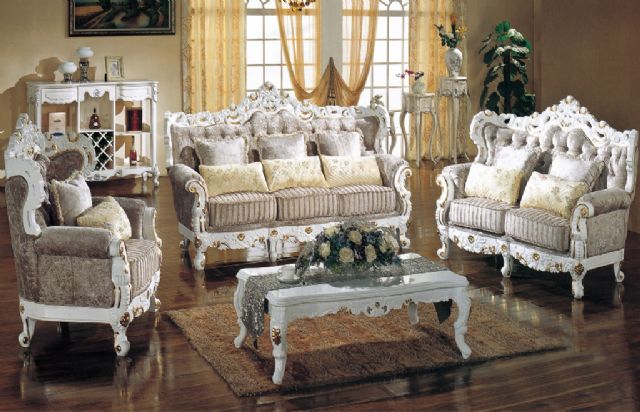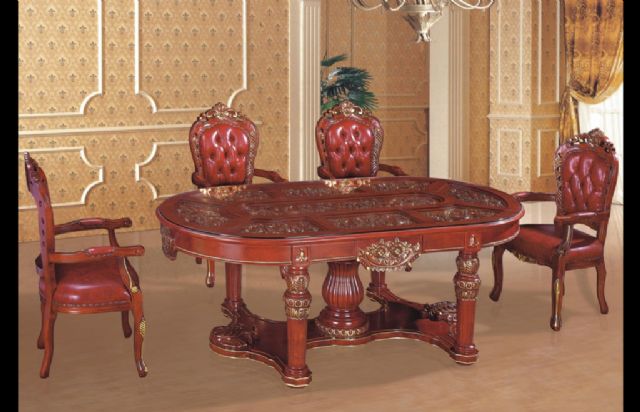 With a well-established technology development system, business operating system, quality assurance system, and after-sale service system, the company has built up a good image in the market with its high-quality products. It now turns out out about 100,000 tables a month, producing annual revenues of around 100 million RMB (US$16.67 million).
To keep improving its products, Foshan All Vibration has cooperated with  well-known domestic design firms in the joint development of creative and unique furniture items. The company's products have won numerous awards and honors in China, among them "China Famous Brand," "First Choice of Green Environmental Protection Product," and "Quality Trustworthy Product." (JL)