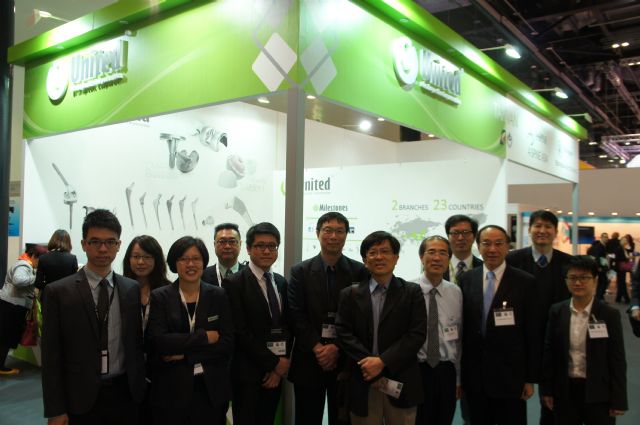 Taiwanese exhibitors at the EFORT Congress 2014 in London, the U.K. (photo from MIRDC)
To promote Taiwan's high-quality medical and surgical instruments to orthopedic surgeons worldwide, Taiwan's Metal Industries Research & Development Centre (MIRDC), a government-funded R&D institute, organized an exhibitor group to attend the EFORT Congress 2014 (the 15th European Federation of National Associations of Orthopedics and Traumatology Congress).
MIRDC says that EFORT is the largest and most important annual event for orthopedists in Europe, held alternately in different nations as a platform for suppliers in related sectors to showcase and promote products to end-users.
This year's EFORT, held June 4-6 in London, the U.K., attracted more than 9,000 orthopedists and buyers from the orthopedics and traumatology sectors in nearly 100  countries, and featured a wide array of exhibits, including artificial joints, implants for spinal fixation, trauma instrument and kits, bone nails, orthopedic plates, hyaluronic acid dermal fillers, intra-articular injections, etc.
MIRDC set up the Taiwan Pavilion to display high-quality products by Taiwanese suppliers, including United Orthopedic Corporation (acetabular systems, femoral components, proximal femurs, humuras nails, tibial nails), Intai Technology Corp. (precision fasteners, nails and implants), Paonan Biotech Co., Ltd. (cervical anteriors, lumar and thoracic posteriors, trauma-fix external fixation systems, K-rods), A-Spine ASIA Co., Ltd. (vertebral disc spacers, posterior, cervical rod and plate systems), and Scivision Biotech Inc. (hyaluronic acid and hyaluronic acid-based syndvial fluid supplements and skin care products).
In addition to helping promote Taiwan's orthopedic instrument and related medical supplies, MIRDC says, it also arranged meetings between participants and some heavyweight buyers, such as Aquilant Orthopaedics, a European distributor of medical instrument, to enhance partnerships and explore business opportunities.
MIRDC has been researching and developing medical instrument for seven years, and successfully tapped its rich know-how of metals and related production processes to assist more Taiwanese companies in turning out high value-added products, develop industrial clusters and brands, and explore overseas markets. (SC)