Rising living standards and the end of the one-child policy leave manufacturers optimistic
By JENNY WU

China has more than 300 million people under the age of 16, accounting for a quarter of the country's entire population, notes Zhu Changling, vice director of the China National Furniture Association. This means, he believes, that the potential for the development of children's furniture there is huge, since parents are caring more about their kids as their living standard improves. They want their youngsters to have a better living environment, including private rooms.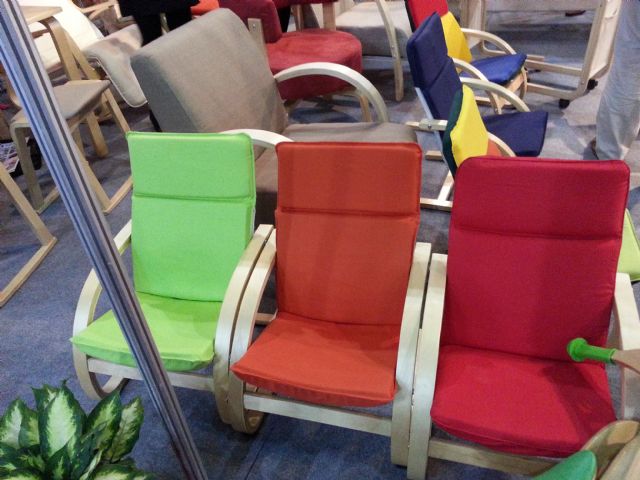 Children's furniture made in China today includes armchairs, tables, recliners, stools, and other items.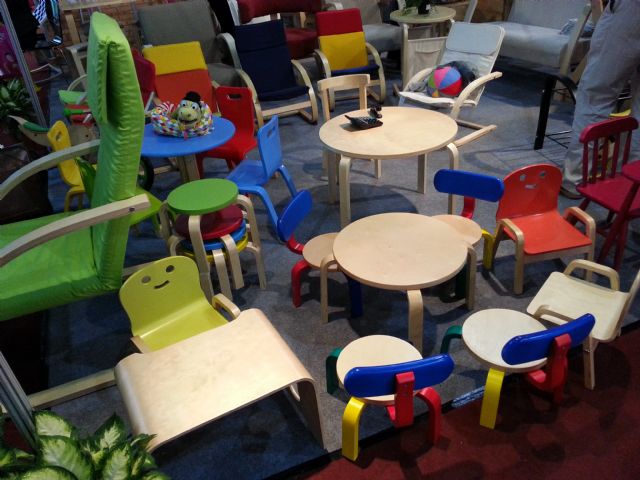 Industry experts say that China's furniture industry has made great progress in recent years because of a growing population with high net worth (personal assets of 6 million RMB or above), and this adds momentum to the children's furniture industry. In addition, the relaxation of the one-child policy will mean more children being born--and more demand for the furniture they need.
A recent urban furniture market survey found that about 40% of China's households have private rooms for children, and that 46% of them intend to buy child-oriented furniture. In response to this potential demand, trend-sensitive furniture manufacturers have diversified their production lines to develop children's furniture.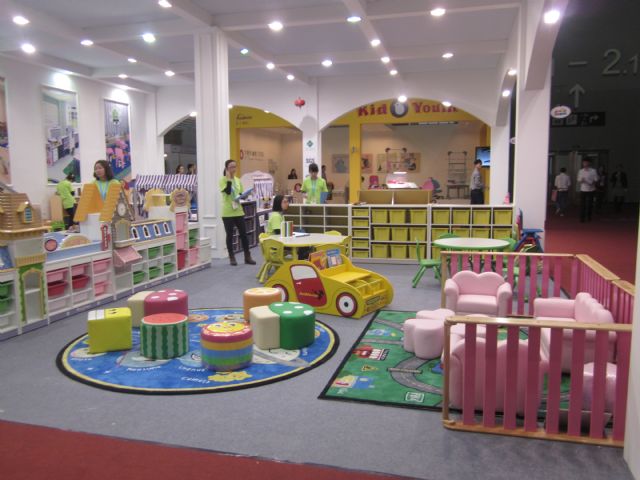 Variety and color are prime characteristics of children's furniture.
Furniture makers need to consider the size and shape of children's rooms when developing furniture for them. Besides bright colors and cartoon designs, children's furniture should also be practical, safe, educational, and functional. Convenience and mobility are also important.
Market Characteristics
Market observers point out that well-known local brands are absent from the children's furniture market in China. At present, prominent foreign brands account for 30% of China's children's furniture market, and the remaining 70% is occupied by furniture that carries unknown local brands or no brands at all. Generally speaking, the furniture products that are sold for children and teenagers in China suffer quite a few problems, including plain design, inappropriate structure, and sometimes harmful substances.
Most of the children's furniture products that are available in China today are suitable for primary school children only, and are not flexible enough to be used by teenagers. Besides, the paint used on the furniture often contains toxic chemicals that are unfriendly to the environment and, to some extent, harmful to children's health. These defects, of course, discourage parents from buying such furniture for their kids.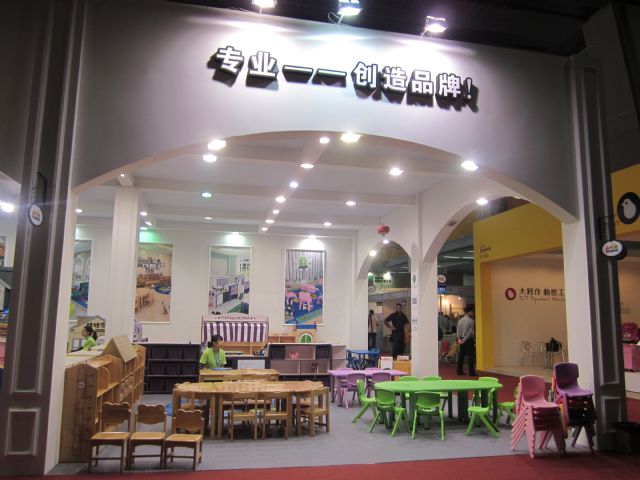 Children's furniture products on show at the 2014 China International Furniture Fair (CIFF) (Guangzhou)—Home Furniture sported plain wood and simple designs.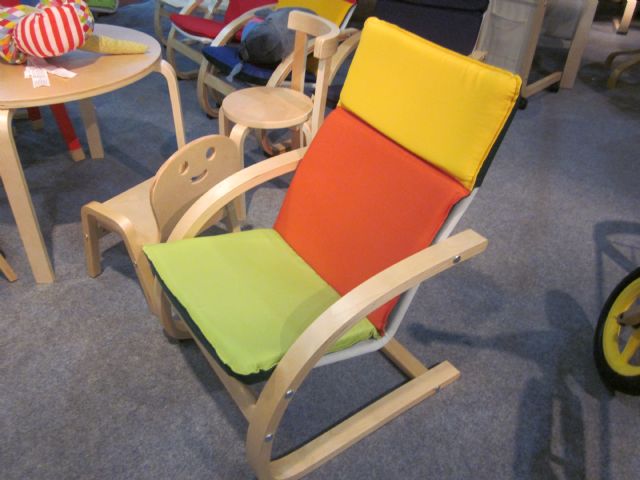 In addition, the willingness to buy children's furniture is eroded by an insufficient number of sales outlets and weak promotion. There are design deficiencies, too; for instance, some children's beds may have guardrails that are too low, sharp edges, or loose joints, all of which add to the risk of injury.
Despite these problems, the children's furniture market in China is growing rapidly, and this has encouraged more manufacturers to diversify into children's furniture and develop safe and suitable products that meet market needs.
Growing Popularity for Tian Mei's Branded Furniture 
Established in 2002, Tian Mei Furniture Co., Ltd. is a modern firm that integrates design, R&D, production, sales, and service. The company is headquartered in Dongguan, Guangdong, where it enjoys convenient shipping links for its products.
After over a decade of development, Tian Mei has become one of the fastest-growing furniture enterprises in China. Aside from insisting on innovation and original designs, the company is firmly committed to building its own brands: "DFUN" for children's furniture, "V-HOME" for fashion furniture, "MOOON" for international-style furniture, and "MINI" for wooden children's furniture.
"DFUN" is a popular furniture brand developed for teenagers, children, and singles. To match youngsters' lively and active nature, "DFUN" products feature a combination of simplicity and elegance together with fresh, bright colors. The materials used are friendly to the environment and to the health of users.
"V-HOME" products are developed for avant-garde young people with a dashing lifestyle and taste. The furniture helps to create a cheery living atmosphere, using simple designs and bright colors to contribute to a distinctive lifestyle.
"MOOON" is a high-end brand launched after "DFUN" and "V-HOME." The brand concept comes from the vanguard of Italian fashion and adopts simple design in black and white to highlight low-key luxuriousness. "MOOON" products mix the factors of culture, science, technology, and art for people with unique taste.
Tian Mei has won ISO 9001: 2000 Quality Management System certification, assuring the use of healthy and eco-friendly materials along with comprehensive production processes and quality management controls. Under an agreement with the Pacific Insurance Agency, an authorized independent agent of the U.S.-based Mercury Insurance Agency, the company offers product liability insurance to its customers and constantly improves its service by implementing an advanced ERP management information system.
Tian Mei is committed to providing customers with furniture that can add to a healthy, safe, comfortable, and eco-friendly lifestyle.
Qiaoli Takes the Lead in Solid Wood Furniture
Located in Foshan, Guangdong Province, Foshan Qiaoli Furniture is an ambitious private manufacturer of furniture items for juveniles and children. Since its inception in 1988, the company has adopted an integrated system that covers everything from R&D, production, and assembly to sales.
Today the company has developed into a leading manufacturer of solid wood furniture aimed at the child and teenager market. It now has more than 1,000 sales outlets in China and racks up annual sales amounting to over 300 million RMB, or about US$50 million.
To enhance production efficiency, Foshan Qiaoli has imported advanced automatic machines from Germany for its modern 100,000-square-meter factory. The company enjoys ISO 90001:2000 certification, and follows standards for all kinds of materials including MDF board, solid wood, and hardware. The firm sells its products under its two own brands—"Star Time" and "Our Home"--in mid-sized and large Chinese cities, and exports them to more than 30 countries and regions around the world.
Based on the corporate philosophy of "Pragmatism, Cooperation, Innovation & Quality," Foshan Qiaoli turns out eco-friendly, healthy, and fashionable furniture designed to meet market needs. In recent years it has enjoyed an annual growth of 35%, and is now one of the most popular suppliers of children's furniture in China.
Colorful Furniture from Color Life 
Founded in 1999 and located in Shenzhen, Guangdong Province, Shenzhen Color Life Furniture Co., Ltd. specializes in the production of colorful furniture for babies, children, and teenagers. Its product line includes single beds, bunk beds, bookcases, desks, bookshelves, dressers, chairs, and wardrobes, among other items.
Throughout its more than 15 years in the furniture industry, the company has spared no effort to improve its manufacturing technology, design concepts, and marketing strategies. Today its production base in Shenzhen occupies an area of 100,000 square meters and includes a modern R&D center and a well-equipped factory with six production lines using sophisticated machines imported from Germany and Italy.
For overseas markets, Shenzhen Color Life turns out products mainly on an OEM basis and ships them mostly to the U.S., Europe, South Africa, the Middle East, Russia, and Asia. At the same time, the company also sells its products in the Chinese market through 900 franchised stores in major cities there.
To make itself known in the children's furniture market, the company has created a series of "Color" brand products including Color Space, Color Hut, Color Forest, Color Channel, and Color Castle. Thanks to their high quality, attractive design, bright colors, and abundance of choice, the company's products are highly popular in markets both at home and abroad.
To meet global environmental protection standards, Shenzhen Color Life uses non-toxic water-based paint instead of the traditional type on its furniture products, and imports high-end wood from Russia as its main material. Thanks to strict quality control, the company's products have gained TUV certification and, in 2007, were awarded as a "China Famous Brand."
Today Shenzhen Color Life has become one of the leading makers of children's furniture in China, and is determined to continue its active exploration of the world's markets in the years to come. (JL)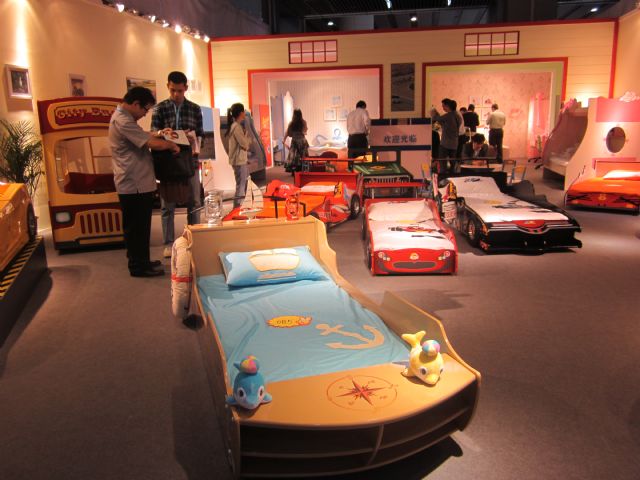 Children's beds were a focus of attention at 2014 CIFF.