By MICHELLE HSU

The 2014 Taiwan International Furniture Show (TIFS), organized by the Taiwan Furniture Manufacturers Association (TFMA) and held Feb. 21-24 at the Taipei World Trade Center, is a major global furniture exhibition held in Taiwan. This year, an international seminar was held alongside with the topic "Micro Apartment & Furniture Design" to explore how the global solitary lifestyle trend may create new business opportunities in the interior design and furniture industries.

At the same time, the exhibition combined usability and creative design to showcase the  latest boutique products for the year, including stylish furniture, designer lighting, upscale  bathrooms, name brand bedding products, a smorgasbord of furnishings, natural fragrances and so on.


TIFS 2014 showcases the latest boutique products for the year.
Maximizing Small Space
The Clicbox cabinet of Belgium's Unilin Group made its Taiwan debut at the show, making Taipei the second Asian stop to follow Tokyo of Japan on its world road show. The Unilin Group is renowned for its patented UNICLIC floor lock technology which has been licensed to all the major flooring manufacturers worldwide to earn the group prestige in plywood-joining technique.
The UNICLIC floor lock technology was first applied to the "ClickWall" flooring system, with easy assembly and disassembly to fit compact interiors of mini apartments. The Clicbox cabinet is made with the same technique, boasting "new, fast and easy" characteristics to allow assembling a wooden case 46 cm (high) x 44.5 cm (wide) x 33.46 cm (long) within just 30 seconds, without metal hardware. The cases can be grouped together as a cabinet that can be flexibly extended.
Two pieces of plywood is assembled by simply connecting them along specially grooved jointed edges. "Anyone can do this, disassembly is easy, and it's very suited to the simple lifestyle of singles," says the group. The cabinet is appropriately named "group box cabinet" because it has all the "box furniture" features of lightweight, simplicity and easy accessibility, without occupying space.
The multi-purpose, versatile furniture displayed by Super Walco also tries to maximize use of space. Its two-level bunk bed sofa opens to become a two-level bunk bed, and the lower bed is convertible into a simple sofa. The two separate bunks can be stacked into one as a deep-cushioned sofa for comfortable sitting or lying on with stylish aesthetics. It's a versatile, affordable sofa that makes effective use of small space.
Stylish Seating
The royal chair shown by international designer brand Stellar Works of EOS, the operator of a lifestyle aesthetics showroom in central Taiwan, integrates Asian aesthetics of Japan, France and China with the application of natural materials to achieve a fusion of international cultures.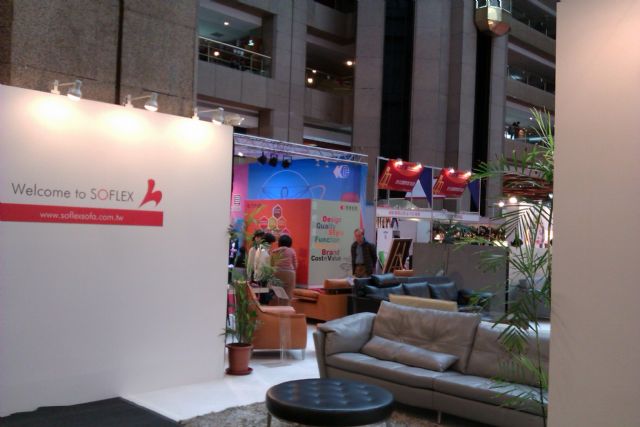 Soflex Furniture mixes international cultures by working for many years with European designers.
Soflex Furniture Industry Co., Ltd., a major Taiwanese sofa manufacturer, also mixes international cultures by working many years with European designers. The company has directed considerable efforts toward both domestic and overseas markets, offering universal styles to suit demand of consumers worldwide. Every year the maker shows products of new styles and materials to cater to refined, bold, contemporary lifestyles.
The pair of "eagle chairs," each with a hand-carved eagle on chair back, exhibited by Yung Shing Furniture is a rare item made with precious rosewood, complemented with a table made with the same material. The set consists of two chairs and a table, with the the intricate workmanship preserving tradition and artistic value.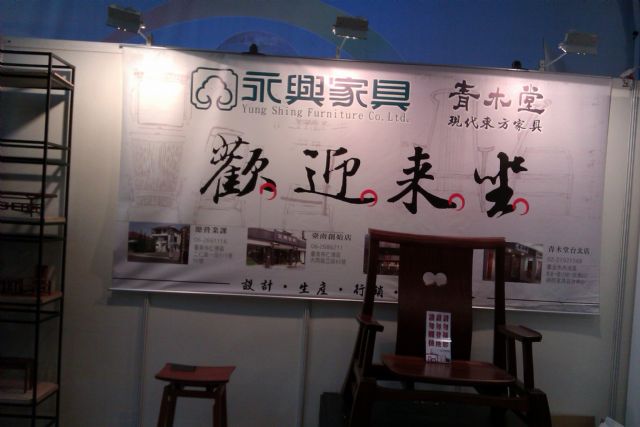 The "Artistic Han" series by Yung Shing Furniture is characterized by the auspicious twin intersecting sphere totem implying "paired perfection."
Besides, the chairs based on the "Artistic Han" series placed at the booth entrance were the new pieces that Yung Shing introduced for this year. With the twin intersecting sphere pattern on chair back as the major feature of the "Artistic Han" series, these new items, including living room chairs and dining room set, are of solid wood and were first introduced several years ago, with the main items made with solid wood frame and genuine leather cushion.
The "Twin" latticed chairs introduced by Kouching Furniture show streamlined design but are inspired by Chinese tradition. The body of the one-piece chair takes after traditional Chinese paper-cutting art, which combines several complicated patterns into only one piece of paper. The two-dimensional art of paper-cutting is translated into three-dimensional furniture design, achieving body from a flat plane.
The design of the chair legs of the "Twin" is derived from the Chinese traditional notion that "Good Things Come in Pairs."
The sleek-looking chairs by Kauching Furniture feature a short back and hollow between seat and back for the one-piece design of chair body.
Kauching Furniture introduced a number of new chairs at the show. Another stylish series are sleek-looking chairs, with a short back and hollow between seat and back for the one-piece design of chair body, which is made with special plastic whose surface has been nano-treated to be waterproof and odor-resistant.
Functionality
Desirable furniture is not designed to allow form to precede function. There were plenty of items at the show that achieve functionality stylishly. This year, Formosa Design Center, which was transformed from a wood furniture maker to have as main business interior design, introduced the "homes for seniors," a creation of joint efforts with senior Japanese designers, that use Dai Nippon's latest electronic processed anti-mildew wallpaper. While achieving Japanese minimalist style for the home, this technology further improves anti-moisture capabilities of interior decorating to suit especially more humid climates in East Asia.
According to Formosa Design Center, interior design for seniors' homes is seeing growing demand in Japan, reflecting the graying society there, which the center also foresees to happen in Taiwan in the near future, and is preparing  for the coming trend.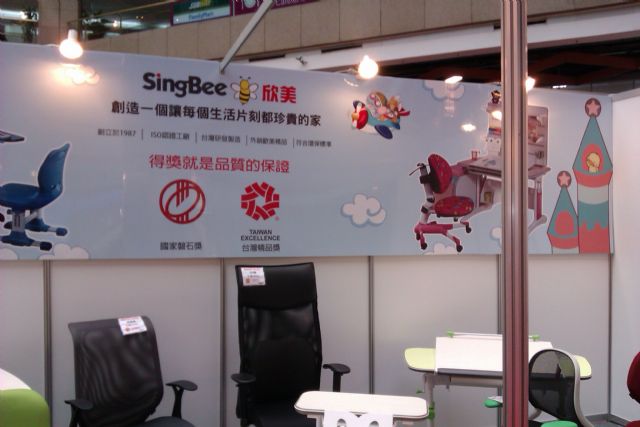 Every year Sing Bee introduces new items with improved functions and design.
Sing Bee Enterprise focuses on children's furniture as its main line of business, introducing yearly new items with improved functions and design to provide children with  healthy and conformable study place.
The HAG Capisco saddle seat displayed by Isotech Products is designed to appeal to those who seek special functionality. Its seat cushions are advertised as able to adapt to environmental changes in temperature, being made of thermo-sensitive foam, which visitors could try first-hand.
Isotech was founded in 1985, and for more than 20 years has dedicated itself to research and production of chemicals. It has already launched a variety of memory foam made from PU latex rubber, which is water-friendly, widely used in pillows, seat, back and lumbar supports, multi-purpose nap cushions, mattresses and sofas. The company is a good example of Taiwan's PU industry which has an established image globally.
YOI Weihong's Macaroni Biscuit Chair is colored like macaroni, lively, lightweight, easily portable, with a washable seat cover. The company's Eiruise Use Anytime Massage Table integrates AMS diastolic pressure airbag technology with a thermo-sensing memory mattress, making sleep more comfortable, and also improving its quality!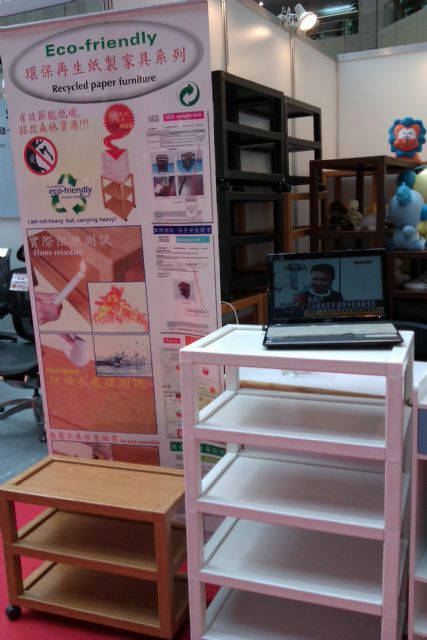 The recycled paper cabinets by Artist Marketing are as sturdy as metal ones while being easy to assemble.
Artist Marketing Co., Ltd. introduced several new items of its recycled paper cabinets, which, being all knock-down pieces, are claimed to be as sturdy as metal ones while being easy to assemble without metal hardware. The most notable merit is eco-friendliness as the cabinet is made entirely of recycled paper, so can be re-used.