Today's tiny apartments with single residents need furniture specially designed for them
By MICHELLE HSU

Ever since the Japanese management scholar Kenichi Ohmae published his book "One-person Economy," the social trend toward a solitary lifestyle has received widespread attention. Solitary living was already common before the book was published, but Ohmae compiled relevant data systematically and aroused public interest in the phenomenon.

In his book, Ohmae offers this statement: Today's age is one in which the young person thirsts for a solitary life, the middle-aged person falls in love with a solitary life, and the elderly person has to live a solitary life. This description fits not only a current trend in Japan, but perhaps also a universal phenomenon.

As the author points out, "With the aging of the population, declining birthrates, the deepening of the networked home economy, late marriage, increased divorce rates, passing away of spouses in later life, the single social group is the largest of all generations."

In response to the global trend toward solitary living, the Taiwan Furniture Manufacturers Association (TFMA) organized a "Micro Apartment & Furniture Design Forum" in conjunction with the Taiwan International Furniture Show (TISF) in February this year, inviting leading international experts to attend and discuss new opportunities that the solitary living trend will bring to the interior design and furniture industries.

The TFMA has chosen the mynah bird as the symbol of solitary living in Taiwan. The mynah is a bird of the starling family, native to southern Asia, medium in size and having strong feet. Its flight is strong and direct, and it is gregarious. The choice of the mynah bird as a symbol of solitary living implies that people who live alone are gregarious and have close interactions with one another outside their residential spaces.

Mini-apartments for solitary life have sprung up in cities around the world in recent years; Britain, the United States, South Korea, and Japan all have them. The trend has also reached Taipei. Foreign studies indicate that single tenants don't mind that the area of their homes is tiny, but in their surroundings they want places that provide food, fellowship, and public exercise facilities.

Designs have been developed to meet these demands, providing for private space along with a group living environment.

Swedish Simplicity
One of the speakers at the forum was Dan Ihreborn, a Swedish designer who has been working with Taiwan's Soflex Furniture for years and has introduced Swedish simplicity in interior design as a solution to the simple but functional furniture setting for small and mini-apartments. Ihreborn noted that as Sweden is a country with limited natural resources, its people are inclined to make full use of all materials to minimize waste.

A high-back chair, for example, obviates the need for a partition, and thus saves furniture material and space. Such a chair should, however, look good from all angles, not just from the front or the back.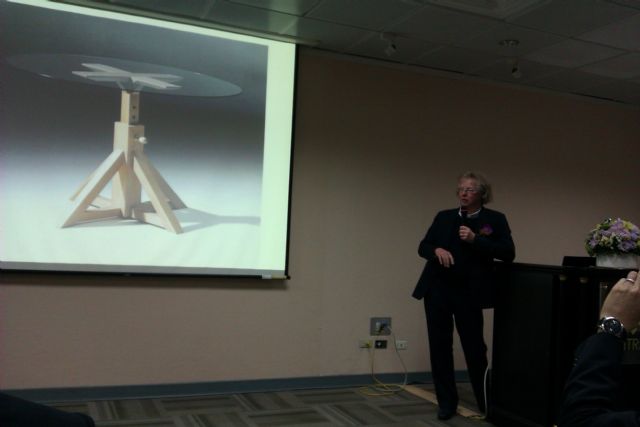 Dan Ihreborn introduces Swedish simplicity in interior design as a solution to the simple but functional furniture setting for small and mini-apartments.
Ihreborn stressed that simplicity is not only for the sake of economy, but also makes the furniture lightweight and easy to move. This suits it for the solitary lifestyle, making it easy for people to move their furniture by themselves without the help of others.
Meanwhile, Ihreborn has witnessed a drastic change in office furniture design in recent years, mainly as a result of the spread of the mobile phone. This, he explains, "allows people to work with only a chair, with no need for a working desk." In this situation, the chair becomes more functional and has greater room for changes in design.
Another major concern of interior design for a small living space is that people may want to have big windows, Ihreborn said. A big window may take in much more light on one hand, and bring about a spacious view on the other hand. Meanwhile, as he mentioned, bright colors may be more commonly preferred by the people living in a small space.
Multiple Purposes
 Renate Zoraetto, another lecturer at the forum, is a designer with the Stema Group of Italy. Stema has introduced several multi-purpose bunk beds, some of which were exhibited at the show by the company's import agent. A typical model combines the functions of sofa and bed.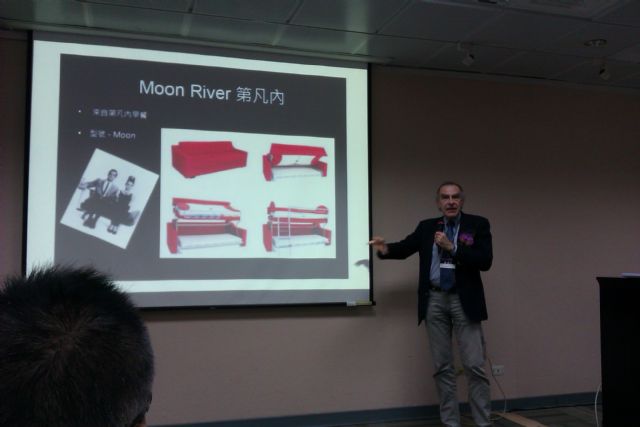 The multi-purpose bunk bed designed by Renate Zoraettois a typical product combining the functions of sofa and bed.
When opened out, this model becomes a two-level bunk bed, the lower level of which can be converted for use as a simple sofa. If a user wants to deepen the sofa cushions, the two separate bunks can be stacked into one piece to make a deep-cushioned sofa that is comfortable sitting or lying--and looks rather stylish as well. All the transformations can be made by remote control. Zoraetto said that this model was designed especially for mini-apartments, whose residents may demand that their furniture have compact size and multiple-purpose functionality.
Urban Single Living
The multi-purpose furniture introduced by another lecturer, Bailey Kwok, CEO of Wellness Solution Ltd., Hongkong, has much more diverse functions. A full set of furniture is made up of two sides. One side is sleeping furniture, which can be pulled down from the wall when users want to lie down and sleep. The mattress can be also converted into a sofa for sitting. When not in use, the bed can be pulled back and attached to the wall, and then the other side of a flat board can be pulled down to make a table. Multi-purpose furniture such as this is designed especially for the miniature living space where "singles" may sleep, work, eat, and do anything else in the same place, where furniture and other items can be converted or moved, mostly by remote control, when necessary.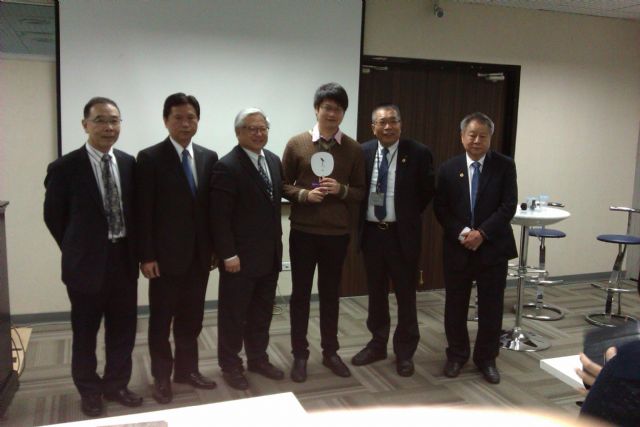 Bailey Kwok (3rd from right), CEO of Wellness Solution Ltd., holds the symbol of solitary living in Taiwan. On his right are TFMA Chairman Ruca Chien (2nd from right) and Former TFMA Chairman Fred Chen, and on his left are TFMA Advisor Daniel Ku (3rd from left), TFMA Executive Supervisor Chen Chang-hsiu (2nd from left), and TFMA Executive Director Sam Chen.
 According to Kwok, mini apartments are popular in densely-populated cities like Hong Kong, Tokyo, London, and New York, where many young people move to work and may rent a mini-apartment for geographical convenience. The rent for a mini-apartment in such metropolitan areas may be as much as that of a spacious house in a suburban area.
Mini apartments have sprung up in major cities around the world, a trend that Kwok expects to continue in the future, bringing new opportunities to interior design and furniture suppliers. In the United States, for example, former New York Mayor Michael Bloomberg made plans to build 165,000 small apartments with an area of about 290 square feet; in Japan, the sublet-style micro-apartment has been welcomed by young people in recent years as a response to the gradual rise of the single economy.
The mini-apartment trend first appeared around a decade ago, when minuscule residences started to become popular in Japan's Tokyo, France's Paris, and other densely populated cities. That was about when the global urban population exceeded the rural population for the first time.
According to Kwok, with the trend toward fewer children and the growth in the population of urban singles, city dwellers are used to eating out and browsing the Internet in cafes. When 'the whole city is your living room,' the space requirements of 'home' can be reduced to a minimum. Vibrant and creative cities around the world are all looking for ways to keep the young and the single social groups in the city center, because those are the groups that 'make the city more interesting.' New York and Singapore, for example, have both promoted small-scale 'bachelor apartments' in recent years.
Sublet-style micro-apartments are popular with young people in the 20- to 30-year-old social group in Japan. Walking into a sublet room with a floor space of about 144 square feet, large enough for a bed and a desk, it doesn't look like anything special. But the bathroom is shared, there are common areas for rest and relaxation, and people are assigned to do the cleaning. In the common reading rooms, people can chat and interact with others; and in the shared restaurants, apart from open-style flow management units, there is also a variety of cooking utensils that people can use to enjoy food with their "housemates."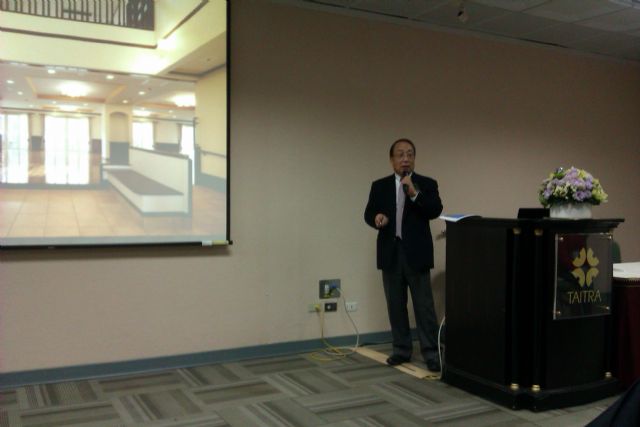 "In the old days most elderly people lived with their children, but there is an increasing number of the elderly living alone in today's Japan," said Kuniaki Kobayashi, an architect from Suzuki Healthy Home Ltd.
In Japan the popularity of micro-apartments has extended to the elderly, where there is a growing percentage of singles who are either divorced or widowed. "In the old days most of the elderly people lived with their children, but there is an increasing number of the elderly living alone in today's Japan," observed another lecturer, Kuniaki Kobayashi, an architect from Suzuki Healthy Home Ltd. of Japan. "This has caused a growing demand for the sublet-style micro-apartments which, nonetheless, should be different from those for the young people."