Yulon Group of Taiwan, a major carmaker on the island, recently kicked off vending its own-branded Luxgen U6 crossover in China. The firm's president Yao Chen-hsiang is optimistic about achieving an annual sales goal of 60,000 Luxgens on the both sides of the Taiwan Strait this year.

The group also confirmed that the land development project at its existng plant complex in Xindian of Taipei City will start by the end of 2015, including construction of a big mall that will open by 2019, as well as luxurious residences with total sales of more than NT$20 billion (US$666.7 million).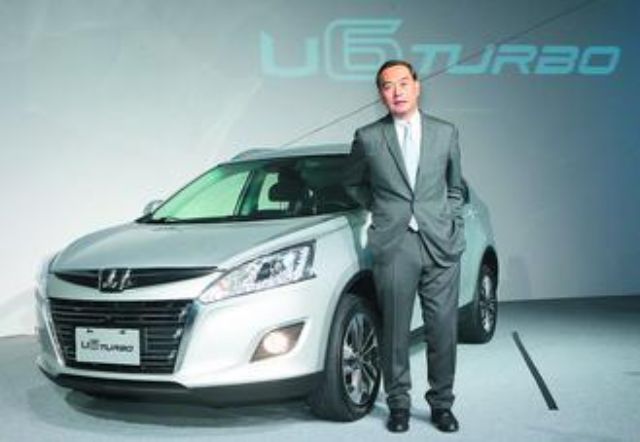 Yulon Group chairman Kenneth Yen, and his group's own-branded Luxgen U6 crossover. (photo from UDN)
Kenneth Yen, chairman of Yulon Group, also announced that to become an even-more  financially transparent group in the capital market, Yulon will routinely hold two shareholder meetings for all the six listed companies under the group, including Yulon Motor Co. (flagship firm in automobile manufacturing), Yulon Nissan Motor Co. (joint venture between Yulon and Nissan for automobile distribution), China Motor Corp. (CMC, local assembler and agent of Mitsubishi), TAC Loan International Consultant Product Manager Corp. (auto financing), Kian Shen Corp. (largest vehicle-frame maker in Taiwan), and Carnival Industrial Corp. (men's wear).
Group Affiliates
At the joint shareholder meetings, CMC's president H.T. Liu pointed out that his company is to launch the remodeled, locally assembled Mitsubishi Outlander sport utility vehicle (SUV) in the fourth quarter, targeting annual sales of 50,000 units (in Taiwan) this year. CMC's export volume of Mitsubishis to the Middle East this year is expected to double to some 5,000 units.
CMC's Chinese affiliate South East (Fujian) Motor Co., Ltd. (SEM), a joint venture between CMC, Fujian Motor Industrial Group (FJMG), and Mitsubishi Japan to produce Mitsubishi- and SEM-brand cars, Liu said, will continue to launch SEM branded electric vehicle (EV) models this year, including the first full-electric Delica commercial van. In the fourth quarter, the company will push the SEM V5 pure-electric car. In 2014, SEM aims to sell a total of 136,000 new cars in China.
Yao, also president of Yulon Motor, said that Dongfeng Yulon Motor Co., Ltd., a joint venture between Yulon and major Chinese automaker Dongfeng Group, has begun vending the Luxgen U6 crossover in China. Sales of the U6 have been quite smooth in Taiwan, so Yao is confident that from the second half this year, the new U6 will further drive Yulon Group's consolidated revenue.
M.H. Hsiao, Yulon's vice president, pointed out the profitability of the Luxgen line was affected by different factors in the first quarter, including expenses in introducing the new U6 for production in Taiwan and China, production-line improvement, investment in production-capacity expansion, and preparation for the local production of U6 in the Philippines by Yulon-invested Nissan Motor Philippines Inc. (NMPI).
According to Hsiao, since the 2014 Beijing International Automotive Exhibition (Auto China) held late April, Dongfeng Yulon has won pre-sales orders for more than 5,000 U6s, and the order volume increased to outstrip 6,000 before the recent launch in China. This year, Hsiao claimed, Yulon aims to sell some 15,000 Luxgens in Taiwan and about 45,000 units in China.
Dongfeng Nissan has been facing supply tension due to flooding orders for its newly launched Nissan X-Trail SUV, and the automaker is scheduled to push its Venucia own-branded R30 in the third quarter.
Tsai Wen-rong, president of Yulon Nissan, pointed at his company's shareholder meeting that this year Yulon Nissan is expected to replace its affiliate CMC (Mitsubishi) to become the No. 2 auto vendor in Taiwan, trailing only Hotai Motor Co., Ltd., the local agent of Toyota. Tsai said that in conjunction with the smooth sales of locally assembled Nissan car models, including the new Tiida, Sentra and Livina; as well as the scheduled launch of the new Nissan X-Trail SUV (locally assembled) next year, Yulon Nissan is expected to gain a 15% share of Taiwan's domestic automobile market in 2015.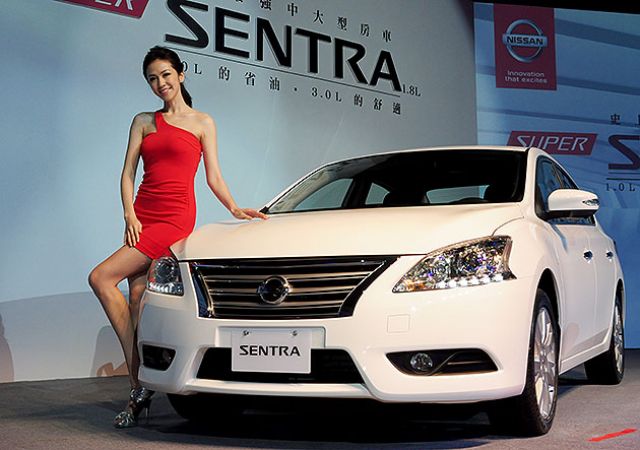 Thanks to the hot sales of the new, locally assembled Nissan Super Sentra sedans, Yulon Nissan is expected to replace its affiliate CMC to become the No. 2 auto vendor in Taiwan this year.