By QUINCY LIANG

Looking for cooperative ties with automotive-electronics and vehicle telematics makers in Taiwan, Didie Soewondho, vice chairman of IT, Telecommunication and Broadcasting, KADIN Indonesia (Indonesian Chamber of Commerce & Industry), led an industry delegation, including 21 Indonesian company representatives, on a recent visit to the Taiwan Telematics Industry Alliance (TTIA).

During the meeting at TTIA's office in Taipei, Heru Nugroho, Director of the Investment Department of the Indonesian Economic and Trade Office (IETO), explained the status of telematics industry development in Indonesia. He pointed out that the production value of the telematics sector there totaled US$3.5 billion in 2011, and that the automotive, electronics, and telematics industries have been chosen for priority development by the Indonesian government.


At the Taiwan-Indonesia exchange meeting: (from left) Didie Soewondho, vice chairman of IT, Telecommunication and Broadcasting, KADIN Indonesia; Paul Chou, secretary general of TTIA; and Mohamad Faizal, Director of the Industry Department, IETO.
Mohamad Faizal, Director of of IETO's Industry Department, shared Indonesian investment strategies and business opportunities with the Taiwanese attendees, noting that Indonesia currently has about 250 million people living on 17,508 islands. Indonesia is now the world's 10th-largest economy, and its economic growth rate in recent years has been No. 2 in the world, trailing only China. Currently, Faizal added, Taiwan is the 10th-largest source of foreign investment in Indonesia, and there is still a lot of room for further partnerships between the two nations.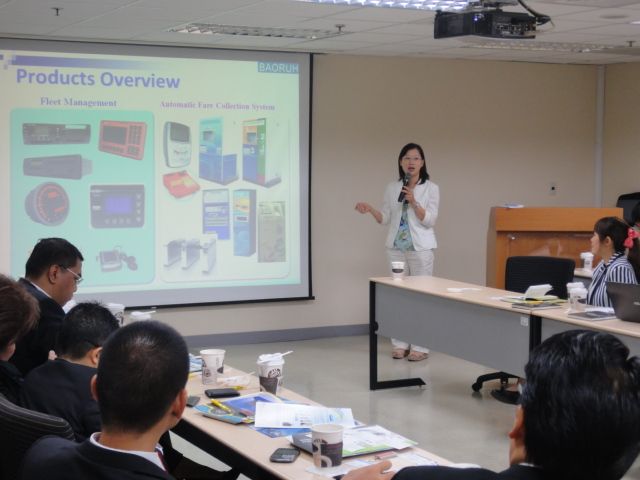 A representative of a TTIA member company introduces her firm's e-Ticketing system, which has been adopted by the Smart Bus System in Taiwan.
A representative from Taiwan's Far Eastern Electronic Toll Collection Co. (FETC) introduced his company's businesses operations to the Indonesian visitors, many of whom expressed high interest in the Electronic Toll Collection (ETC) system used on freeways throughout Taiwan and lauded the system's functions, level of precision, and convenience as being much better than Singapore's. After the presentation, Soewondho invited FETC's representative to give a presentation to the Jakarta Municipal Government and said that he plans to invite five or six high-ranking officials from Jarkata to come and inspect the ETC system in Taiwan.
Soewondho also expressed an interest in the Smart Bus system that has been operating in Taiwan for several years. The Smart Bus system is one of the most successful achievements in the development of telematics on the island so far; it is also an achievement of TTIA, which played a vital role in the integration of various interfaces for the system. Interface integration allows different devices on a smart bus, such as a digital video recorder (DVR), e-ticketing system, and GPS, among others, to communicate with each other easily.
TTIA has coordinated the installation of the system on about 12,000 smart buses on the island, including a multi-card reader (adapted to various e-ticketing systems in use in Taiwan), DVR, GPS, general packet radio service (GPRS) camera, and various on-vehicle sensors. The Smart Bus system upgrades the accuracy of bus arrival times to less than a minute.
Paul Chou, secretary general of TTIA, said that his association has been coordinating meetings among public companies, telematics equipment makers, e-ticketing companies, and government bodies for the joint establishment of common standards, or interface compatibility. He added that TTIA's efforts have helped with the local development of telematics in Taiwan, including infrastructure construction and bringing more business opportunities to local companies and greater convenience to the public.
Solar Power and Smart Grid
Tatung Co., a major electrical-machinery conglomerate in Taiwan, shared its experiences in providing solar-power generation and Smart Grid total solutions. In his responses to the presentation, Soewondho talked about the electricity demand in Indonesia, which is already facing supply issues which are expected to get worse as the Indonesian economy continues developing at a rapid pace. The Indonesian vice chairman pointed out that currently there are a few Chinese power companies providing electricity in Indonesia, but that the stability and quality of power need big improvements. So, he said, the market in his country is big and growing, while competition is quite limited.
According to Soewondho, the Indonesian government will announce several solar-power supply bid projects beginning this year--starting with generating capacities of 500MW in 2014 and 800MW in 2015--as well as projects for hybrid power generation in various areas.
Taiwan's Funtoro Inc. introduced its bus infotainment systems to the Indonesian delegation, claiming that it now controls a very high share of the Asia-Pacific market, including 99% of the Thai market (through partnerships there). Soewondho said that he would like to help Funtoro boost its market share even higher by introducing partners in Indonesia.
RITI Technology Inc., a leading technical service, software engineering, and application service provider based in Taiwan, noted that it has helped the Kawan Lama Group of Indonesia set up a large logistics and distribution system. Soewondho said that he would like to introduce KADIN's member companies to RITI, especially big logistics companies and hypermarkets.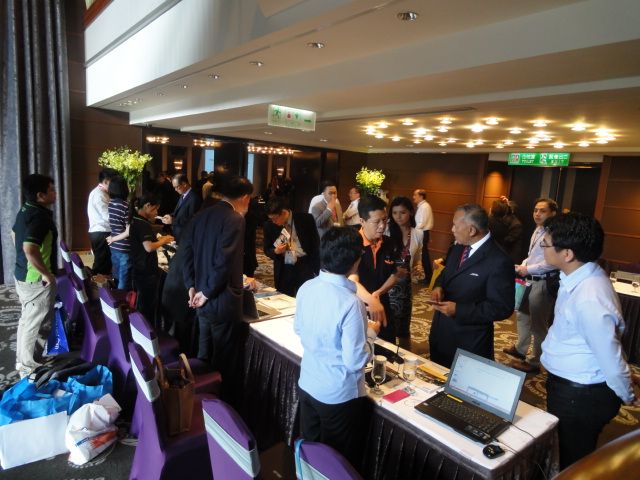 TTIA arranged for its member companies to show their products and services to the Indonesian delegation.
TTIA secretary general Chou concluded by saying that the exchange successfully outlined Taiwan's ability to provide total infrastructure solutions such as Intelligent Transportation Systems (ITS) and solar-power generation, and that it highlighted the island's superior technical capability and manufacturing strength in the field of telematics. The briefings given during the meeting conveyed to Taiwanese companies the message that Indonesia has a strong interest in, and demand for, Taiwan's telematics-related products and services.
Chou also announced that his association is now mapping out plans to help Taiwanese companies develop business opportunities in the Association of Southeast Asian Nations (ASEAN) market, and that TTIA will lead a delegation of major Taiwanese telematics suppliers to Indonesia in late September with the aim of finding more opportunities in that rapidly developing economy.