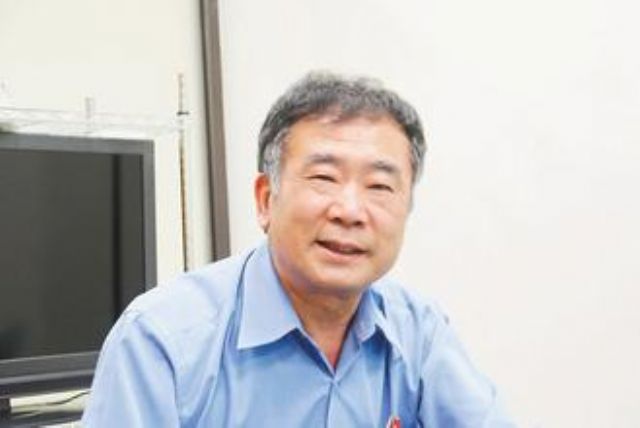 Depo Chairman S.M. Hsu (Photo provided by UDN)
S. M. Hsu, chairman of the major auto-lamp maker said at his company's shareholders meeting held recently that Depo Auto Parts Ind. Co. Ltd., one of the largest auto-lamp manufacturers in Taiwan, plans to inaugurate a  logistics center in August, besides having purchased a 12-hectare plot in the Changhua Coastal Industrial Zone (CCIZ) on which to build factories in phases.
The chairman also added that the factory F at Depo's Lugang plant complex, burned down last year, will be re-constructed at the same location in 2015.
Facing flooding orders, Hsu said, his company plans to invest NT$10 billion (US$333.3 million) throughout 2017 to expand production capacity, including NT$900 million (US$30 million) already paid for above-mentioned land. The various phases of the new factories in  CCIZ are designed to raise Depo's capacity, Hsu said, while the re-constructed factory F in Lugang will do front-section processing and electroplating/coating works.

Depo's modern and integrated headquarters in Kugang, central Taiwan
At Depo's recent shareholders meeting, the company's board decided to distribute cash dividends of NT$4 (US$0.13) for 2013, also announcing to set up a new company, the Lupo Investment Worldwide, through its Depo Auto. Lupo Investment Worldwide will handle the development of auto-lamp and related parts businesses.
In 2013, Depo scored consolidated revenue of NT$13.64 billion (US$454.6 million), up 8.04% from the previous year and generating net earnings of NT$1.34 billion (US$44.57 million), or earnings per share (EPS) of NT$8.06 (US$0.27). Last year, Depo said, most of its profits came from its U.S. subsidiary and Taiwanese factories. Depo's two factories in China, one each in Anhui Province and Jiangsu province, are expected to turn profitable this year, Hsu said.
According to Depo, its Anhui factory is originally expected to kick off volume shipments to a Chinese automaker, which canceled half the order due to internal problems. So Depo said, the Anhui factory has to further boost sales to turn profitable this year.
After several Taiwanese AM auto-lamp makers were charged and sentenced by the U.S. court in the past two years, Hsu said, the global auto-lamp market faces intense competition, solution of which relies on makers to tighten control of product quality and cost. Depo aims to retain and hone its global lead by developing more and more molds and dies to broaden its product line: a core advantage in the global aftermarket.

The major auto-lamp maker's R&D center in Taiwan
To fill small-batch, large-variety and flexible orders in the global auto-parts industry, Hsu said, Depo will more aggressively develop global business.
Depo operates factories in Sinying, southern Taiwan and Lugang, central Taiwan, with the former turning out mainly high-unit-price automotive headlamps and fog lamps, and the latter corner, direction and tail lamps. So Hsu said Depo will continue to install equipment for expand capacity at its Singying factory.