Ball Joints, Tie Rod Ends, Rack Ends, Center Links, and Control Arms, Side Rod Assembly, Brake Calipers, Etc.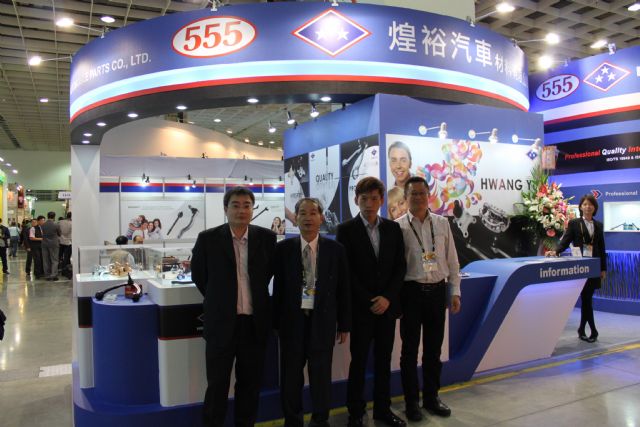 Roy Cho (third from left), president of Hwang Yu, with managers at 2014 Taipei AMPA's booth.
At this year's Taipei AMPA, seen as a major, global auto-parts and -accessory show, Hwang Yu Automobile Parts Co., Ltd. displayed its comprehensive range of auto chassis parts.
At this year's show, Roy Cho, Hwang Yu's president, said that to better meet global customers' requirement for one-stop-shopping, Hwang Yu has been aggressively developing new products. "In 2014, our company will add more than 300 new items for popular makes and models, including control arms, stabilizer links, brake calipers etc., in addition to our major product categories." Cho said. This year, the total item number in Hwang Yu's line is expected to outstrip 8,000. The president reiterated the corporate theme: "Think Hwang Yu for auto chassis parts!"
In addition, Cho also announced the  inauguration of a factory with total floorage of  2,700 sq.m. next to its existing plant. By further improving production lines and adding inventory space, Cho said that the maker targets lead time of 21 days, compared to the current 45 days, to include 80% to 90% of the existing items.
Founded in 1972, Hwang Yu is a TS16949- and ISO 140001-certified company specializing in development and production of high-quality aftermarket (AM) automotive steering, suspension and brake components, with over 40 years of manufacturing experience.
The company's products are marketed worldwide under its own-brands "3 Star" and "Hwang Yu" that are popular with global customers. The maker supplies several major product categories, including ball joints, tie rod ends, rack ends, center links, and control arms, brake calipers etc.
Cho says that his company's brake caliper models are developed by the reverse-engineering scanner for drawing die blueprints, leading to zero bias in production processes. Hwang Yu set up a new facility near its factory in central Taiwan's Taichung City, incorporating fully automated OE caliper production lines as well as testing, measuring, and inspection equipment and self-developed, dedicated jigs, fixtures, cutters etc. The calipers are tested for lifecycle under -40C~100C, as well as high pressure 250gf/cm2 destructive testing. In cooperation with Taiwan's Automotive Research & Testing Center (ARTC), Hwang Yu also developed dust-proof rubber boots for calipers, along with testing processes for dust-proofing, all of which, Cho says, make his company's brake calipers exceed OE standards in quality and durability.