Auto lamp, accessories, fog lamps, daytime running lights (DRL) etc.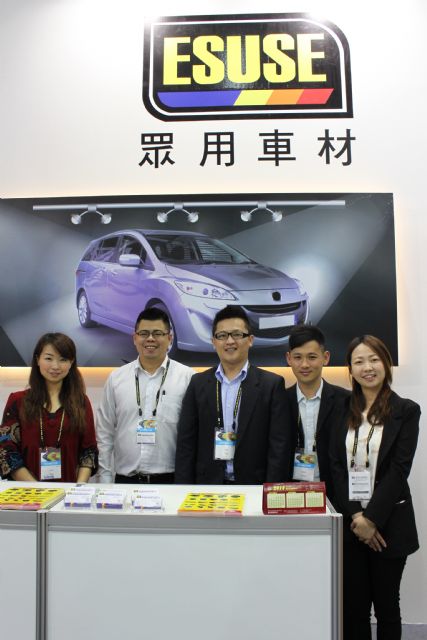 Caption: Esuse's Young, energetic and professional sales team at 2014 Taipei AMPA company booth.
Founded in 1984, the TS 16949-approved Esuse Auto Parts Mfg. Co., Ltd. is a veteran company specializing in developing and manufacturing high-quality auto lamps, especially fog lamps, auxiliary lamps, and daytime running lights (DRLs), as well as related accessories. The firm claims that all its products pass major quality and safety standards, including E-mark of Europe and SAE of the U.S., with some also certified by the JIS of Japan.
At the 2014 Taipei AMPA, the company showcased all its latest items featuring state-of-the-art designs, adoption of super-bright LEDs, and superior optical designs. New items include EL6060 universal type LED fog + corner light. The new model uses three 3W LEDs with specially designed optical mechanism to offer higher illumination efficiency that exceed traditional halogen fog lamps.
The lamp maker has been globally marketing its line with "ESUSE" own brand for about 30 years, stressing that all lamp models produced  are designed and manufactured in-house, from design drawing, mold/die development, production, quality control to packaging. Such integrated production mode, Esuse stresses, is the core advantage of the firm's comprehensive capability to meet various market demands. .
With superior overall quality, Esuse is a major Original Equipment (OE) auto lamp supplier to many automakers in Taiwan, Asia, the Middle East, and Japan, also supplying major items to global automobile Pre-delivery inspection (PDI) points.
Esuse has developed about 300 product models, with about 20 to 30 new items added yearly.
Esuse says that it is very proud of its product quality and precision manufacturing. The firm has the most advanced laboratories meeting international safety standards for testing, inspection and in-house certification, as well as top-end instruments for designing and drawing. The firm also says that it targets becoming a world-class supplier, by offering total solutions, superior services, good-quality products, and competitive prices.
To meet flooding orders, Esuse will inaugurate its second factory in northern Taiwan by the end of 2014, which will be installed with many new injection production lines. The company now also operates an R&D center in China, in addition to its R&D team at its headquarters in Taiwan.