Auto air-conditioning parts, receiver driers, accumulators, cabin filters etc.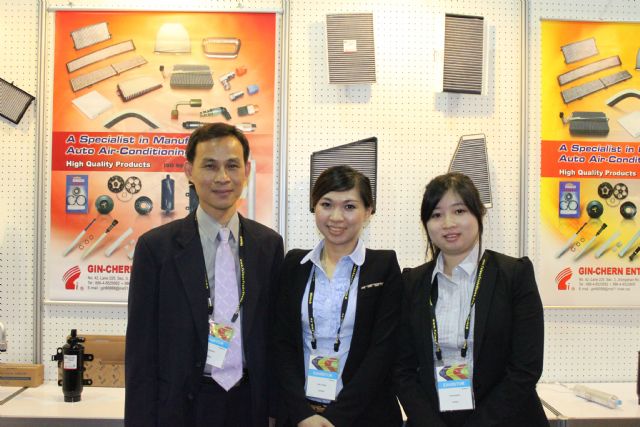 Gin-Chern's president Wu Ming-kuo (left), and company staff at the 2014 Taipei AMAP company booth.
Established in 1999, Gin-Chern Enterprise Co., Ltd. supplies aftermarket (AM) automotive air-conditioning parts, including a wide range of receiver driers (steel and aluminum), cabin filters (active carbon), accumulators etc.
The company is TS16949: 2009-, ISO 9001-, and Engineering Applications Quality Assurance (EAQA)-certified, reflecting its goal to pursue high production quality and management efficiency.
At the 2014 Taipei AMPA, the firm exhibited all its major product categories. Wu Ming-kuo, president of Gin-Chern, says that his company self-develops, produces several major products in-house, including cabin filters, receiver driers, and accumulators, as well as supplies air-conditioning parts, accessories by cooperating with many quality suppliers, customized development and production. The company has grown into a leading supplier in Taiwan whose products are popular in aftermarkets, especially in Europe, the Middle East, America, Australia, Southeast Asia etc.
Gin-Chern offers more than 200 receiver drier models for mainly European makes and models: Mercedes-Benz, BMW, Audi, Volkswagen, Volvo etc., as well as American and Japanese makes, Wu says.
The president also says that his company is fully capable of developing and making patented sandwich-type, five-layer activated carbon cabin filters, all being the best of their kinds. The patented five-layer cabin filters are able to remove odors and volatile organic compounds (VOCs) with self-supported mini pleat (fine conical tip), low pressure drop, high carbon loading, high absorption surface etc., with permeability >1200 l/m2s and thickness being 1.0mm +/- 10%. Such product is versatile, and suitable as chemical and smoking-room filters as well as air purifiers.
With strong R&D capability, Gin-Chern has many patents, including ones for improved structure for automotive air-conditioning receiver driers, de-humidifying structure in receiver driers, structure improvement in cabin filters etc., Wu adds. Aided by the above-mentioned technical capability, Wu explains, Gin-Chern has become a major contract supplier to many big international cabin-filter makers in Europe.
Operating a modern, integrated plant in Changhua, central Taiwan, the company has a monthly production capacity of some 30,000 cabin filters and 20,000 receiver driers/accumulators.