Solar window film, safety film, sputter film (silver, titanium etc.), ceramic film, decorative glass film, laser decorative glass film, IR film…etc.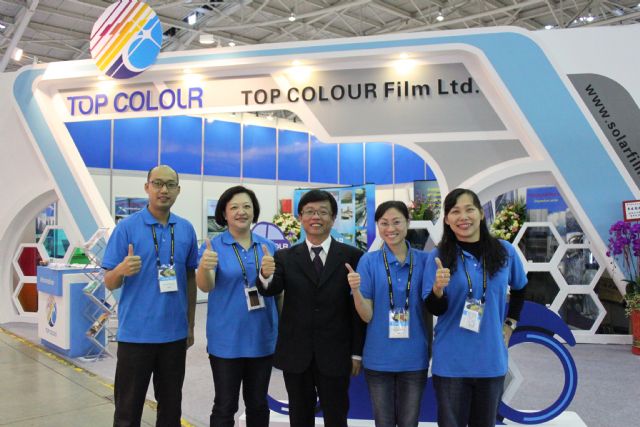 Top Colour president Robert Tsai, center, and his company staff pose in front of his company's booth at 2014 Taipei AMPA.
At the 2014 Taipei AMPA, Top Colour Film Ltd., a technically leading manufacturer of solar window film in Taiwan, showed all its major film products to international buyers. Robert Tsai, company president, claims that Top Colour is not only a leader in the sector globally, but also the only supplier in Taiwan offering multiple metal sputter films (coated with silver, titanium etc. particles) produced with top-end equipment.
The firm's sputter films boast a wide range of applications, including automotive and tech: touch panels, gold foils, reflective film etc. Tsai also claims that Top Colour is working with Taiwan's Atomic Energy Council in the joint development of  new solar films with low emissivity.
Founded in 1985 by chemists, the ISO 9001-certified Top Colour boasts advanced R&D and manufacturing capability, offering a comprehensive range of products, including glue film, reflective film, high performance film, sputter film, top tin/two-tone gradation film, IR film, ceramic film, decorative film, DIY kit film, sun shade, PVC film, heat-rejection film, safety film, automotive film, residential film, commercial film, safety & security film among others.
The firm offers standard-sized films as 50cm x 300cm, 75cm x 300cm, 0.5m x 60m, 75cm x 60m, 1.52m x 30m, 1.52m x 600m, 1.52m x 1200m, all bearing  many advantages and functionalities, including energy-saving, glare control, fade-resistance, privacy-enhancement, high quality, interior-cooling, reasonable prices etc.
Top Colour operates four factories in Taiwan and China, including two in Taiwan with more than 100 employees, and two others in China (one in Guangdong Province and another in Jiangsu) with more than 300 employees. Products manufactured at the two Chinese factories are sold in the domestic Chinese market, with those made in Taiwan exported globally. Currently, about 80% of the firm's films are for automotive applications, and the remaining 20% for construction.
With highly efficient production, made possible by advanced equipment with superior management system, Top Colour always offers the best quality at reasonable prices. Top Colour exports worldwide, especially to the U.S., Europe, the Middle East, and Latin America. The company globally distributes films, with about 10% under its own Top Colour brand and 90% going to big international brands on the OEM/ODM basis.