Performance body kits for European cars, all kinds of auto parts etc.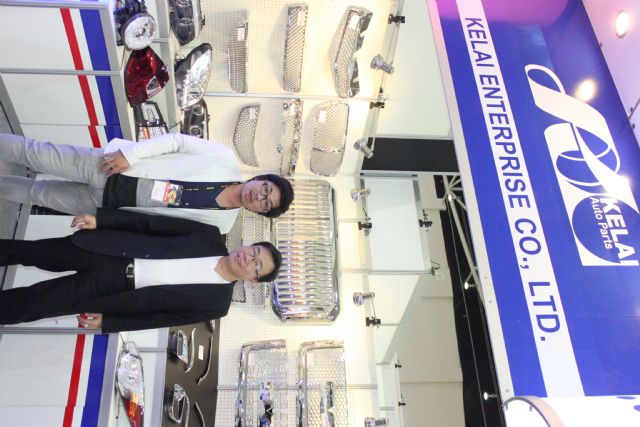 Kelai's general manager Tony Chen (right) and a Japanese customer at the company's booth at 2014 Taipei AMPA.
Kelai Enterprise Co., Ltd. specializes in developing and producing automotive replacement and performance-tuning parts and accessories, such as head lamps, tail lamps, marker lamp and bumper, grille, mirror etc.
With a strong service team boasting over 20 years of experience, Kelai says it is fully capable of advising on procurement and offering quality products,  competitive price, and on-time delivery. Other products supplied by the company include body parts, cooling fan, suspension parts, chassis parts etc.
Tony Chen, general manager of Kelai, says that his company was responsible for representing many leading Taiwanese auto-parts makers in the Middle East, especially AM replacement body-parts companies. But after rapid business advancement in the Middle East, most Taiwanese auto-parts makers found that they also developed the capacity to directly export to that region, so Chen's company transformed into a parts trading firm to vend all kinds of quality Taiwan-made products.
With accumulated experience, know-how, reputation and a wide clientele, Chen says, Kelai has enjoyed growing sales not only in the Middle East, but also in Europe, the U.S. and Japan. He attributes such success to Kelai's long-term cooperation with major Taiwanese parts suppliers, hence able to offer products at  more competitive prices than other traders.
In recent years, Chen says, strong competitiveness of Taiwan-made AM replacement and performance-tuning products has helped Kelai further expand markets.