LED auto and motorcycle lamps, LED fog lamp, LED driving lamp, LED daytime running light (DRL), auto accessories etc.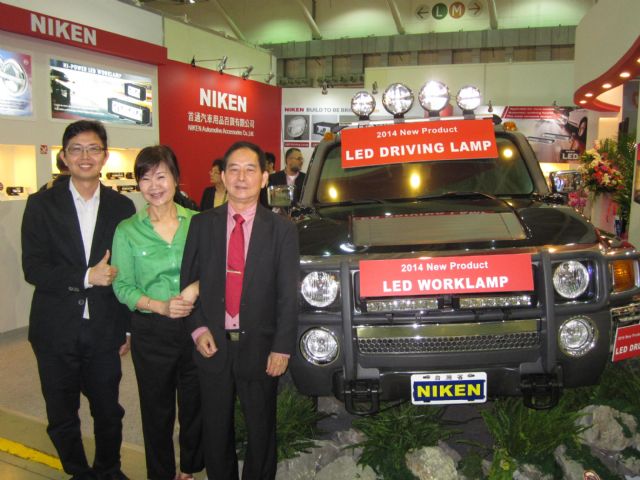 Simon Shih (from right), chairman of Niken; Carol C. Shih, general manager, and Eric Shih, marketing manager, introduce the company's new LED lamps at 2014 Taipei AMPA.
Niken Automotive Accessories Co., Ltd., a major automotive LED lighting and auto accessory manufacturer in Taiwan, launched its new 2014 product series, including high-end LED driving lamps, LED work lamps, and LED daytime running lights (DRLs) at 2014 Taipei AMPA, on a 4x4 SUV at its booth.
Simon Shih, chairman of Niken, says that his company's core values include high quality, safety, and professionalism, which the new 2014 series further confirm.
Niken was the first among local counterparts in developing and manufacturing automotive LED fog lamps,  also the first few models produced on the island to win E-mark certification. Shih says that all its LED lamps feature better water-tightness, heat-dissipation, optical design, and styling.
Niken was established in 1976 as a specialized developer and manufacturer of auto parts and accessories. Quality products made by the ISO 9001-approved company pass all major international standards, including E-mark, CE, RoHS, FCC etc..
Shih says that in recent years Niken has steadily developed LED lamps, USB car adapters, and model-specific chrome accessories to meet increasing demand from global customers.
Niken's 2014 new LED lamps are well-designed to be striking, with the reflectors designed for maximum illumination, and cooling mechanisms able to perform effectively to achieve 30%-longer life cycle than most counterparts.
As for the LED driving lamps, Niken offers two sizes, including 220mm and 180mm in diameter. The firm's new 2014 LED DRL + position light has built-in, patented light guide, with stylish design to achieve form and function. (QL)