One of the most important factors transforming the global automotive industry is vehicle electrification. Electric vehicles (EVs) are rapidly driving up demand for lithium-ion power cells, and gradually eating market share of traditional internal combustion engine (ICE) counterparts.

The advanced battery industry saw continued growth in 2013, as demand for batteries as an alternative means to power vehicles, grid management equipment, and devices increased in multiple industries around the world.

According to a new report from Navigant Research, shipments of advanced battery cells reached 6.7 billion in 2013 – a 10% increase over 2012 shipments.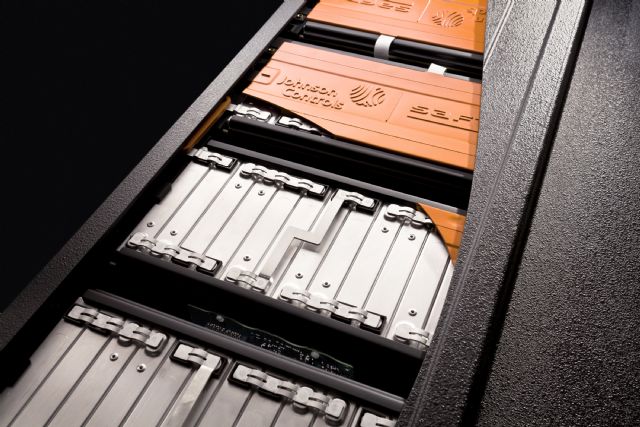 The increasing number of electric vehicles has been rapidly driving up demand for power cells. (Photo from: Johnson Controls)
"While the battery industry saw significant increases in the overall number of batteries shipped and the energy capacity they represent, revenue growth was modest due to declining prices," says Sam Jaffe, principal research analyst with Navigant Research. "The center of the advanced battery industry remains in China, where the majority of these batteries were manufactured and shipped around the world."
Battery power capacity produced globally in 2013 was 40.1 gigawatts (GW), with the vast majority used to power small devices. This number is significantly higher than the 28.6 GW of power capacity sold in 2012, according to the report. The primary reason for the surge is increased sales of automotive batteries, which have a much higher power-to-energy ratio when compared to other battery applications.
Changing Market for Light Duty Vehicles
Another report released by Navigant Research shows another affect of EVs on the battery market.
Rising fuel costs and environmental concerns have prompted the global light duty vehicle (LDV) market to adopt vehicles with various levels of drivetrain electrification and vehicles that run entirely on alternative fuels. Today, the overwhelming majority of LDVs in use are conventional ICE vehicles. But hybrid, electric, and alternative fuel vehicles will make up a much greater share of the market in the coming years, the report says.
According to a new report from Navigant Research, by 2035, less than half of the LDVs in use worldwide will be conventional internal combustion vehicles.
"Automakers, governments, and motorists are all becoming increasingly concerned with fuel economy," says Scott Shepard, research analyst with Navigant Research. "As a result, the auto industry is transforming rapidly. Engine downsizing and drivetrain electrification through stop-start and hybrid technologies will become the LDV standards by 2020."
Among the fastest-growing alternative drivetrain technologies is stop-start, which eliminates idling by switching off the engine while the car is not moving. Sales of LDVs with stop-start capability will reach 48.6 million annually by 2020, according to the report, representing nearly half of the overall LDV market.
Stop-start Vehicles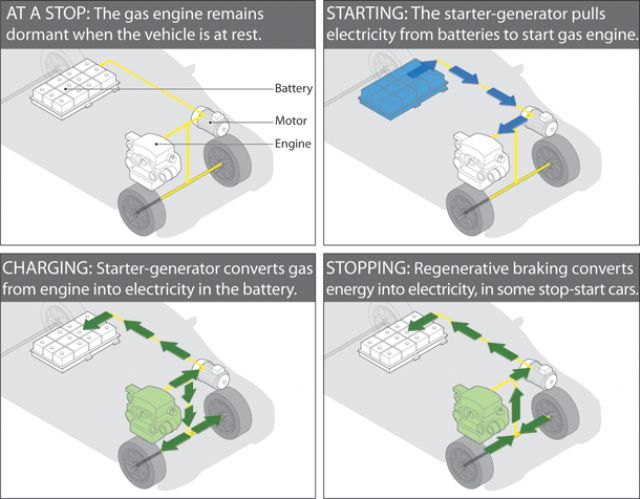 The operation of a stop-start system (Photo from: the Internet)
Stop-start vehicle systems are becoming popular in most regions of the world and the feature is becoming a standard fitment for a few manufacturers in some markets. The latest systems are starting to implement some of the features that were first developed for full hybrid vehicles, such as regenerative braking and electric power assistance. The challenge for OEMs is to get the most efficienct benefits from the smallest cost increment, and some have now concluded that the current 12V electrical system is becoming an inhibitor.
Navigant Research says that growth in light duty 48V systems sales through the end of the current decade will be predominantly in Western Europe, mainly because this region is the most aggressive in implementing fuel economy and emissions regulations. The German luxury vehicle manufacturers have collaborated to develop a 48V system that sets the foundation for more capable stop-start systems that will enable other electrification features. The latter features are expected to combine with engine downsizing and other enhancements to increase efficiency without large-scale adoption of full hybrid or plug-in electric capability. Navigant Research forecasts that total global sales for light duty vehicles with 48V electrical subsystems will reach nearly 13.5 million by 2023.