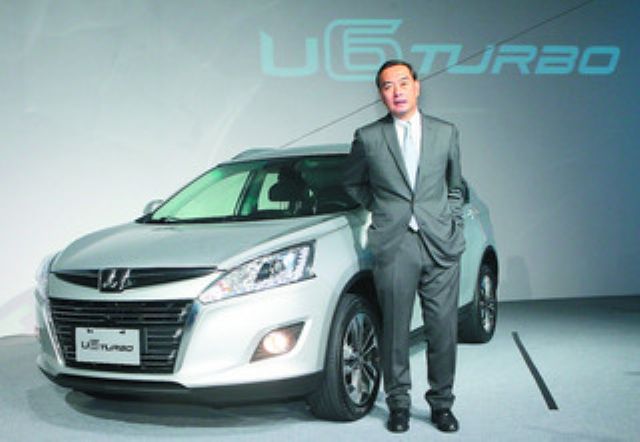 Yulon Group Chairman Kenneth Yen with Yulon's LUXGEN U6 crossover, which has been in strong demand in China since its launch. (Photo from UDN)
Strong new-car sales in China powered the Yulon Group, Taiwan's largest automobile conglomerate, to strong gains in the world's largest automobile market.
Sales of Yulon's LUXGEN cars in China grew by more than 80% in the first half, in conjunction with the launch of the U6 crossover model. According to Yulon, its Chinese subsidiary Dongfeng Yulon Motor Co., Ltd., a joint venture between Yulon and Chinese automaker Dongfeng Group, sold more than 26,700 new LUXGEN cars in the first half, up 80.7% from the same period of last year. The company is very optimistic about achieving its annual sales goal in China of 45,000 units in 2014.
Yulon's Chinese affiliate Dongfeng Nissan Motor, one of China's largest auto vendors, sold about 620,000 new cars in China, a 14.6% increase from a year earlier, thanks to the launch of its new Nissan X-Trail sport utility vehicle (SUV). Dongfeng Nissan is a reinvested enterprise of by Yulon Nissan Motor Co. , a joint venture between Yulon and Nissan Motor of Japan.
South East (Fujian) Motor Co., Ltd. (SEM), an automobile-manufacturing venture between Fujian Motor Industrial Group (FJMG), Mitsubishi Motors Japan, and China Motor Corp. of Taiwan's Yulon Group, sold about 41,800 new cars in China in the first half, a 29.9% YoY drop. However, SEM is scheduled to push a brand-new SUV model, the DX-5, by year-end. The new model was designed by an internationally famous designer in Europe, and the niche model is expected to help SEM boost new-car sales.
Statistics compiled by the China Association of Automobile Manufacturers (CAAM) showed that some 11.68 million new cars were sold in China in the first six months this year, up 8.36% YoY, continuing the growth trend in the world's largest automobile market.
In addition to smooth sales by its reinvested affiliates in China, Yulon Nissan Motor also reported eye-catching new-car sales in Taiwan in the first half. In the first half, Yulon Nissan Motor gained a 12% share in Taiwan's domestic market, making it the No. 2 auto vendor on the island, trailing Hotai Motor Co. Ltd., the local agent of Toyota cars.
In conjunction with the introduction of two new imported Infiniti luxury models, the Q50S Hybrid and QX60 Power Hybrid, Yulon Nissan claimed that sales of imported Infinitis in Taiwan are expected to hit a record high this year to more than 1,000 units. The company said that the strong demand for two new hybrid models was a surprise, noting that the first 30-car shipment of the Q50S models sold out before their arrival in Taiwan.
Yulon Nissan said that the strong sales of the new imported models has bolstered the company's confidence in achieving better-than-expected sales of Nissan and Infiniti cars in Taiwan this year.