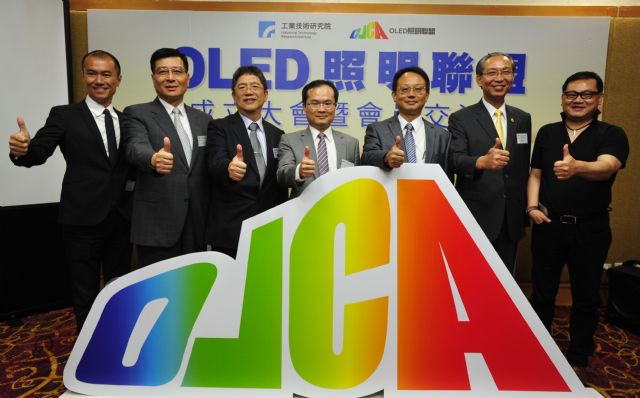 Dignitaries inaugurating the establishment of OLCA (from left):Merck's Hsieh, RiTdisplay's Wang,Tongtai's Yen, EORL's Liu,Deputy Director W.H, Fu of MOEA's Department of Industrial Technology, TLFEA's Lin, and J.Y. Lighting's Yuan.
Endorsed by Taiwan's Ministry of Economic Affairs (MOEA), the MOEA-backed Industry Technology Research Institute (ITRI) has set up the "OLED Lighting Commercialization Alliance" (OLCA) with Taiwan's lighting manufacturers and designers, machine manufacturers, OLED-panel makers, and e-material makers.
OLCA aims to accelerate commercialization of OLED (organic light-emitting diode) lighting on the island before the market takes off worldwide.
According to OLCA Chairman C.T. Liu, the  Director General of ITRI's Electronics and Optoelectronics Research Laboratories, OLED lighting has many merits including ultra- slimness, lightweight and flexibility, hence being easily integrated with various building materials. And its high color rendering and even light provide the self-illuminating material excellent potential to be the next most popular light source after LED.
Citing surveys by international market consultants, ITRI's market-research unit, Industrial Economics & Knowledge Center (IEK), estimates the global market for solid-state lighting devices to generate revenue of US$24 billion by 2020, including the projected US$5.6 billion by OLED.
To seize such opportunity, OLCA will help develop complete supply chain for the island's OLED lighting industry that is mainly composed of lighting-fixture, lighting-design, materials, manufacturing-tool, and light-engine businesses.
OLCA is to start with five committees: lighting fixture, lighting design, light engine, equipment and materials.
The lighting fixture committee is chaired by Steven Lin, chairman of the Taiwan Lighting Fixture Export Association with over 850 members. The design committee is led by James Yuan, the founder of J.Y. Lighting Design Co., Ltd. The light-engine committee is headed by RiTdisplay Corp. Chief Executive Officer D.C. Wang. The equipment unit is directed by Tongtai Machine & Tool Co., Ltd. Chairman J.H. Yen. Managing Director Dick Hsieh of Merck Display Technologies Ltd. will head the materials committee.
ITRI will build a pilot verification platform for OLED light engines to help build light engine standards on the island. The lighting-fixture committee's Lin stressed that only by standardizing engines can luminaire makers design products. The platform is projected to verify 200 engines monthly.
RiTdisplay's Wang pointed out by 2020, OLED lighting will emit an estimated 100 lumens per watt, nearly doubling the current luminous efficacy. OCLA pledges to achieve the 100lm/W goal in two to three years. OLED's life cycle will reach an estimated 30,000 hours by 2017. He noted that Taiwan's OLED-lighting manufacturers must introduce innovative, less expensive products once the market simmers. According to IEK, LG of South Korea has introduced OLED of 60 lumens per watt at color temper of 3000-4000 Kelvin.
Tongtai's Yen pointed out that his committee will develop roll-to-roll machines for the Taiwan industry to achieve more cost-efficient OLED production relative to sheet-to-sheet type, which accounts for around 40% of OLED production cost.
J.Y Lighting Design' Yuan said that while none of the globally known OLED makers are Taiwanese, Taiwan-made components account for around 60% of components. (KL)