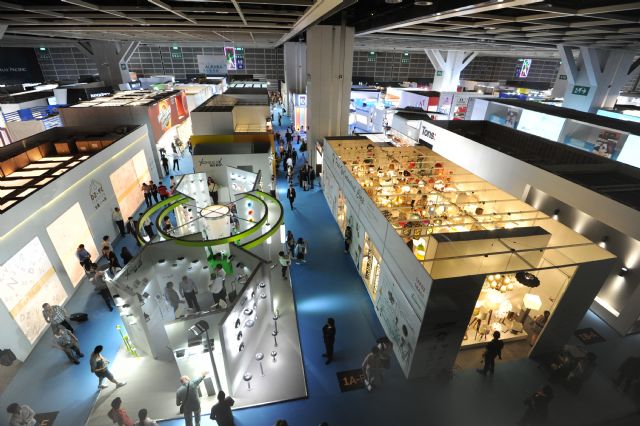 The HKTDC Hong Kong International Lighting Fair is expected to expand both in visitor and exhibitor numbers this year.
The Autumn 2014 edition of the HKTDC Hong Kong International Lighting Fair will take place on October 27-30 at the Hong Kong Convention and Exhibition Centre (HKCEC). Over 2,300 exhibitors are expected to display their latest lighting technologies at the fair.
The fair is a one-stop-shopping platform for lighting products, parts and components for global buyers. Highlights include the LED & Green Lighting Zone, which is expected to attract more than 800 exhibitors showcasing LED, energy-saving and other environmentally friendly products. The Hall of Aurora demonstrates the power of branding by hosting top quality brands, including BJB, Citizen, CREE, EGLO, Ford, Fulham, Fumagalli, Megaman, Neo-Neon, Philips, Seoul Semiconductor, Viribright and others.
The Advertising Lighting Zone is one of the few places where buyers can see a full range of advertising-related lighting, including light boxes, display panels, signage and others. The Smart Lighting & Solutions Zone showcases on-off technologies that save time and energy, such as switch/control panels. Manufacturers who tailor smart lighting solution packages will find an ideal platform here.
Other theme zones, including Commercial Lighting Zone, Household Lighting Zone, Lighting Accessories, Parts & Components Zone, Outdoor Lighting Zone, provide buyers with access to exhibitors offering tailor-made lighting products.
Last year, the fair attracted 2,360 exhibitors from 38 countries and regions and over 38,000 buyers from 144 countries and regions. This year, the fair will further expand to accommodate more exhibitors.
The lighting fair is also a go-to place to stay abreast of industry trends. Lighting products with high energy efficiency and long lifetime are in growing demand in reaction to environmental concerns. Decorative lighting has expanded from seasonal item sets into domestic lighting products, such as track lights, linear lights and spotlights in novel designs. Another significant development in the industry is the booming market for DIY (do-it-yourself) hardware items and parts.
The My Favorite Lighting Products Awards will return to the show this year to promote quality, innovative and stylish designed lighting products in three categories: Architectural/Commercial Lighting, Decorative Household Lighting and Outdoor Lighting. Winning products will be showcased throughout the fair period.
Hong Kong's total exports of lighting products surged 16% year on year in 2013, to approximately US$1.4 billion. Exports to both developed economies such as the United States and the European Union, and emerging markets as the Chinese mainland and ASEAN grew robustly last year, with exports to the US and EU rising 19% and 12% respectively, while shipments to the Chinese mainland and ASEAN soared by 32%. (KL)