Mostly driven by improving economic climate in the U.S., Taiwanese fastener makers generally experienced a rosy July, when the industry's exports to the U.S. hit a post-financial-tsunami single-month high of some 56,000 tonnes, up 6.37% month-on-month, or 8.73% year-on-year, to command nearly 40% of the total of some 140,000 tonnes in the month, according to statistics released by Taiwanese research institutes.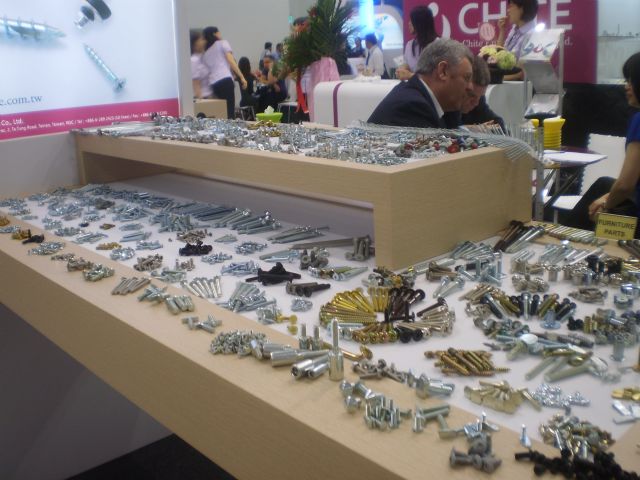 Taiwan's overall fastener exports to the U.S. hit single-month high, since 2009, of some 56,000 tonnes in July for an 8.73% YoY increase.
Many fastener suppliers, mostly clustered in the Tainan and Kaohsiung regions of southern Taiwan, confirm the industry's currently prosperous business in the U.S. And larger operators as Chun Yu Works & Co., Ltd., Tycoons Group Enterprise Co., Ltd. and San Shing Fastech Corp. emphasize that orders filled monthly have remained around NT$400 million (US$13.3 million) so far this year without being dampened by seasonal factors.
Directors from China Steel Corp., Taiwan's largest steelmaker and the wire rod supplier, attribute the downstream sector's current booming shipments to the U.S. mainly to the country's steadily improving economy that drives growth of domestic construction and manufacturing to trigger considerable market demand for fasteners among other products, such as steel plates and sheets.
Another factor driving the boom is, insiders say, the intensifying worry about supply chain breakdowns caused by many illegal electroplating and pickling subcontractors in Taiwan being ordered by the Kaohsiung City Government to shut down this March. Believing then that the shutdowns would delay  shipments for two to three months, most foreign buyers have placed orders in advance, hence leading to the recent boom that has not been seen in the past five years.
The mandatory plant shutdowns originated from the discovery of pollution by the Kaohsiung factory of Kaohsiung-headquartered Advanced Semiconductor Engineering (ASE) Group, the largest semiconductor tester and packager in the world by market share. The plant was found to have illegally dumped industrial wastewater into rivers and was ordered to close in 2013.
The fallout from the plant shutdown led to further forced closures of many  electroplating, pickling and other surface treatment factories, which together make up the midstream sector of the fastener industry. The supply chain breakdown initially was expected to lead to a steep decline of around 25% in Taiwan's fastener output value, or an equivalent of NT$30 billion (US$1 billion), this year.
The industry also witnessed impressive performance in 2013, when exports totaled some 1.459 million tonnes to beat an all-time high of 1.422 million tonnes seen in 2012, with export value reaching about US$3.861 billion, despite average selling price having drifted down to US$2.646 per kilogram, due largely to sluggish steel market. Insiders generally are optimistic about the industry's further growth this year. (SC)
Taiwan Fastener Industry's Export Volume and Value by Year
Year

Volume
(kilogram)

YoY Growth Rate

Export Value

YoY Growth Rate

Average Selling Price

YoY Growth Rate

2005

1.265 million

- 10.33%

US$2.499 Bn.

4.78%

US$1.975

16.85%

2006

1.265 million

0.32%

US$2.571 Bn.

2.88%

US$2.205

2.55%

2007

1.231 million

- 3.04%

US$2.900 Bn.

12.81%

US$2.356

16.34%

2008

1.215 million

- 1.30%

US$3.163 Bn.

9.08%

US$2.604

10.52%

2009

0.895 million

- 26.33%

US$2.070 Bn.

- 34.57%

US$2.313

- 11.19%

2010

1.279 million

42.93%

US$3.214 Bn.

55.29%

US$2.512

8.65%

2011

1.422 million

11.14%

US$3.973 Bn.

23.61%

US$2.974

11.22%

2012

1.379 million

- 2.99%

US$3.798 Bn.

- 4.42%

US$2.753

- 1.47%

2013

1.459 million

5.79%

US$3.861 Bn.

1.68%

US$2.646

- 3.89%

Source: Taiwan Institute of Fastener Industry