Targeting to meet requirements of  "smart driving" nowadays, Hotai Motor Co. Ltd., Taiwan's agent of Toyotas in Taiwan and a major  auto vendor on the island, recently launched the Toyota Smart Car System, an advanced vehicle infotainment system with an inter-connected and detachable tablet PC on the system head unit.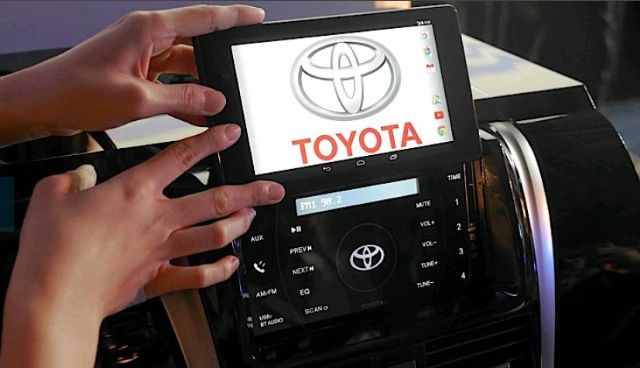 Caption 2: The innovative Toyota Smart Car System developed in partnership between Toyota local agent Hotai and major PC vendor Asus.
The Toyota Smart Car System was developed by Hotai and a subsidiary of Asustek Computer Inc., a world-class PC vendor in Taiwan. Hotai has enabled the smart car system to win the TGA (Toyota Genuine Accessory) certification and qualifies as an OE supplier to Toyota. In addition to Toyota Japan, Hotai said, many Toyota overseas affiliates, especially those in the Asia Pacific, have expressed interest in the innovative infotainment system.
Hotai said that it partnered with  UniMax Electronics Inc., an automotive-electronic affiliate of the Asus Group, to develop the Toyota Smart Car System, which features rapid matching between the infotainment system and most portable devices, special head-unit frame to enable a detachable tablet PC to act as the main screen. When integrated into the system, the tablet keeps its original functions, but also serves as a control/display platform for tire pressure monitoring system (TPMS), reverse imaging. The built-in APP in the tablet also provides such functions as road condition, vehicle service, emergency roadside assist, etc.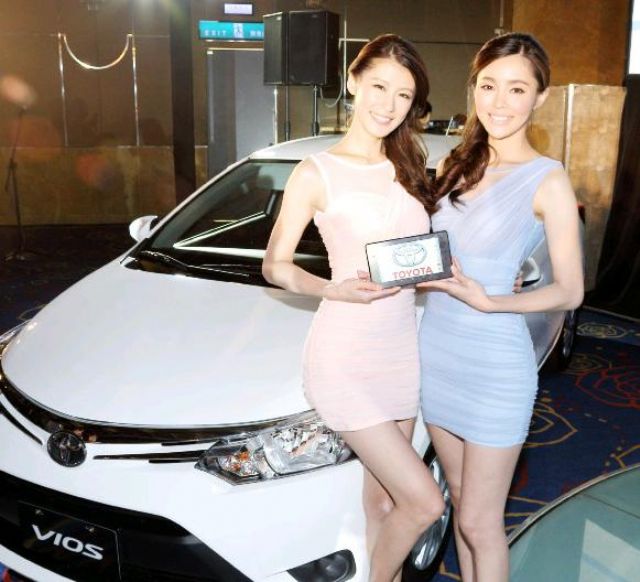 Caption 1: Models hold the detachable tablet PC from the Toyota Smart Car System.
Compared to other smart car infotainment systems on the market, often priced about NT$50,000 to NT$60,000 (US$1,666 to US$2,000), the new and innovative system is to retail about NT$35,000 (US$1,166).
Hotai and Asus have initially developed the Toyota Smart Car System for several models, including Vios, Yaris, Prius C, and Wish, also planning to launch such system for more models, with the system to be sold initially within Toyota's new-car dealers as option, and then standard equipment on Taiwan-assembled  Toyotas.
Justine Su, Hotai's president, pointed out that the Toyota Smart Car System will revolutionize  the existing car infotainment system market by realizing the one-device, multi-purpose idea for a driver using the same tablet in the car, office and home. Top managers of Toyota Japan were surprised by the new system's advanced functions and innovative ideas, hence enabling the system to pass the TGA certification in only five months, compared to the typical 18 months. Toyota's headquarters also required Hotai to send the product sample as soon as possible after mass production, indicative of promising future for the Taiwan-developed system.
Asustek vice chairman Jonathan Tseng said that the car is a vital part of the Internet of Things (IoT). The Asus Group began engaging in cloud computing and automotive electronics related fields eight years ago, trying to make driving more convenient, comfortable and safer.
Lucrative Auto-accessory Biz
In addition to being the long-term No. 1 auto vendor in Taiwan with over 30% share, Hotai in recent years has also achieved success in the auto-accessory business. The company's accessory subsidiary Carmax Co., Ltd. was established to develop and sell original equipment (OE) Toyota accessories, and also handles sales of the Toyota Smart Car System.
In late 2012 Carmax formed a joint venture with Chinese carmaker Guangzhou Automobile Industry Group Co., Ltd. (GAIG) to develop and sell OE accessories for GAIG models, and installed accessories production lines at GAIG's plant. In partnership with Toyota Japan, GAIG currently produces more than 300,000 Toyotas per year, creating huge demand for high-end, genuine Toyota accessories.  
H.T. Lai, president of Carmax, said that the Carmax-CAIG venture has seen rapid sales gains, leading to ample ROI for CAIG and increasing shipments by  Carmax.