New-car sales in Taiwan typically dips during the Ghost Month in August, except this year that climbed 8.8% from a year earlier, or year-on-year (YoY) to 23,183 units, according to statistics compiled by Taiwan's Ministry of Transportation and Communications (MOTC).

Justin Su, president of auto vendor Hotai Motor Co. Ltd. in Taiwan and also the local agent of Toyotas, said such eye-catching sales in even August furthers shows the possibility for new-car sales in Taiwan to exceed 410,000 units this year, a record high in recent years.

Most of August overlaps the Ghost Month, during which most major purchases are deferred for Chinese traditionally consider the month to be unlucky, with car dealers often halting sales campaigns to better prepare for business in September.

Along with the strong demand in August, Hotai forecasts some 32,000 to 33,000 new cars of various brands will be sold in Taiwan in September, with the monthly volume expected to keep rising in October, as year-end is  traditionally a peak season.

Hotai recently launched two imported models: the Lexus NX300h (hybrid) and Toyota Yaris, with China Motor Corp. (CMC), assembler and agent of Mitsubishis in Taiwan, is scheduled to soon introduce two new imported models. Yulon Nissan Motor Co., the agent of Nissans and Infinitis, will showcase the imported Infiniti Q50 and Nissan Juke. All the vendors are optimistic about sales in the rest of the year.

Hotai said that overall new-car sales in Taiwan are over 4,000 higher than its original forecast, and according to the company's overall market forecast, sales in 2014 is expected to reach 420,000 units.

Hotai sold 5,955 new cars in August, a 9.8% YoY drop, followed by CMC's 2,329 units, a 11.4% YoY increase, Yulon Nissan's 2,088 units, down 14.3% YoY, Ford Lio Ho Motor's (local subsidiary of Ford Motor of the U.S.) 19.4% YoY drop to 1,588 units.

Industry sources say that September has been a relatively low month due to increased family spending on back-to-school things; while October typically is a recovering period by being the introduction of new 2015 models.

Luxurious Boom
In August most luxury import brands saw impressive sales. Defeating many brands with local assemblers, Mercedes-Benz and BMW ranked the fifth- and sixth-largest marques, respectively, in Taiwan by selling 1,391 (25.8% YoY increase) and 1,191 (up 31.9% YoY) units. In the first eight months, Mercedes-Benz maintained its lead among all import nameplates, followed by BMW. In August Mercedes-Benz delivered 575 of the C-series models.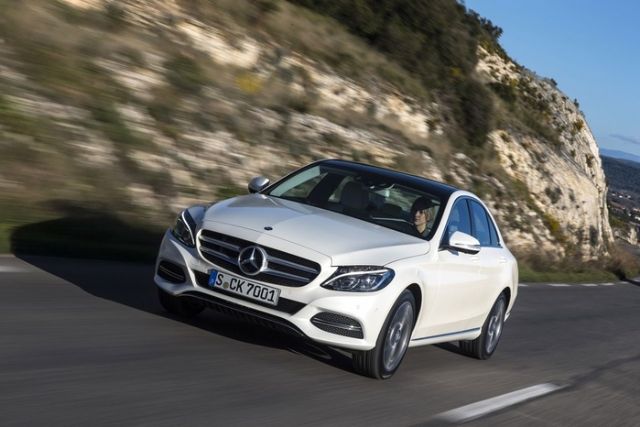 Mercedes sold in August 575 C-series models in Taiwan. (photo from Mercedes-Benz Taiwan)
The No. 7 Honda Taiwan Motor Co. (locally assembled) sold 1,158 new cars (up 0.5% YoY), while Sanyang Industry Co., Ltd., the local assembler of Hyundais, sold 1,150 units, up 15.6% YoY.
Industry sources say that imports used to account for 20% to 25% market share in Taiwan, which soared to more than 30% by 2013, and almost 40% in August.
Audi Taiwan and Volvo Cars Taiwan also enjoyed obvious sales growths, with the former's up  45% YoY, compared to 27% for  Volvo Cars. Porsche sales increased about 40% YoY, and 272% month-on-month (MoM), to 518 units, with the new Macan sport utility vehicle (SUV) accounting for about 300 units.
New-car Sales by Top-10 Vendors in Taiwan (Aug. 2014)
Vendor/Brand

Aug. Volume

YoY

Hotai Motor / Toyota

5,955

-9.8%

CMC / Mitsubishi

2,329

11.4%

Yulon Nissan / Nissan

2,088

-14.3%

Ford Lio Ho Co. / Ford

1,588

-19.4%

M-B Taiwan / Mercedes-Benz

1,391

25.8%

Pan German / BMW

1,191

31.9%

Honda Taiwan / Honda

1,158

0.5%

Sanyang / Hyundai

1,150

15.6%

Taikoo / Volkswagen

957

43.7%

Luxgen Motor / LUXGEN

832

155.2%

Source: MOTC