By JENNY WU

The Guangzhou International Lighting Exhibition (GILE) is renowned for buyer-friendly organization and large number of exhibitors, as well as wide-ranging exhibits, including product inspection and laboratory equipment, LED drivers, transformers and ballasts, LED chips, LED modules, packaging materials, light fittings and electronic components, and lamps, among others. Following decades of development, the exhibition is now the world's largest LED fair by size.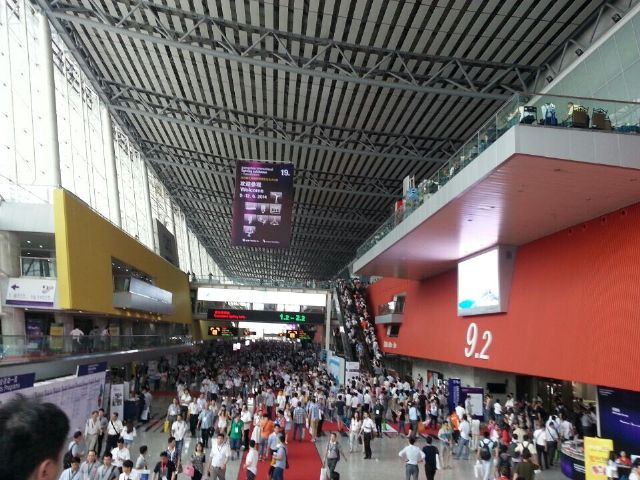 The 19th Guangzhou International Lighting Exhibition was held June 9-12 at the China Import and Export Fair Complex.
In its 19th anniversary, this year's show, held June 9-12 at the China Import and Export Fair Complex,  attracted more than 2,600 exhibitors, including such global heavyweights as CREE, Philips, Seoul Semiconductor, ON Semiconductor, Opple, Ledman, Panasonic.
At a press conference held on the first day of the event, the organizer, Guangzhou Guangya Messe Frankfurt Co., Ltd., showed optimism towards the future of the LED lighting industry and development of the Chinese market. Dr. Pan Wenbo, chairman of the firm, said the LED lighting industry is undergoing fast growth with great prospect, and China is a fast-growing market for LEDs with more than 10,000 LED manufacturers. In the next five years, however, Pan said, about 30-50% of those players are likely to be overwhelmed by increasingly fierce competition. Now LED lighting generates about 30%, or about RMB350 billion, of total revenue in China's lighting market, he forecasted, and will surge to RMB450 billion in the near future.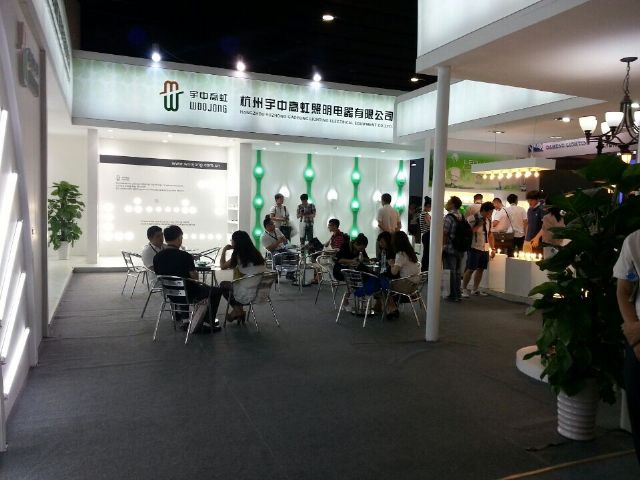 The show was rife with business opportunities during its four-day run.
The show had four main themes: continuous lighting, intelligent lighting application, project development and LED technology integration. Meanwhile, the organizer introduced the new concept of "Light +" and held more than 120 seminars with topics on design, market, technology and communication to shed lights on the industry's future development through discussions.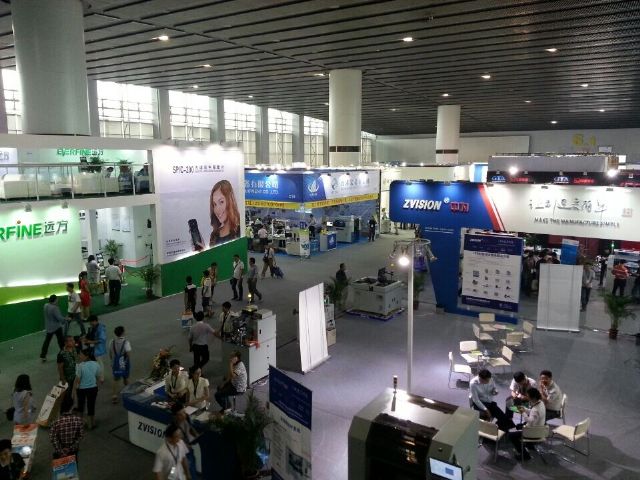 More than 2,600 exhibitors from all over the world took part in the show.
In addition to conventional LEDs, OLED products were also a big hit with visitors. Despite Panasonic already backing out the OLED business, global market research institutions generally predict the global OLED market to reach US$1.4 billion by the end of 2020, which still can't match that of the LED lighting market which is estimated at hundreds of billions of US-dollars.
This year's exhibition had also five national pavilions from South Korea, Hong Kong, Taiwan, the U.S. and Japan, with Japanese exhibitors setting up a pavilion at GILE the first time. Organized by Japan Lighting Manufacturers Association (JLMA) and Japan External Trade Organization (JETRO), the Japan Pavilion showcased energy-saving technologies, along with LED lighting, encapsulation materials, testing equipment and so on.
The South Korea Pavilion, organized by Korea LED Association and supported by Korea Trade-investment Promotion Agency (KOTRA), accommodated 10 exhibitors to display LED lighting technology, signs, light boxes, module, drivers, chips, radiators and solutions. The Hong Kong pavilion was organized by the Hong Kong Electronic Industries Association LED lighting technology, and highlighted with eight exhibitors, mainly promoting certification, product specification and other professional services along with their newest products.
The United States Pavilion presented the latest LED technology and all kinds of high efficiency and energy-saving lighting solutions that were focused on "innovation" and "sustainability," while the Taiwan Pavilion, organized by Taiwan Lighting Fixture Export Association, showed traditional and decorative lighting products, LED lighting lamps and light source, drivers and electronic components etc. from more than 40 exhibitors. The Taiwan Pavilion again was the biggest one by exhibitor number at this year's show.
In addition to foreign exhibitors, many Chinese suppliers also showed off cutting-edge products and technologies.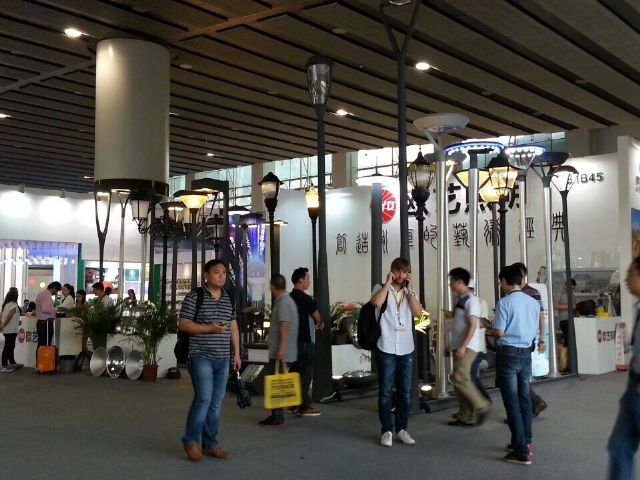 Chinese lighting exhibitors have steadily grown in number at the exhibition.
Dongguan Xiangchi Optoelectronics Technology Co., Ltd.
This Chinese exhibitor promoted  optical lens, lamp shells etc., and effectively captured intense interest from visitors. One of its newest products was the non-spherical optical lens of high-grade, imported PMMA and developed with special optical technology to withstand temperatures ranging  minus 38C to 103C, with even lumen distribution. Manufactured under strict quality control, the product meets RoHS requirements, with lens transmittance rate being as high as 92%, and exceeding 95% when the product is equipped with high-power LEDs. The lens is suitable for LED displays, advertising boards and panel lights.
The technology-driven company is capable of designing and developing molds, and various LED products, including high power LED bracket, LED secondary optical lens, LED lamp shell, LED light guide plate and others, marketing worldwide with monthly turnover of over RMB3 million.
This maker particularly takes pride in its world-class production capability, achieved by a full line of mold making equipment, injection machines, injection-blow mold machines, extrusion machines in-house, as well as a skillful, experienced R&D team, enabling improvement in productivity, quality and competitiveness.
After GILE, the company also took part in this year's Shanghai International Lighting Fair, held September 3-5.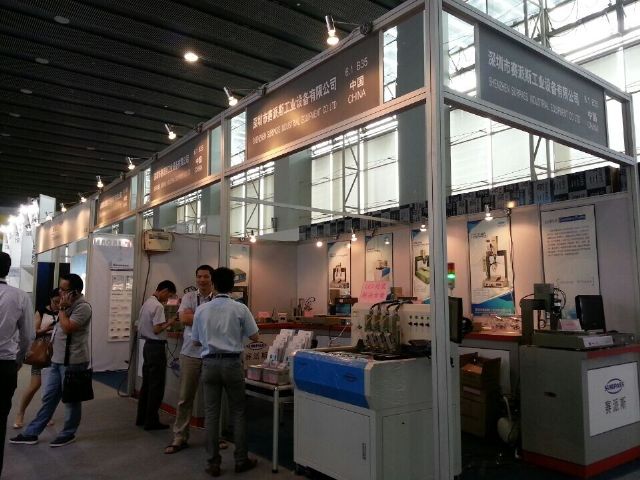 LED packaging machines displayed by a Chinese exhibitor
Foshan Nanhai Shunzhan Mould Lighting Metal Products Co., Ltd.
This exhibitor specializes in supplying LED and energy-saving lamp housings, displaying a comprehensive lineup of housings, mainly for LED streetlights, LED project-light lamps, LED tunnel lamps, LED underwater lights, LED fountain lamps, LED buried lamps, LED lawn lamps, LED ceiling lamps, LED ball streetlights etc. to keep up with constantly growing market demand.
The company initially engaged in mold design, processing and manufacturing, and then branched out to finished products and housings for lighting. Backed by years of experience in mold manufacturing and processing, this supplier capably satisfies customers with not just high-quality products but also extensive know-how in traditional and energy-saving lamps to help meet different requirements worldwide.
The maker has an R&D team as foundation to enable rapid development and innovation, resulting in the latest products meeting market trends.
Besides garnering on-site orders,  the firm praised the exhibition for global reputation and effective organization, also emphasizing the event as perfect business platform for promoting products, particularly when housings are regarded as semi-finished products.
Compared to domestic peers who generally compete by underselling, this Chinese supplier insists on offering increasingly fussy customers high quality and reasonable prices and targets the mid-to-high segment, to carve out its niches. Such strategy has proven effective to help the firm keep afloat during downturns, not to mention having received influx of orders this year.
Underpinned by its business philosophy of "Quality First, Integrity First and Service First," the company has built a higher profile relative to counterparts.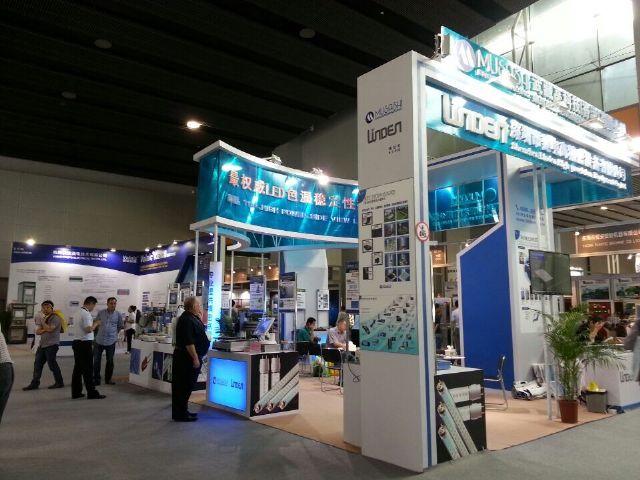 LED lightings took the center stage at the show.
Dongguan Louis Geer Optoelectronic Technology Co., Ltd.
This company is dedicated to R&D, production and promotion of LED and optoelectronic products with modern technology. Displaying its newest products, the supplier aims to become world's No.1 branded supplier of LED lights for retail stores.
Louis Geer displayed a variety of LED down lights, spotlights and cabinet lights, all built with high-quality LEDs light source to ensure longer lifespan, higher luminous efficiency and lower power consumption than competing models, also meeting CCC, CE, RoHS, FCC requirements. One other notable feature is thermal dissipation  achieved by using high thermal interface aluminum in heat sinks. Further, the company builds constant current switching regulators in its LED lights to broaden application.
To grow into a leading brand of retail LED lights, the company has not only frequently participated in the show but also focuses on developing lighting products with the concept "science and technology, eco-protection" to meet market demand. Presently, the company offers LED down lights, spotlights, track lights, beans gall lights, projector lights, wall washer lights, cabinet lights, chandelier lights, ceiling lights and bulbs, and many others, which are well received by buyers from  Europe and the U.S. In China it has set up many traditional stores to build a vast distribution network, hence gradually enhancing brand recognition among local consumers and winning trust and support from customers.
For the future, Louis Geer stressed that it will seek strategic partnerships with European firms, so as to continuously develop competitive products to meet customer demand, and secure sustainable development for in-house brands. (SC)