Wood is re-emerging as one of the most fashionable materials in lighting product today
By MICHELLE HSU

Wood is one of the most ancient of materials. But until recently, it was rarely used in lighting products. Today's new generation of energy-efficient lighting seems especially incongruent with wood due to its high-tech nature. In fact, though, wood has been making a splash in new lighting products displayed at creative woodworking exhibitions in Taiwan.

With ingenuity, lighting designers have combined the natural characteristics of wood with soft, diffused lighting and new forms. Their efforts have made wood one of the most stylish and fashionable lighting product materials.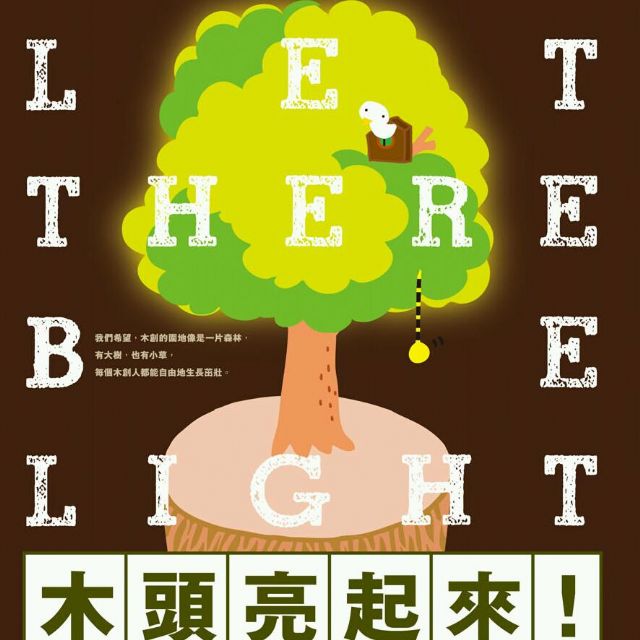 Taiwan has witnessed an upsurge in creative wood art in recent years, as seen in the plethora of wooden lighting products at creative woodworking exhibitions.
Wooden lighting products took center stage at the "Let There Be Light" exhibition held last August by the Wood Platform and Joinery Enthusiast Platform. The show enjoys wide support in the wood art community and has also won backing from the National Taiwan Craft Research and Development Institute (NTCRDI), the Carpentry Craft Research Association, and Danish Warehouse, which act as co-organizers. The exhibition is a major event on the wooden lighting design calendar.
Theme Exhibition
The annual exhibition aims to be a channel for learning and exchange among wood art workers. Wood lighting products were the mainstay for the first time at last year's show. More than a dozen creative wood art brands displayed over a hundred wooden lighting products at the show, highlighting the emergence of a trend towards wooden lighting among wood art workers.
Wooden lighting products were in the spotlight at the "Let There Be Light" exhibition, held last August by the Wood Platform and Joinery Enthusiast Platform.
Building on last year's success, the organizers plan to hold a second "Let There Be Light" exhibition in October of this year. They expect over a dozen participants to showcase their brands at the event.
Wood Platform stated that, "Over the past few years, a growing number of creative people in Taiwan have become involved in woodworking and every year marvelous works are displayed at the show." Last year's exhibition adopted the theme of "Let There Be Light." Fifteen wood creative brands and carpentry teaching workshops, the Carpentry Craft Research Association, and tool companies participated in the show.
The exhibition highlights the diversity of Taiwan's booming creative wood art scene. This is especially true in the case of wooden lamps, which possess both artistic qualities and lighting functionality, providing new creative space for their creators. The organizers hope that the wood art from this little creative garden can produce a rich variety of flowers.

"What lights up is the lamp."
Of the many wooden items produced, wooden lamps form only a relatively small category. "Let There Be Light" takes wooden lamps as its theme, and invites creators to exercise their imagination. The rules are simple: "What lights up is a lamp." Regardless of whether they are standing lamps, table lamps, chandeliers, wall lamps...even candle lights and flashlights, various forms of wooden lamps, in total the works of over a hundred woodworking creators were on show. Through creativity, craftsmanship and a pair of warm hands, 133 outstanding lighting designs were displayed at the show, including those of more than a dozen wooden brands.
Wood Craft Aesthetics
The Carpentry Craft Research Association, one of the co-organizers of the "Let There be Light" event last year, also took part in the "2013 Tsung-Yeh International Exhibition of Wooden Artifacts" held in Tainan, southern Taiwan later last year.
The "Tsung-Yeh International Exhibition of Wooden Artifacts" is held by the Tsung-Yeh Arts and Cultural Center, which is attached to the Cultural Affairs Bureau of the Tainan City Government. The center has held annual wood craft exhibitions for three consecutive years to promote wood craft aesthetics and culture. Last year, the exhibition was expanded and adopted the theme: "Gaze into the Past, Look to the Future." A series of activities were held, including six wood craft exhibitions, and six related professional seminars. It was a major event for the greater Tainan area's creative wood art community.
The organizers said that the rise of the "craftsmanship economy" in recent years has been a wake-up call for local culture. Individual carpentry creation and teaching workshops have sprung up across Taiwan. Of these, those producing wooden lighting works have broken free of traditional confines and presented refreshingly new approaches. For example, in one work, a light source is placed among a few pieces of recycled wood forming a rectangular lamp, and the lamp's light is emitted through gaps in the wood, creating a very special mood.
Designer Yang Jing-ping's "Crashed Egg" light uses wood materials for the central part of the lamp, a cracked eggshell through which light is allowed to shine through, as if there were a chick breaking from its shell; it inspires one's contemplations to turn to the significance of the hope of new life.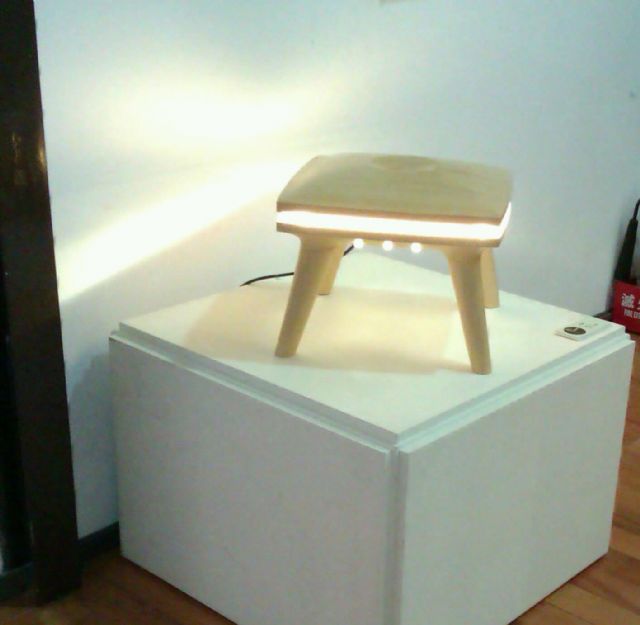 Seating and lighting functionality combine in this wooden stool by embedding a light source in the seat structure.
Another work was a combination of seating and lighting functionality, which places the light source within an intermediate layer of a wooden stool. When light is not needed, the lamp becomes just a square wooden stool, which can be used for sitting on, is lightweight and compact, and can be moved around freely just as any other stool can. When the lamp's power supply is turned on, the wooden stool's sitting board emits a relaxing warm light suitable for use as a night light or to create a special ambiance indoors.
META Design
The various works of wood art on display demonstrate that there are now already a good many Taiwanese wooden lighting brands. However, most of them are the creative brands of individuals, mostly single-piece creations, and rarely are they the products of factories of significant scale, let alone mass-produced products. META Design is one of the few lighting fixture manufacturers in Taiwan producing primarily wooden lamps. The main reason for this is that the company's lighting designer, Yaungo Cheng, has a soft spot for wooden materials.
Cheng's home was originally a lighting factory, called Comfort Lighting Inc., which was founded around 30 years ago. Growing up in a lighting fixture factory meant that by the time Cheng took over the family business, he had already built up a solid foundation in lamp structures. But with designer's blood flowing in his veins, as soon as he took over the reins of the family business, he began thinking about how the company could be restructured to fulfill his ambitions for his own brand. After eight years of hard work, that dream was realized.
Cheng's most famous works make up a series of L-shaped wooden lamps, which feature a simplistic and warm appearance, are environmentally and resource friendly, and convey an excellent design sense, even something of a Zen Buddhist flavor. The Uncle L desk lamp of this series is designed with a lamp base of L-shaped curved wood a mere 1.3 cm thick, fully echoing the slim and lightweight qualities of LED lamps, and furthermore the curve of the arc is very elegant, and the light can be switched on or off with a light touch on the lamp base.
Cheng has a personal liking for the curvature, precise lines and elegance of Italian design products, so his own works aim to challenge the design of Italian products. The Uncle L table lamp not only presents graceful lines in its arcs, but Cheng especially left a gap at the bend in the thin wood. On one hand, this is an expression of the exceptional appearance of the arc shape, and on the other hand, this gap is equivalent to a vent for the entire lamp; cool air entering into the lamp base here can perfectly solve the LED bulb heat issue, thus this can be described as a classical design with both aesthetic quality and practical functionality, which is the essence of the overall design of the lamp.
The Uncle L table lamp (32 × 7 × 33cm) is available in black walnut or bamboo. With the light source hidden away in the curve of the wood, the switch is a touch switch. The lamp's unique styling turns most people's idea of lighting on its head.
"I was continually exploring the nature of light. Where does it come from? What does it do? Who is it for? Then I discovered that we often overlook that what people really want to see is light rays, not light fixtures," Cheng made the comment. "The curved wooden lamp I designed basically just sits there very quietly, providing a ray of light which is natural, comfortable, and slips unobtrusively into one's life, giving a warm companionship and conveying a low-key aesthetic beauty," Cheng said about the creative concept behind his works.
Since resolving to work in lighting design, Cheng has designed new products and promoted them at overseas lighting fairs to gauge market response, collecting the opinions of buyers to use as future reference in making improvements. One year, Cheng received a pretty good response at the Paris Maison & Objet furniture exhibition, which was followed by overseas orders. He subsequently established the META home decor design brand in 2008. In addition to export orders, META lighting products are now used at Taiwan's Eslite Bookstores and "Talking about Design" points of sale.