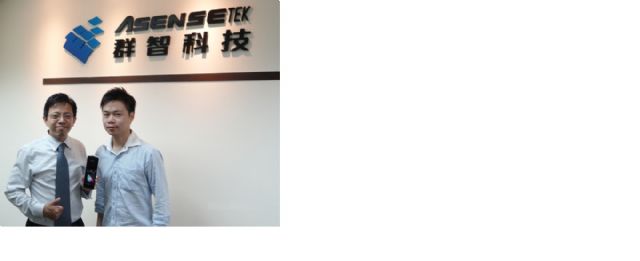 AsenseTek CEO Aeron Wang (left) and co-founder Bill Hsu
By KEN LIU
With manufacturers rushing to come out with LED lighting products that can differentiate them from their rivals, it is becoming increasingly important for them to prove the quality of the light their offerings produce.
Spectrometer maker AsenseTek Inc. is addressing this issue with a series of palm-sized spectrum measurement gadgets, dubbed "Lighting Passport," together with measurement apps for downloading onto smartphones and tablet PCs, which it released when it was founded some two years ago. AsenseTek was the world's first manufacturer in this line to supply photometers supporting smart devices.
The company's CEO, Aeron Wang, points out that the heated competition in the LED lighting market has compelled manufacturers to develop differentiated products, but that quality is inconsistent and it is almost impossible for manufacturers to produce objective proof of the quality of their lighting products.
Wang adds that without reliable data on the lighting quality of the fixtures, consumers do not know how to choose quality products. Also, he continues, "Most manufacturers do not equip themselves with spectrometers; so the problem of insufficient information on lighting products needs to be fixed, and the most feasible way to do that is to let people concerned about lighting quality have a mobile spectrometer they can use to measure quality anywhere and anytime."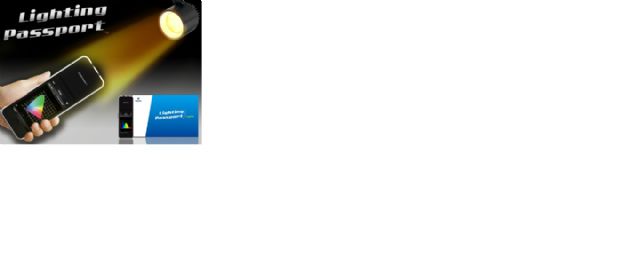 The Flagship version of the Lighting Passport
In contrast to traditional photometers, which are normally bulky and not portable,  AsenseTek's Lighting Passport is only the size of a smartphone and comes with the app "Spectrum Genius," which is downloadable to smartphones and tablet PCs, including the iPhone 4S, iPhone 5, iPhone 5S, New iPad (iPad3), iPad mini, Retina, iPad Air, iPod touch 5, later versions of iOS mobile devices, and Android 4.4-dirven devices. All measured results appear immediately on the devices, providing a basis for the judgment of lighting quality.
Not Just a Gadget
"In our definition," Wang explains, "the Lighting Passport is a measurement platform, not just a gadget, because it has many alternative measurement apps each of which can be scaled up in terms of functionality. Users can download these apps to their mobile devices or develop their own apps that can work with ours to provide a more satisfactory outcome." So far his company has introduced three apps, named Spectrum Genius Mobile, Essence App, and Transmittance App, respectively. The first two are used to examine the light from lighting fixtures, whereas the last is primed for analyzing the transmittance value of light through an optical lens.
While adding more apps, the company is also increasing the items of measurement for each app. For instance, the items measured by the Spectrum Genius have been expanded to include wavelength, correlated color temperature (CCT), color rendering index (CRI), color quality scale (CQS), foot-candles (FCs), CIE1931 color space, CIE1976 color space, spectrum, ANSI C78.377-2008, IEC-SDCM, peak wavelength (λp), dominant wavelength (λD), color purity, deep ultraviolet (DUV), and S/P ratio.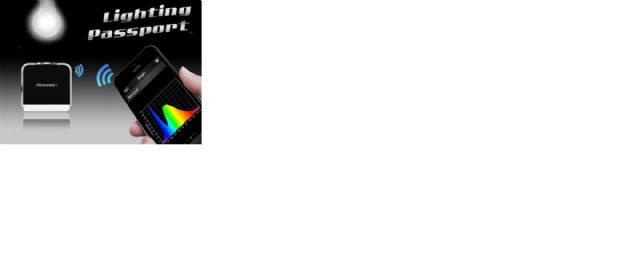 The Standard version of the Lighting Passport
The company is adding CQS to the measurement items to comply with the European and American trend toward the replacement of CRI with CQS, which is a quantitative measure of the ability of a light source to reproduce the color of illuminated objects.
The Lighting Passport is highly accurate in its measurements, being calibrated to NIST traceable standards, and has been verified for accuracy by mainland China's National Institute of Metrology and Europe's Federal Institute of Metrology, as well as Taiwan's National Measurement Laboratory. The meter is patented in the United States, Germany, and mainland China.
Measuring 6.85 centimeter in thickness, the Lighting Passport comes in flagship, standard, and entry models, with the flagship model being fully equipped with sensor, display screen, and built-in application software. The other two models display analytical data on wirelessly connected smart phones and tablet PCs. Despite the slim size, the product has a photometric analytics resolution of only eight nanometers. According to Wang, who has been in the LED and spectrometer industries for a total of eight years, a resolution under 10 nanometers can be achieved only by professional meters.
"A Genius Instrument"
Wang claims that the Lighting Passport has been well received in the market, and was even praised as "a genius instrument" by Italian lighting designers Serena and Francesco Iannone when they used it to measure the light inside the Monza Museum and Cathedral Treasury.
Wang stresses that in addition to the lighting and optical-lens industries, his photometer is applicable to the movie and TV, biomedical, and verification and analytics industries. For instance, he explains, "In shooting movies, when the intensity of light is inconsistent between indoor and outdoor scenes, our meters can be used to detect outdoor light intensity and wirelessly transmit the outcome to indoor lighting fixtures, which can then adjust their intensity accordingly."
Users can also measure their favorite outdoor light intensity and send the results to lighting fixtures connected to the Internet, commanding the fixtures to simulate the outdoor intensity.
Since lighting manufacturers are taking advantage of the Internet along with smart phones and tablet PCs to develop what they call "smart lighting," Wang is very positive about using the Internet of Things (IOT) as a new application platform for lighting in the future. "We will place our product SDK [system development kit] in the cloud," he says, "and our customers can use it to develop their own apps."
AsenseTek works with its customers on new application software in addition to developing the apps by its engineers in optoelectronics, electromechanics, software, electronics, microelectronmechanical system, and app software fields.
Among its customers, the company numbers such big-name multinationals as Osram, Philips, Whirlpool, Apple, Cirque de Soleil, HP, International Dark-Sky Association, Finelite Inc., Kitchler Lighting, Dickens & Associates Inc., Lighting Research Center, Cooper Lighting, USAI Lighting, Plaskolite, and Lighting Project Group.