By QUINCY LIANG

Taiwan's top transportation vehicle R&D and testing institution, the Automotive Research & Testing Center (ARTC), recently showcased a total of 13 technologies related to autonomous driving. The technologies have already been integrated in the center's autonomous car prototypes.

ARTC chose to demonstrate the technologies, all of which are available for transfer to the private sector, at the National Taipei University of Technology (NTUT), its long-term partner in automotive-related technology development and a major supply base of talented graduates for ARTC. Several real cars with individual or integrated autonomous driving technologies were demonstrated,winning unanimous applause and "wows" from the audience.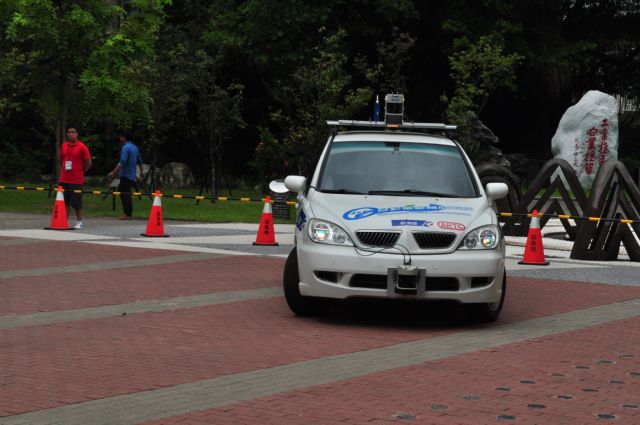 This ARTC-developed autonomous car was demonstrated at the NTUT campus.
The technologies demonstrated in real vehicles included Autonomous Emergency Braking (AEB), Parking Collision Avoidance System (PCAS), Autonomous Driving Assistant System (ADAS), and Wireless Charging System. Others were showcased through videos and prototypes.
During his speech at the event, NTUT president Leehter Yao said that the R&D achievements showcased by ARTC would open the eyes of all attendees and stimulate more new ideas for, as well as interest from NTUT professors and students in, the automotive industry.
Lio Chiu-ching, vice president of ARTC, pointed out that the advancement of automotive technologies has jumped far beyond the traditional fields of mechanics and electrical machinery into new areas such as electronics, system integration, information and communication technology (ICT), and even bio-informatics. In the future, he added, vehicles will have not only clean-energy propulsion systems but also a moving platform integrating intelligence and safety, making drivers and passengers more entertained and happy. With long-term support from the Technology Development Program (TDP) of the Ministry of Economic Affairs (MOEA), ARTC is aggressively developing advanced automotive systems and transferring the results to local private enterprises for commercialization.
Autonomous Emergency Braking (AEB)
One of the advanced technologies showcased on a real vehicle was AEB. This is already a common active-safety system on luxury cars; ARTC says, however, that the key to such systems is more enhanced identification of barriers.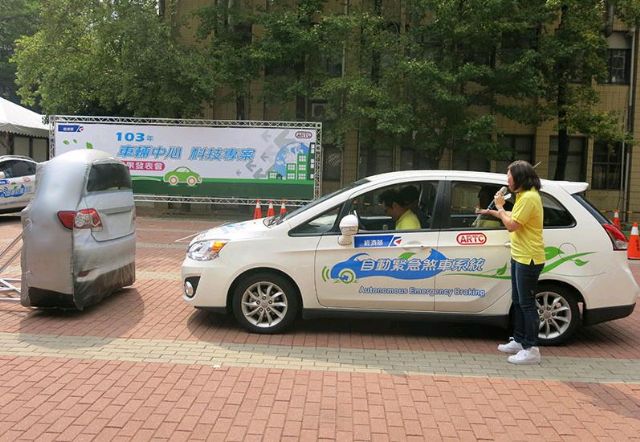 A real-vehicle demonstration of the Autonomous Emergency Braking (AEB) developed by ARC
AEB employs sensors to monitor the proximity of vehicles in front and detects situations where the relative speed and distance between the host and target vehicles suggest that a collision is imminent. In such a situation, emergency braking is automatically applied to avoid the collision or at least mitigate its effects.
In its development efforts, ARTC integrated both millimeter-wave radar and image-sensing technology into the core architecture of its AEB system.
With their recognition and distance-detection capability, image-sensing systems are easily affected by weather conditions and background complexity. Millimeter-wave radar, which is currently the mainstream collision-prevention technology, addresses this problem by transmitting radio waves to the vehicle ahead and analyzes the arrival time and direction of the reflected waves to measure the distance to the vehicle and determine its speed and position. The resulting information is relayed to Pre-Crash Safety (PCS) systems, which attempt to minimize crash damage when detecting an imminent collision, and Adaptive Cruise Control (ACC) systems, which maintain a safe distance between vehicles.
Millimeter-wave radar is not vulnerable to weather conditions, but it cannot recognize the character of the objects it detects. So, ARTC claims, the integration of millimeter-wave radar and image-sensing technologies into a single AEB system creates many advantages: pedestrian recognition, background-complexity reduction, lowering of the algorithm volume of central processors, etc. For AEB system development, the center integrates digital image processors and micro controllers into one dual-core processor module as the algorithm core for real-time lane recognition, front-vehicle distance detection, multi-sensing fusion, and route prediction.
A series of real-vehicle tests has shown that ARTC's AEB system has greatly improved detection accuracy, thanks to its ability to overcome interference from weather conditions and background complexity. As there is no company in Taiwan working in the field of multi-sensing fusion,  ARTC has tied up with Carnegie Mellon University of the United States to acquire the technology and know-how it needs.
To see ARTC's real-vehicle AEB system demonstration, view the video at http://youtu.be/mvhES-24CsY.
Parking Collision Avoidance System (PCAS)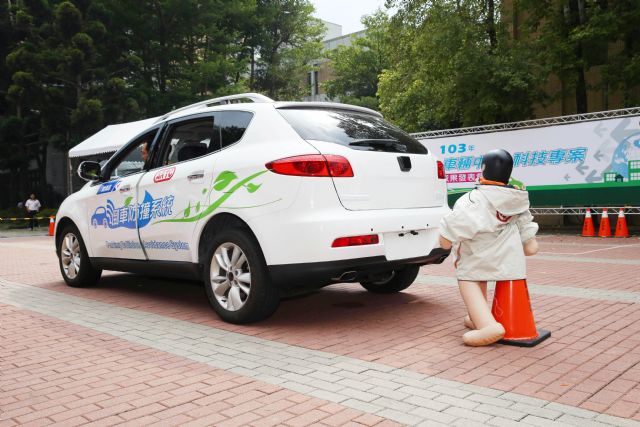 A demonstration of the Parking Collision Avoidance System (PCAS)
Many car accidents happen when a vehicle is backing up. By integrating ultrasonic and image sensing technology as well as an Electric Parking Brake System (EPB) into its PCAS, ARTC gives a vehicle the ability to estimate the time to a collision between a vehicle and a barrier, and to brake automatically to escape a possible collision.
ADAS
One of the real-vehicle demonstrations attracting the most attention was that of the ADAS, which enables a vehicle itself to find a parking space and automatically park there. The only thing the driver has to do is use his finger to click on a button displayed on his smartphone.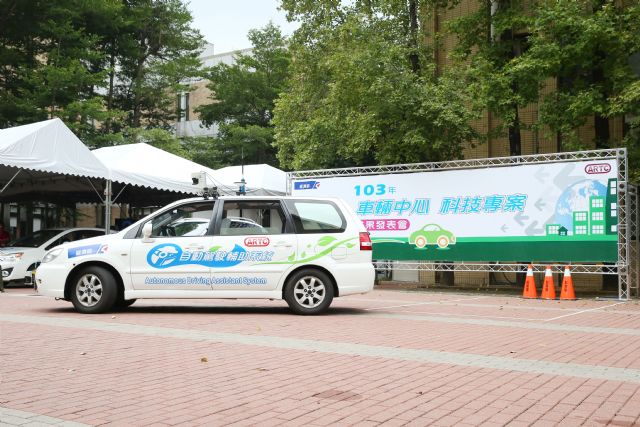 ARTC's autonomous car equipped with the Autonomous Driving Assistant System (ADAS) demonstrates its self-parking ability (the driver, outside the vehicle, uses a smartphone to initiate the function).
In most cases, ARTC explains, drivers prefer to drive their cars themselves, but would like the cars to park automatically. ARTC developed its first-generation ADAS in 2010; the new-generation ADAS, according to Liao, can get into the right position easily by using GPS and sensing technologies. When the system is set to drive autonomously to a location, sensors and cameras on the vehicle collect and transmit signals to a control unit and the GPS guides the automatic driving system to the desired position. The system can also automatically detect, in real time, any barrier in the way, allowing the vehicle to avoid any possible collision.
Liao claims that ARTC's ADAS features several technological breakthroughs. In the past, most parking-assist systems let the driver choose a targeted parking space by viewing images on a display screen; but the GPS and multi-sensing technologies used by ARTC allow a driver to choose a parking space much more easily and safely. Other technologies employed in the ADAS include parking-space automatic detection, route navigation and track control, barrier detection, mobile-device control (by smartphone, tablet PC etc.), automatic parking, and drive-back (to the driver).
ARTC is working on the incorporation of more telecom technologies that will further upgrade the functionality of its ADAS, including Wi-Fi, DSRC (dedicated short range communications), 3G/4G, and LTE, further strengthening the system's ability to detect the status of surrounding vehicles and collect information on road conditions.