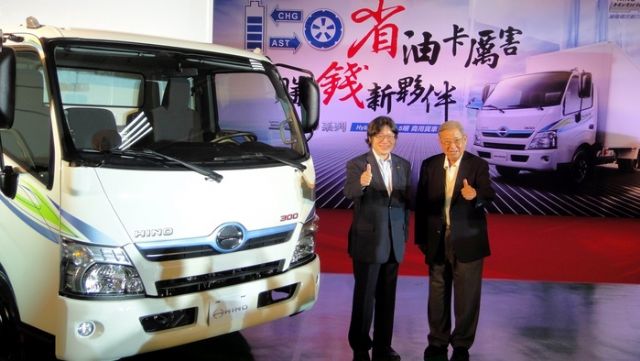 Su Yann-huei (right), founder and former chairman of Hotai, at the launch of locally assembled Hino 300 hybrid truck in Taiwan. (photo from UDN)
Hotai Motor Co. Ltd., Taiwan's agent of Toyotas and commercial vehicles as well as a major passenger-car vendor in Taiwan in the past 12 years, recently launched its first locally- assembled hybrid commercial truck series, the Hino 300 in 3.49-, 6.5- and 8-ton models.
The vendor says its Hino series will outsell Fuso counterparts by 2015 to take the leading place in the commercial vehicle segment on the island.
Lin Shih-yuan, manager of Hotai's commercial-vehicle sales, says the 3.49-ton commercial-vehicle segment remains the largest in Taiwan's commercial truck sales. In the second half (H2) of the year, he adds, sales volume of Hino 300 3.49-ton trucks is expected to outperform that of Fuso, the long-term No. 1 brand in Taiwan. This year, Lin adds, Hotai anticipates to sell over 3,000 Hino 3.49-ton trucks, while the number is targeted at over 3,500 units by 2015.
Hino trucks has a market share of more than 40% in Taiwan's  commercial-truck market, but in the largest 3.49-ton segment, the nameplate has been outsold by Fuso, which are locally assembled by China Motor Corp., the local agent and assembler of Mitsubishis.
At the new-truck launch, the 88-year-old Su Yann-huei, founder and former chairman of Hotai, was on hand to show determination to win the No. 1 position in the 3.49-ton commercial-vehicle segment, with the vendor having started by dealing in commercial vehicles.
Justin Su, president of Hotai, says salespeople are always encouraged by the fact that Hotai has led almost every passenger-car and commercial-vehicle product category, except the 3.49-ton segment. With the introduction of the Hino 300 hybrid, he adds, Hotai's aims to take the overall title as leader in Taiwan's automobile market.
After extended negotiations with Toyota headquarters in Japan, Hotai finally won the right to introduce the Hino 300 3.49-ton truck for local assembly (by its local affiliate Kuozui Motors Ltd., also the local assembler of Toyotas) in 2009. Sales of Hino trucks in Taiwan as a result have increased yearly.
In the first seven months, Hotai sold 1,641 Hino commercial trucks to take a market share of 26.5% (compared to 2,505 units and 40.5% market share for Fuso). In three years, Lin says, Hotai's commercial-vehicle sales revenue is expected to reach NT$15 billion (US$500 million), to account for about 10% of Hotai's overall revenue.
To further expand the market share of Hino commercial vehicles in Taiwan, Hotai set up its commercial-vehicle business division in July this year, with a project to renew both hardware and software under way in its headquarters and distributors to duplicate its successful model for Lexus.
Sales of 3.49-ton Trucks in Taiwan (2010-2014)

Brand / Agent

Period

2010

2011

2012

2013

2014 (Jan.-July)

Hino/ Hotai

Volume

987

1,338

2,126

2,080

1,641

Share

10.5%

13.5%

18.8%

24.5%

26.5%

Fuso / CMC

Volume

6,404

7,008

7,304

4,148

2,505

Share

67.8%

70.5%

64.7%

48.8%

40.5%

Isuzu / Taipei Triangle

Volume

710

580

333

782

506

Share

7.5%

5.8%

3.0%

9.2%

8.2%

Source: The Ministry of Transportation and Communications