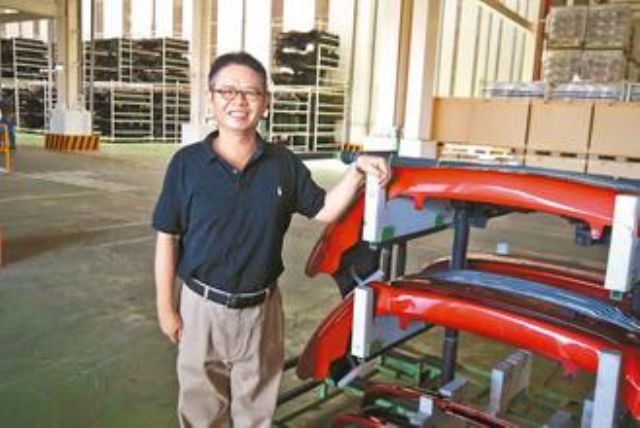 Crispin Wu, Tong Yang's president, introduces his company's Guanyin OE-parts factory. (photo from UDN)
Tong Yang Industrial Co., Ltd., a major auto-parts manufacturer in Taiwan, recently kicked off mass production of a new coating line at the company's original equipment (OE) auto-parts  factory in Guanyin, northern Taiwan, which triples its OE-parts production capacity.
Tong Yang says the new coating line is Taiwan's first electrostatic coating line for larger bumpers meeting European and Japanese quality standards. With the higher capacity, Tong Yang can raise OE-parts shipments to local and foreign automakers, also aiming to utilize such additional capacity to produce high-end OE auto accessories for customers in Europe, the U.S. and Japan.
Crispin Wu, Tong Yang's president, says in addition to the new OE-parts production line, his company's investment focus in 2014 will be aftermarket (AM) replacement products. This year, Tong Yang's capital spending is expected to top NT$3.9 billion (US$130 million), with several investment projects to be completed by the end of 2015, including a new warehouse, electroplating factory (for AM items), an automation project at its sheet-metal fender production line, and the firm's fifth AM-parts factory in its plant complex in Tainan, southern Taiwan.
Institutional investors estimate Tong Yang's revenue to grow at least 10% in 2014 and to remain at such level in the next three years.
Wu says the sovereignty debt problems in Europe have abated, coupled with recovering U.S. economy to drive increasingly stronger demand for AM auto parts from the two regions; while longer vehicle life also generates more demand for AM replacement parts.
The president adds that Tong Yang's intensive investments in China in the past 15 years or so have begun generating ROI to the Taiwanese headquarters, so the company has decided to focus on  and pour resources to expand production capacity in Taiwan. In conjunction with a series capacity expansion, corporate restructuring, and new-factory construction plans on the island, Wu says that Tong Yang will likely raise its global market share while widening its lead over rivals.
Unintentionally Positive Outcomes
Tong Yang began major restructuring at its Guanyin OE-parts facility three years ago to mainly win OE parts orders from German automaker Volkswagen's plan to set up auto assembly plant on the island, or from Volkswagen's local assembler. To meet VW's stringent quality requirements, Tong Yang purchased Taiwan's only European- and Japanese-standard  electrostatic coating line for bumpers.
However VW's plans in Taiwan is still pending due to the China-Taiwan trade talks and agreements failing to include assembled-vehicle for duty exemption, albeit the restructured plant helps to win more OE orders from local auto assemblers.
About three years ago, Taiwan's domestic new-car sales stagnated and almost all major local OE-parts suppliers stopped investing in new or renewing manufacturing equipment, except Tong Yang. When the domestic automobile market regained growth momentum thanks to improved local economy and recovered replacement purchases, which led to stronger-than-expected sales of some makes and models, Tong Yang's added production capacity timely offset the supply shortage of parts and accessories.
TYC
TYC Brothers Industrial Co., Ltd., one of Taiwan's largest auto-lamp makers, just broke ground for a factory in Tainan Technology Industrial Park (TTIP), expected to cost NT$600 million (US$20 million). In Q2, TYC's subsidiary Jouku Technology Co.,. Ltd. inaugurated a factory in Malaysia as the start of a series of investments in the nation. The firm says the ongoing investments could boost annual revenue to over NT$10 billion (US$333.3 million) in the near future.