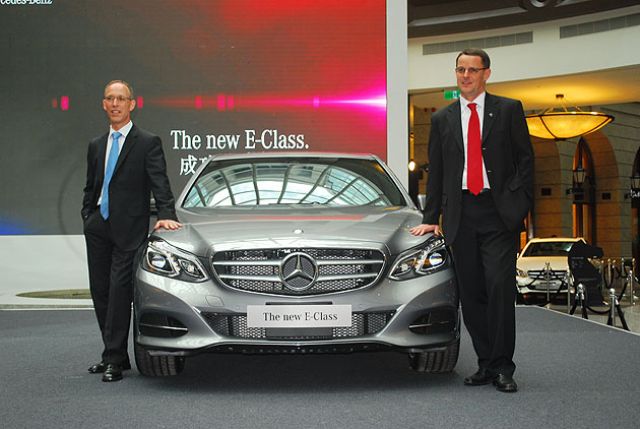 Eckart Mayer, president & CEO of Mercedes-Benz Taiwan. Mercedes-Benz was the top brand in Taiwan's imported luxury-car segment for the fifth consecutive year in 2013 and is expected to extend its reign this year. (Photo from UDN)
Eckart Mayer, president & CEO of Mercedes-Benz Taiwan Ltd., the local subsidiary of the German luxury car brand, recently said that his company expects to sell a record 18,000 cars in Taiwan this year and increase the number to about 20,000 in 2015.
Driven by hot sales of entry-level models, Mercedes-Benz Taiwan scored a record-high annual sales volume in Taiwan of 16,700 units in 2013, up 25% from the previous year and keeping the brand in the lead in Taiwan's imported luxury-car segment for the fifth consecutive year.
Mayer agreed with the forecasts for this year's overall new-car sales volume in Taiwan, about 400,000 to 410,000 units, by other local auto vendors. He said he is optimistic about his company's sales in the rest months of this year despite the upcoming year-end elections. He noted that sales in the the luxurious-car segment, which has been enjoying rapid growth in Taiwan in recent years, is expected to maintain at two-digit gains this year as major international brands roll out a stream of new models on the island.
The market share of imported reached about 30% in 2013, up from 20% to 25% in previous years, and is expected to top 30% in 2014. More than half of the imported cars sold in Taiwan are luxury brands, mainly Mercedes-Benz, BMW, Volkswagen, and Audi. Industry sources and car importers forecast that more than 60,000 imported cars are expected to be sold in Taiwan this year, a new record.
Mercedes-Benz Taiwan has been trying to boost sales by expanding its product line-up and improving the customer experience. Strong demand for its newly introduced new GLA series, a line of luxury compact crossover vehicles unveiled at the 2013 Frankfurt Auto Show, as well as increasing sales of the S- and E-series models, helped the company increase sales to a record 10,800 units in the first seven months, a 17% increase from the year earlier period.
After Mercedes-Benz Taiwan launched the new C-series models (known as the W205) in late July, Mercedes-Benz said, sales of the new models have outstripped demand for older models. Mayer is optimistic that the new C-series will become the most popular model in Taiwan's imported luxury-car segment and a major sales growth driver for his company in the second half.
In the first seven months, Mayer said, global sales of Mercedes-Benz cars increased by 12% year-on-year (YoY) to reach about 913,000 units, while Mercedes-Benz Taiwan's sales grew at an even faster 17% YoY pace.
Mayer claimed that his company is scheduled to introduce more heavyweight Mercedes-Benz car models to Taiwan in 2015, and is optimistic it can sell more than 20,000 new cars on the island next year.