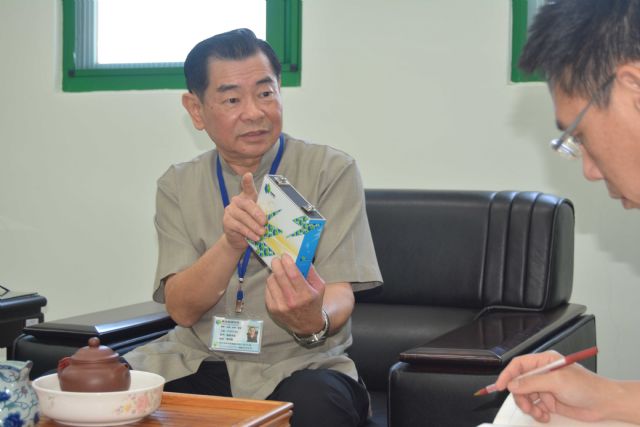 Chen Ming-der, chairman of Chang Hong, which aims to become a leading maker of LFPO power cells. (Photo from CENS)
By QUINCY LIANG
Chang Hong Co., Ltd. is positioning to become the the world's largest producer of lithium iron phosphate oxide (LFPO) high energy-density power cells. Company chairman Chen Ming-der recently announced that his firm started mass producing the cells in May, 2014, and the company's high-tech factory at the Central Taiwan Science Park (CTSP) Houli Park is now operating at nearly full capacity
 Chen is a legendary figure in Taiwan. He has held chair professorships at over 10 major universities in Taiwan and served as a senior consultant to the Office of the President, the Ministry of Economic Affairs (MOEA), Taichung City Government, and other organizations, as well chairman of several enterprises. He is also known as the "Father of the CTSP" due to his role in setting up the park as a key high-tech development hub in central Taiwan.
When serving as CEO of the CTSP Administration, Chen met many entrepreneurs and professionals. He also learned that a group of Taiwanese scientists with patented technology for making LFPO power cells was trying to form cooperation ties with companies in the CTSP. Chen finally decided to join Chang Hong to make the futuristic and, compared to lead-acid counterparts, more efficient and eco-friendly battery product.
"Global demand for green energy is booming from almost every segment using electric power in their products, especially battery electric vehicle (BEV) and plug-in hybrid electric vehicle (PHEV), solar and wind power energy storage, stand-alone/hybrid emergency power systems, and many other applications. There is also a strong interest in safer and more reliable high-performance Li-ion batteries," says Chen. "The LFPO cell is superior to non-iron-based Li-ion counterparts in safety and heat tolerance. Also, LFPO cells have an advantage over LiFePO4 in terms of environmental concerns, ease of mixing and cost."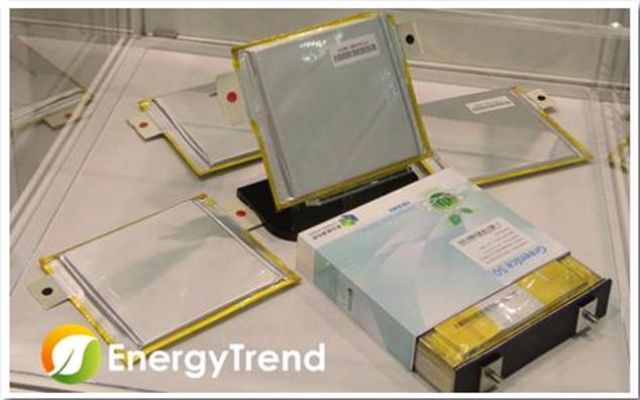 LFPO cells from Chang Hong (Photo from Chang Hong)
Way to Mass Production
According to Chen, the cell is the key component in power supply and energy storage systems. Anyone with control of cell technology can promote and develop a complete industrial chain for green energy.
With this ambition in mind, Chang Hong was founded in late 2009. But its challenges were just beginning.
"There was a long road to go from lab-developed technology to a mass-production ready product," Chen says. "Our professionals solved all the problems over the past few years, culminating in the the production lines at our factory today." Chang Hong is capitalized at NT$3 billion (US$100 million), with registered paid-in capitalization of NT$1.7 billion (US$56.7 million), and accumulated investment is over NT$1.4 billion (US$46.7 million), Chen says.
Chen and a foreign customer stand in front of Chang Hong's targeted production applications. (Photo from CENS)
Constrained by its particle density nature, the weight difference between LFPO and Li(Ni-Mo-Co) based Li-ion batteries has always been a source of concern. Chang Hong therefore developed a 50Ah prismatic battery composed of individual cells, resulting in a battery that is 20% lighter and 30% smaller than same-capacity 18650 counterparts, which use 45 cylindrical cells connected in parallel. Lesser soldering points in between cells also guarantee a more stable current flow, Chen explains.
In terms of discharge performance, Chang Hong's LFPO cell delivers a maximum current of 500A (10c, pulse 30 seconds) with power density  surpassing 1413w/kg, making its LFPO cell outstanding in terms of its compact size and high capacity.
High-Power LFPO Cells
Currently, Chang Hong uses patented LFPO cathode material (USPTO 7494744) supplied by Taiwan's Formosa Lithium Iron Oxide Corp. (FLIO, formerly known as Formosa Energy & Material Technology Co.) to produce its high-power LFPO cells with a nominal capacity of 17Ah, nominal voltage of 3.2V, size of 141*149*11.6mm, weight of 390g, and cycle life of more than 2,000 charges. Three cells can be assembled into one GreenIce 50 cell pack with a nominal capacity of 50Ah, nominal voltage of 3.2V, size of 155*135*36mm, weight of 1,400g.
With the introduction of the most advanced automated production equipment and water-based processing technology, the firm's cells feature many advantages, including high c-rate discharge, long life cycle, superior safety, consistent quality through production automation, and environmental friendliness.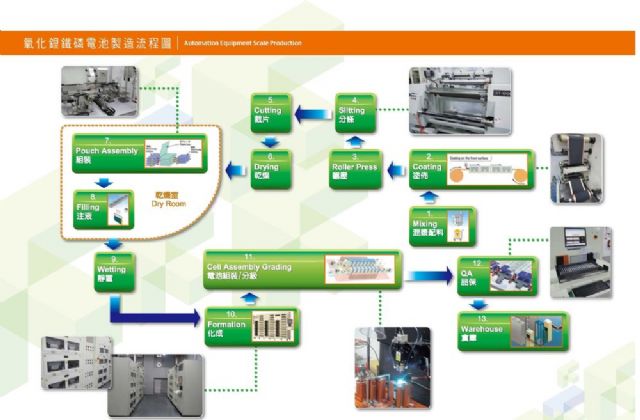 Chang Hong's advanced LFPO cell factory at the CTSP performs all production processes in-house. (Photo from Chang Hong)
Chang Hong's CTSP cell factory currently has 155 employees and an initial monthly production capacity of 500,000Ah. The company expects to gradually expand the plant's monthly capacity to 2.5 million Ah in a few years, while the maximum capacity at the existing facility will be four million Ah, Chen says. Chang Hong is optimistic about future demand and has set aside a a large site at its CTSP campus for future expansions.
Chang Hong's cell production lines are the most advanced among global counterparts. The firm's modern and integrated factory conducts every process in-house, from material mixing, material coating (onto aluminum and cooper foils), roller press, slitting, cutting, drying, pouch assembly, filing (pure water), formation, aging, cell assembly and grading, to quality control and warehouse.
The company has obtained all certifications required, including IOS 9001, UN38.3, CNS 14857, IEC 61960, IEC 62133, UK1624, and QC08000.
Wide Applications
Chang Hong's LFPO cells have a very wide application range, including solar/wind household energy storage system, solar powered LED lighting, portable power banks, stand-alone/hybrid backup power, and transportation equipment such as electric motorcycles, electric forklifts, electric golf cars, light electric vehicles (LEVs), electric boats, BEVs, PHEVs, and electric buses.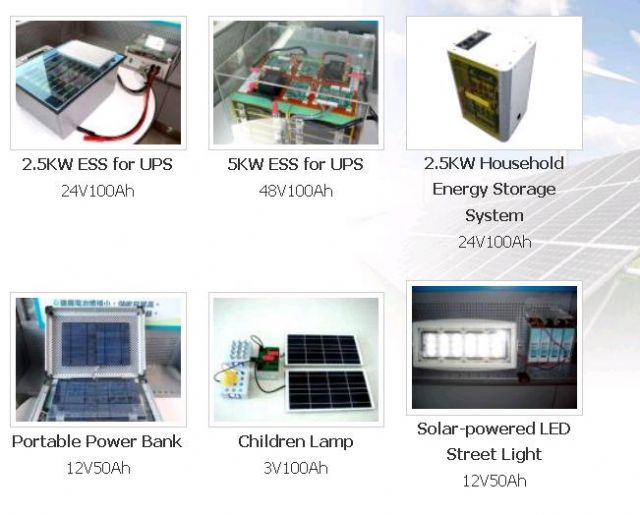 Chang Hong's cells in energy-storage systems. (Photo from Chang Hong)
The firm achieved many successes before debuting the advanced cells in the global market. In the past few years, for example, a 10kWh BEV powered by Chang Hong's cells was successfully launched; several 60kWh e-boats successfully entered into commercial operation at the Shimen Dam in Taiwan; the first electric-compressor garbage truck was put into operation in New Taipei City. Chang Hong also developed the first extended range electric vehicle (EREV) in Taiwan in cooperation with the Metal Industries Research & Development Centre (MIRDC).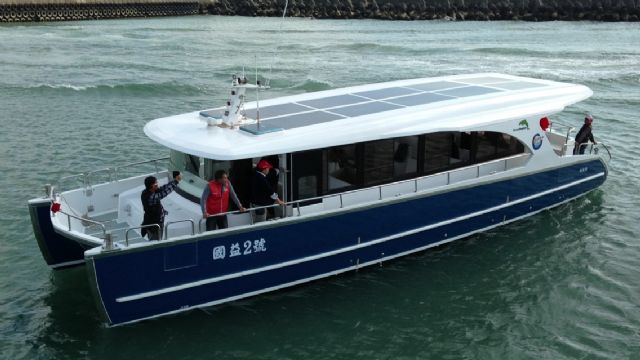 An e-boat in commercial operation is powered by Chang Hong's cells. (Photo from Chang Hong).
"We are very proud that all the e-boats commercially operated in Taiwan are powered by Chang Hong's LFPO cells," Chen says. "We have also supplied many cells for military applications. In conjunction with the expanding production capacity at our CTSP cell factory, we are targeting other segments, especially various kinds of electric transportation vehicles such as BEVs, PHEVs and e-buses."