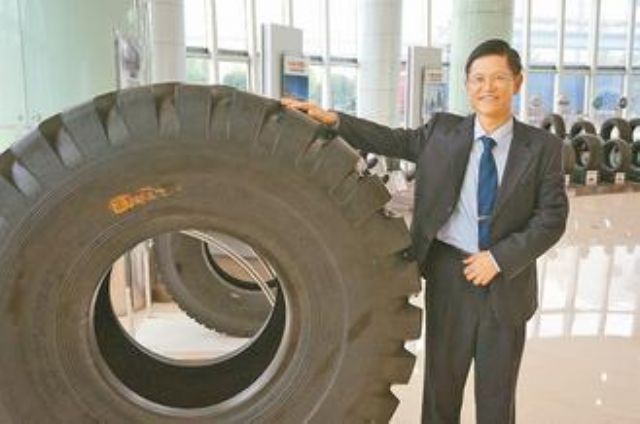 When Cheng Shin's new chairman Robert Lo took over from his father in June 2014, he targeted the No. 8 position in the world ranking for his company. (photo courtesy UDN).
Robert Lo, who in June 2014 took over as chairman of Cheng Shin Rubber Ind. Co., Ltd., the largest rubber-tire maker in Taiwan, recently stated that he aims to lead his company to annual revenues of more than US$5 billion in the shortest possible time and replace Yokohama of Japan as the world's eighth-largest tire manufacturer.
Lo made the statement during a media tour that he led to Cheng Shin's test track in Kunshan, Jiangsu Province, China. It was the first time that the new chairman talked to the media about his company's vision and operating targets.
According to Lo, Cheng Shin's tactic for further expanding its business is to "glocalize"--referring to globalization and localization at the same time--while targeting the simultaneous marketing of passenger car radial (PCR) and truck and bus radial (TBR) tires. In its globalization efforts, Lo explained, Cheng Shin has been aggressively developing business deployment in emerging markets such as China, Indonesia, and Thailand in the face of fierce competition from world's top-10 players in the business. Most of the top-10 have the support of international automakers, Lo said; Cheng Shin is an exception, but hopes to constantly strengthen its competitive advantage by globalizing its business.
Vehicles run on Cheng Shin's new test track in Kunshan, China. (photo from the Internet)
Amid the fierce competition in the global market, Lo went on, globalization is not enough to assure a company's survival; localization is essential as well. An international tire company has to localize its management, sales channels, and marketing in specific regions or countries to gain a more solid foothold there. Using Cheng Shin's operation in China as an example, Lo noted that his company has invited Chinese former NBA player Yao Ming to serve as spokesman for its tire products so as to win over Chinese consumers.
In addition to continuously pouring resources into the marketing of PCR tires, Lo reported, Cheng Shin is more aggressively striving to expand its sales of tires for sport utility vehicle (SUV) and multi-purpose van (MPV) applications. The company is already an original equipment (OE) tire supplier to Chinese automakers such as Great Wall Motor and Shanghai GM, and OE production accounts for an increasing share of its revenue in China. There, Lo said, Cheng Shin expects to win a 13% share of the overall OE-tire market this year, up from 10% in 2013.
Goal: No. 8 Tire Vendor
Cheng Shin was the ninth-largest tire vendor in the world in 2013 in terms of revenue (US$4.77 billion), according to statistics compiled by Tire Business, a ranking that has been unchanged for three years. He is confident, Lo said, that his company will win the No. 8 position in the near future.
Currently, the chairman went on, his company delivers about 13 million PCR tires a year in China, enough to equip about 3.25 million cars. With car ownership in China amounting to only 90 units per 1,000 people, compared with more than 300 in Taiwan and over 700 in the United States, he stressed, there is still a huge amount of room for Cheng Shin to increase its shipments there.
23 Years in China
The 61-year-old Lo took over the helm of his company from his father, Lo Jieh, only in June 2014, but prior to that he had spent 23 years in China helping Cheng Shin develop its business there. His footprints can be found from Kunshan to Xiamen (Fujian Province) and Chongqing (Sichuan Province), where the company operates production bases.
Although according to Forbes Lo's family runs the sixth biggest family enterprise group in Taiwan, the new chairman works diligently and maintains a very low profile. Sent to Cheng Shin's tire factory in Xiamen in 1991, two years later he was assigned by his father to help set up a new factory in Kunshan.
That factory has become the citadel of Cheng Shin's China operations, and in 2006 Lo decided to spend NT$5 billion (US$166.7 million) to build a sophisticated test track for developing and verifying its tire products there. The world-class test track, with a total length of five kilometers and all types of simulated road condition, has finally been completed after eight years of construction.
"Almost all major Chinese automakers now are our customers," Lo claimed proudly, "and insistence on quality is in the DNA of Cheng Shin."
Management "Iron Triangle"
As the new chairman, Lo said, his role in the company is to provide needed support to every business division and factory, as well as maintain the company's normal operation, rather than controlling everything.
Lo praised Wally Chen, Cheng Shin's president and his brother-in-law, as an "expert in branding" who has helped the company's Maxxis brand win a high international reputation. Lo also noted that Chen Hsiuh-hsiung, Cheng Shin Xiamen's chairman and another brother-in-law, is a specialist in motorcycle and bicycle tire products; while Lo himself has been concentrating on areas related to PCR tires.
Cheng Shin's Daily Tire Production Capacity

Product Revenue Share

PCR tires 38%, TBR tires 18%, Motorcycle tires 13%, Bicycle tires 8%, Others 14%.

Factory Revenue Share

Xiamen factory 20%, Kunshan factory 19%, Taiwan factory 15%, Thai factory 12%, Haiyen factory (Xiamen) 12%, Others 22%.

Total Daily Capacity

164,000 PCR tires, 18,000 TBR tires, 194,000 motorcycle tires, 442,000 bicycle rubber tires, 620,000 bicycle inner-tube tires, 80,000 other tires (industrial). Total daily capacity: 1.52 million tires.

Source: Cheng Shin, September, 2014.