Taiwan's Automotive Research & Testing Center (ARTC), which plays a center role in the island's transportation vehicle R&D and testing, recently announced the winning of several awards recognizing its achievements in the field of vehicular technology.

ITS World Congress Best Technical Paper
One of the Center's eye-catching wins was the "Best Technical Paper-Asia Pacific" award in the 2014 ITS World Congress Best Paper Award contest. "ITS" stands for Intelligent Transportation Systems (ITS), whose World Congress provides an annual platform for intensive interchange between the information and communications technology (ICT) and automotive industries. This year, the event was held on Sept. 7-11 in Detroit, Michigan.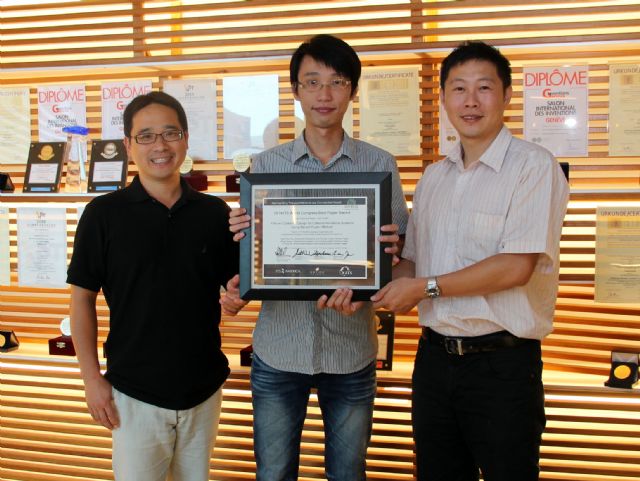 ARTC engineers (from left) Hsu Wei-chan, Su Yi-fong, and Lee Ming-hung won the "Best Technical Paper-Asia Pacific" in the 2014 ITS World Congress Best Paper Award contest. (photo courtesy ARTC)
This year, three ARTC engineers--Lee Ming-hung, Su Yi-fong, and Hsu Chan-wei--won the "Best Technical Paper-Asia Pacific" award with a submission entitled "Research on Multi-sensor Data Fusion in Automotive Safety," defeating thousands of global contestants. It was one of only six awards presented this year.
Intelligent transportation systems have been a major issue in the global automotive industry for many years, and have become even more so recently with the rise of the Internet of Things (IoT). Vehicles are connected via ITS not only for convenience, but also to enable all onboard intelligent and safety systems (vehicle-to-vehicle, vehicle-to-infrastructure, etc.) to protect the vehicle and driver, as well as to provide convenience and entertainment.
The award-winning paper was closely related to several of the Center's R&D achievements in automotive safety systems, including autonomous driving systems, Autonomous Emergency Braking (AEB) systems, and reverse collision-prevention systems. ARTC explains that these active safety systems utilize different types of sensors--ultrasonic, radar, image cameras, etc.--to collect data, while the control unit identifies and analyzes the data, and simulates different types of human identification modes.
Using metal detection as an example, ARTC explains that multi-sensor data fusion technology can identify and sort out front vehicles, manhole covers, floor-lamp poles, and the like, and then let the system make judgments needed to achieve maximum safety. The award-winning paper delved deeply into more precise system operation, and that is what attracted the attention of the judges.
Connected Vehicle, Connect World
Another bit of good news for ARTC was the recent signing of a memorandum of understanding (MOU) on cooperation with the Vehicle Dynamic Laboratory, University of Michigan. The MOU calls for the two parties to jointly develop vehicle-to-vehicle (V2V) communication technologies and testing platforms for autonomous driving through the exchange of personnel and technologies. The partnership is expected to bring together the advantages of Taiwan's automotive and information and communication technology (ICT) industries for the development of indigenous vehicular technologies to facilitate the international marketing of Taiwan-made connected vehicles in the future.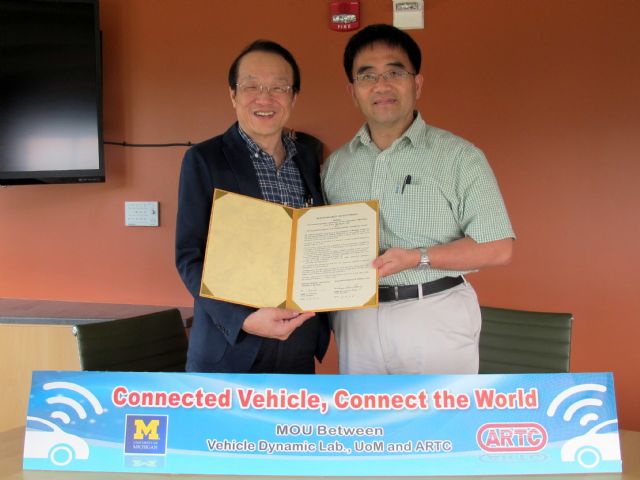 ARTC president Joe Huang (left) signed a cooperation MOU with professor Huei Peng, Vehicle Dynamic Laboratory, University of Michigan, calling for joint efforts in the field of connected vehicle. (photo courtesy ARTC)
Technical Achievement Award
In addition to the ITS award, ARTC recently also won a technical achievement award from the Department of Industrial Technology (DoIT), Ministry of Economic Affairs, for carrying out a Technology Development Program focusing on the development of advanced vehicular intelligent systems and application techniques. This follows similar wins in 2010 and 2013.
ARTC notes that it works constantly to develop vehicular active-safety solutions for different parts of vehicles, including the front, side, and rear, and that now its top priority is to accelerate the commercialization of the resulting solutions so that they can become more affordable and popular among drivers worldwide.
Jong-Chin Shen (left), Vice Minister of Economic Affairs, presents a technical achievement award to Liao Chin-chiu, vice president of ARTC. (photo courtesy ARTC)
The Center describes its integrated intelligent driving system as a high-level system with a multi-core hardware integration platform and integrated information and images displayed on an intelligent in-vehicle screen. As a a result, the system can provide all-field warning and prevention functions with this notable convenience: the driver can get all the active-safety protection he or she needs from an integrated system, and obtain all safety-related information simply by watching the in-vehicle screen.