By CARMEN LO

Living room furniture has always been the mainstay of the furniture industry, and items used in the living room change constantly along with market trends. Furniture manufacturers believe, therefore, that to survive they need to be able to provide different kinds of furniture products, and so most furniture makers in China have a variety of furniture items in their catalogs.

Coffee tables were long neglected in living room suites, but now they seem to be indispensable. The forms and patterns of coffee tables are becoming increasingly diverse as lifestyles change, and design, color, and materials have to match the key furniture elements in the living room and harmonize with the overall surroundings.

Thanks to advancements in manufacturing technology, today's coffee tables are more functional, flexible, and user-friendly than ever.

In recent years more and more furniture makers have become involved in the making of coffee tables, resulting in increased competition. Compared to other furniture products, though, coffee tables are still lagging in terms of R&D and upscale items.

Gentle Furniture Focuses on Glass Coffee Tables
Founded in 1995, Gentle Furniture is a professional manufacturer of dining chairs and tables, glass coffee tables, wine cabinets, and bar stools, among other products. Its glass coffee tables are made of heat-bent glass and have simple, elegant, and practical designs.

The company is located in Foshan, Guangdong Province, where its factory covers over 20,000 square meters. With careful selection of materials and an emphasis on efficient operation and management, the manufacturer turns out top-quality furniture products that meet the high demand of its customers.

Ever since its inception, Gentle Furniture has worked hard to improve its manufacturing technology and upgrade its product quality by installing sophisticated production equipment.

The company's products have established a solid reputation in the Chinese domestic market and are also exported globally, mainly to Europe, the United States, Japan, Korea, Hong Kong, and Macao.

Gaoang Furniture Promotes Rattan Coffee Tables
Also located in Guangdong Province, Foshan Gaoang Furniture Industrial Co., Ltd. turns out mainly rattan coffee tables which present a natural and rural style. The tables are suitable for matching with rattan furniture or traditional classic antique-looking furniture.

Utilizing imported advanced production facilities, the company has established an integrated operation that encompasses R&D, design, manufacturing, assembly, and packaging. It has also built up a comprehensive marketing network and provides the finest in after-sales services.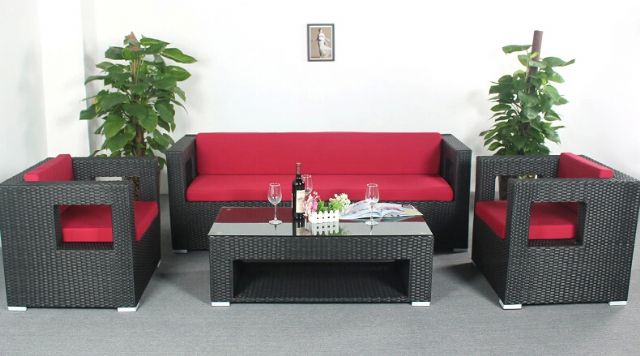 Gaoang's rattan coffee tables matched with rattan sofas and chairs create a tropical atmosphere that customers find attractive.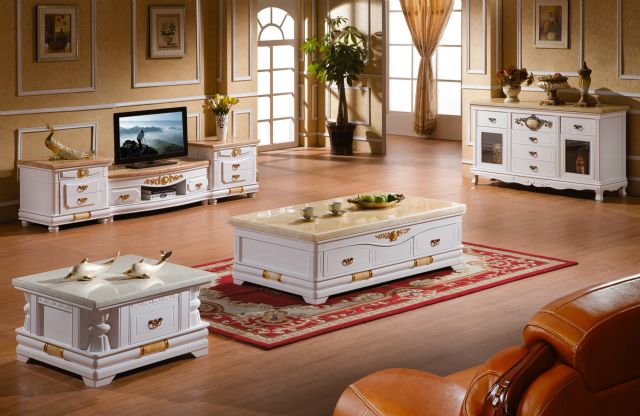 Holding firmly to its corporate philosophy of "Quality first, Reputation first, and Customer first," Gaoang Furniture guarantees its customers high-quality products which can be made on an original design manufacturing (ODM) basis to meet special requests.
The company sells its products to both domestic and overseas markets, yielding an annual turnover of about 10 million RMB (US$1.67 million).
Yi Lin Markets Stone Coffee Tables
Foshan Yi Lin Furniture Co., Ltd. is a leading maker of stone coffee tables located in Foshan, Guangdong Province. "Our coffee tables are mostly made of marble. The reason we use marble is because it is durable, easy to clean, and looks noble and elegant," explains a senior official at the company.
Yi Lin Furniture was founded in 2006 to produce a wide variety of furniture products mainly for living rooms and bedrooms. Its integrated development and production operation covers R&D, design, manufacturing, distribution, warehousing, and after-sales services.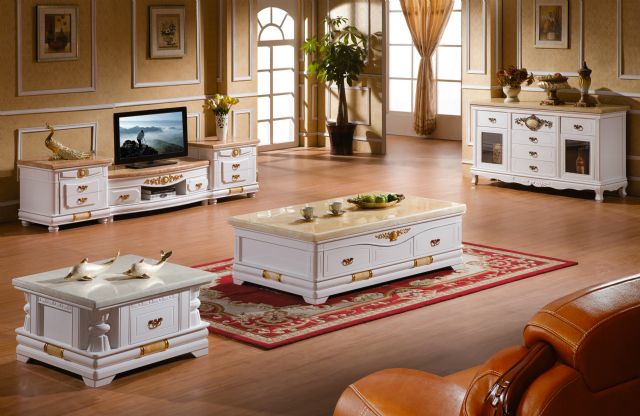 Bright, clean marble coffee tables from Yi Lin feature elegancy and simplicity.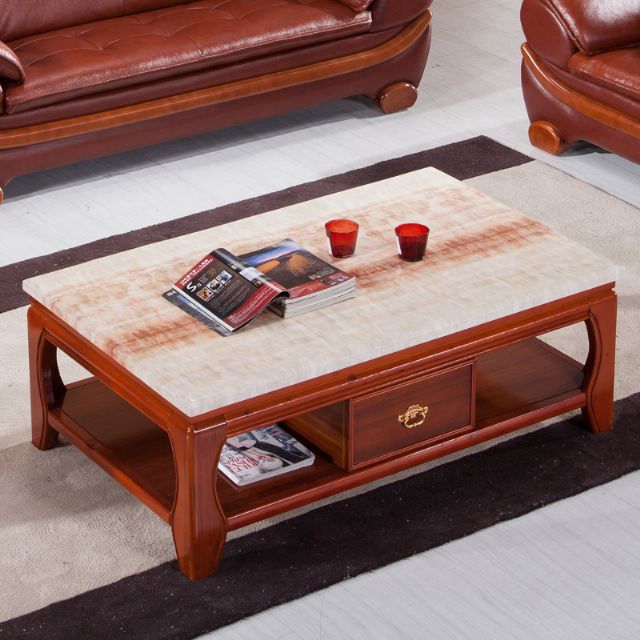 Increasing popularity in the market has helped Yi Lin build up its own "Ekelly" brand, which has been marketed in 34 provinces and autonomous regions in China. The company also exports its products to such countries as the U.S., Canada, Australia, New Zealand, South Africa, India, and Malaysia.
Adhering to the business philosophy of "Integrity is foundation, quality is lifeblood, and service is soul," Yi Lin carefully selects raw materials, strictly controls the quality of its products, and works to enhance operating efficiency so as to provide the most cost-effective products to its clients.
Foshan Qixin Develops Wooden Coffee Tables
Established in 1997, Foshan Qixin Furniture Co., Ltd. is a large manufacturer of high-end solid wood furniture, turning out a wide variety of products including dining sets, coffee tables, display cabinets, and TV cabinets. With its advantages of simple, natural appearance and adequate materials supply, wooden furniture has long been popular among consumers.
Qixin operates a modern factory in Foshan, with production lines that use advanced machinery and other equipment imported from Germany and Italy to turn out ergonomic high-end furniture. The company's products, which feature both classic and modern European styles, have been patented in China for more than 20 unique designs.
Qixin has continuously invested in the upgrading of its manufacturing technology and facilities, and it implements a stringent quality-control system to ensure the production of high-quality products.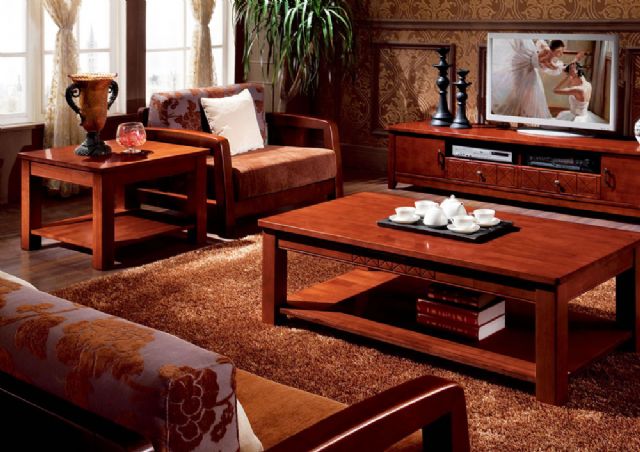 Wooden coffee tables developed by Qixin go well with the luxurious wooden living room sets favored by upmarket consumers.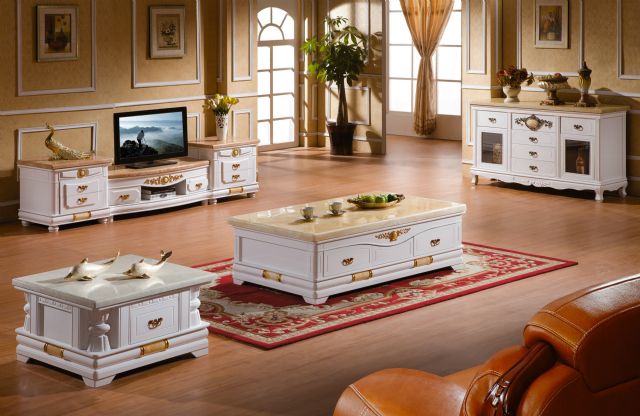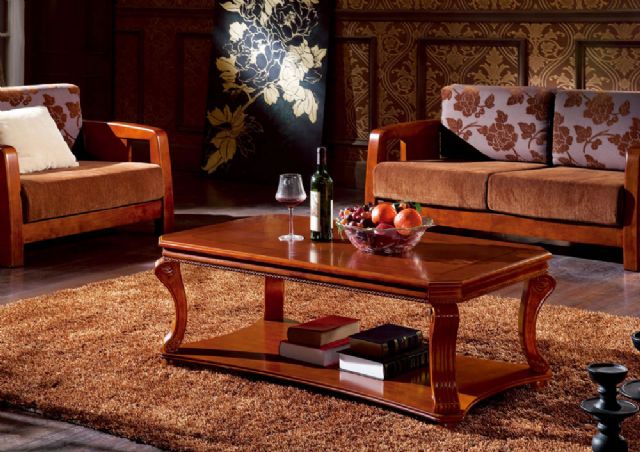 With may years of effort in the furniture industry, the company has built up an outstanding image in the market both at home and abroad, and its products have won many plaudits in China, including "Consumer Trusted Products," "Chinese Famous Brand," and "First Choice for Solid Wood Furniture" awards.
Today Qixin exports its products to more than 50 countries and regions around the world, including Russia, Israel, Lithuania, Kazakhstan, France, and Poland. Well-known five-star hotels, high-class clubs, villas, and resorts are among its major domestic clients. (JL)