One central Taiwan maker led peers by adopting CNC machines for production 18 years ago
By STEVE CHUANG

Shifting locales of global furniture production to emerging countries over the past few decades has profoundly uprooted market dynamics, with out-migration of Taiwanese furniture makers over the years also having destabilized the erstwhile prosperous furniture industry in Taiwan.

Interviews with the following makers of bathroom fittings and accessories help to clear the air as to the current state of downstream suppliers on the island, some of whom still hold their own in this market of intensifying rivalry.

Qi Ling
Founded in 1979 in Taiwan's central metropolis of Taichung, Qi Ling Furniture Co., Ltd. makes glass products backed by efficient facilities as CNC machine tools in-house.

The chairman, R.T. Pan, emphasized that his company introduced its first CNC machine tool 18 years ago to lead the sector in central Taiwan, with now 8 units that are mostly imported from Italy. The advanced machine tools along with several semi-automatic facilities enable Qi Ling to attain high flexibility and efficiency in production, to capably fill orders of high variety but low volume.

Another benefit derived from automatic and semi-automatic machine tools, Pan stressed, is the capacity to do corner grinding, gluing, painting, packaging etc. to boast in-house production exceeding 80% and guarantee customers high qualitative consistency. "Reliable quality is part of our services promised to clients that is made possible with efficient, integrated production lines at Qi Ling," said the chairman.

The firm turns out glass up to 3,500X2,500X of 19mm in thickness, mainly for furniture, bathroom furniture and interior decor, which are shipped worldwide, including Japan, the U.S. and Australia.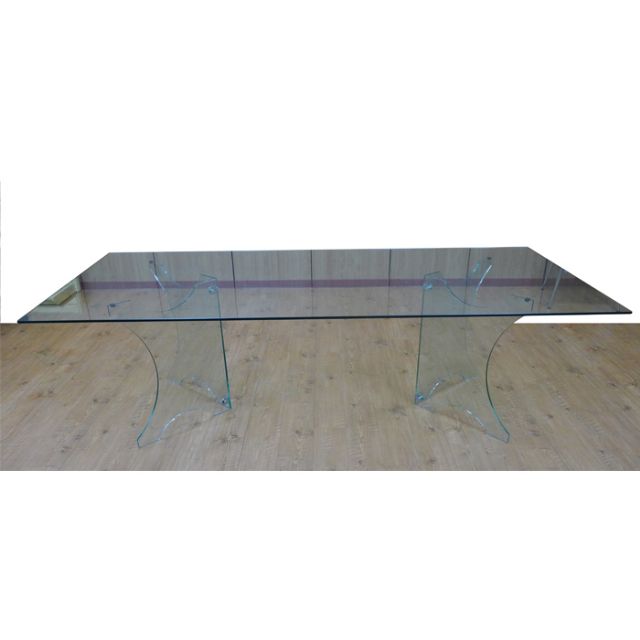 Qi Ling supplies glass up to 3,500 X2,500mm in size and 19mm in thickness.
Ever since venturing into glass production from chemicals 25 years ago, Qi Ling has steadily focused on improving competitive advantages to keep afloat amid growing rivalry from Southeast Asia. Qi Ling has survived the transition of the massive out-migration of Taiwanese furniture makers to South Asia in the 1990s as one of only three suppliers of this kind in Taiwan's central region. The fortitude has gradually paid off as Pan confirmed that foreign buyers are returning with orders, having been bitten by shoddy products sugar-coated in cheap prices offered by emerging suppliers that are more bane than bliss.
Believing when God closes a door, somewhere he opens a window, Pan noted that Qi Ling will continue expanding production facilities and sharpening  manufacturing skills to brace for good times ahead.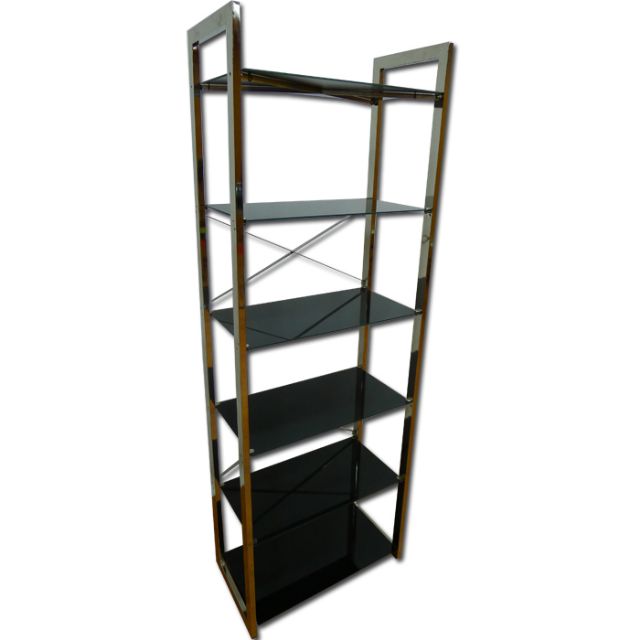 Qi Ling's glass is widely applied in wide-ranging furniture.
Xin He Fong
Another supplier noted for survival amid Taiwan's shrinking furniture industry by drawing on decades-long expertise in wire forming to enhance R&D for  functional bathroom accessories and furniture is Xin He Fong Co., Ltd., established in 1994 in Taichung and turning out K/D aluminum boxes and medicine cabinets, storage boxes, racks, and so forth.
On Xin He Fong's resolve to venture into furniture manufacturing from wire forming when Taiwan's furniture industry underwent downsizing, M.J. Chen, the owner, commented that "the industry is no longer in its heyday for sure, but I don't think the sun is setting as long as operators find new ways to bring back customers."
Xin He Fong has been working on its new K/D storage rack series to make his line more attractive. Chen introduced the 3-basket wire rack, highlighted with the innovative structural design using special plastic inserts inside metal tubes to enable convenient, effortless assembly without  fasteners and tools. The fastener-free structure helps minimize rust to make the rack easy to clean and suitable for use in high humidity places. Also notable is that, Chen stressed, the design saves materials and cuts mass without compromising structural strength. Further the plastic inserts achieve seamless connection to enhance added value.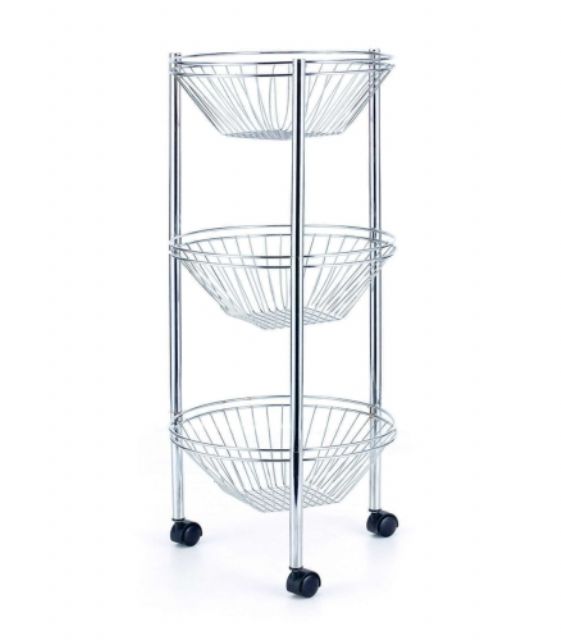 Xin He Fong's K/D three-basket wire rack highlights innovative fastener-free assembly and is suitable for use in bathroom.
The structural design took over one-and-a-half years to develop, and has been widely applied in Xin He Fong's newly launched wire racks and shelves. Such design has proven marketable and popular with buyers, who have been placing more orders since launch this May. The design is invention patented in Taiwan and China, and will be so in the U.S. soon, said Chen.
Another invention Xin He Fong has developed is the P.P plate rack series, with also easy tool-free assembly achieved by the durable P.P. plates that fold manually into a box, with the edges firmly holding each side of the storage unit. The tinted plates also help add visual appeal.
"We look to take advantage of our R&D to provide functional, unique products that drive customers' sales. In addition to new designs, Xin He Fong also tries to apply value-added materials in products to address growing concerns over sustainable, responsible use of resources," said Chen.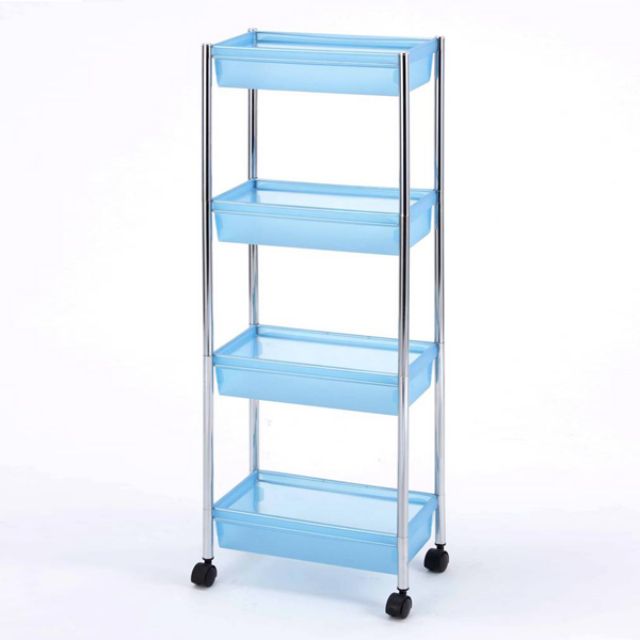 Xin He Fong's P.P. plate rack is noted for manually foldable, durable plates for easy storage.
King Brass
Amid increasingly challenging global markets, King Brass Precision Technology Co., Ltd. insists on continuously sharpening skills to meet customers' requirements, for speedy, efficient and flexible manufacturing is the best strategy for Taiwanese suppliers to secure sustainable development.
Founded in 1983 in Changhua County, central Taiwan, where over 80% of the island's faucets and plumbing fittings are manufactured annually, the company continues to engage in OEM (original equipment manufacturing) of bathroom fittings and accessories as storage racks, towel racks, parts for bathroom equipment, cylinder locks, door hinges, railing system fittings and components, and brass and aluminum parts.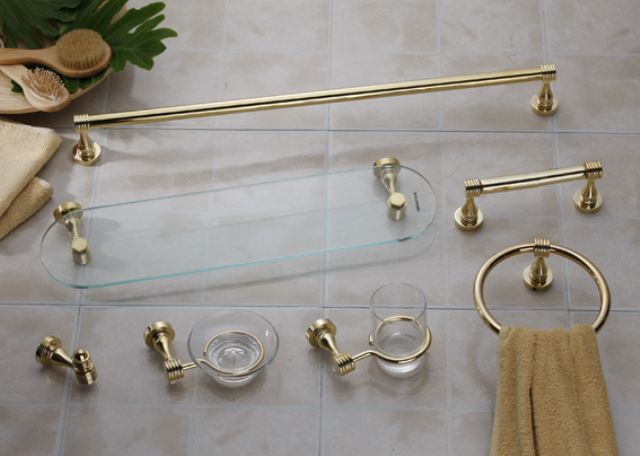 King Brass supplies wide-ranging bathroom fittings and accessories.
The sales manager, Will Hsu, noted that King Brass has seen annual growth in turnover remain over 30% for several consecutive years. To fill growing orders and enhance image among foreign buyers, Hsu confirmed the company will start up its brand new factory spread over 2,400 square meters in 2015, and introduce 6-8 new CNC machining centers and fully automatic warehousing equipment  within two years.
The company's success is attributable to its continuous investment in sharpening  marketing, R&D and manufacturing since 2009. That year, the global financial tsunami forced many local trading companies under and motivated his company to begin exploring the global market independently. As a newcomer globally, King Brass therefore decided to invest more in honing competitive edges, including setting up more CNC lathes, milling machines and other advanced equipment, to impress international buyers, Hsu said.
Such investments are paying off as the company is now capable of satisfying customers not just with excellent quality and speedy delivery, but also short R&D time for new products. Moreover, the company also accepts small orders for only 2-3 units of a single product to indicate outstanding flexibility in production, said Hsu.
King Brass is a skillful manufacturer with ample know-how, advanced equipment and manufacturing techniques to handle low-volume, high-mix production and R&D, and pays close attention to customer satisfaction. "In that sense, our company is committed to providing the best custom manufacturing just like boutique manufacturing," said Hsu.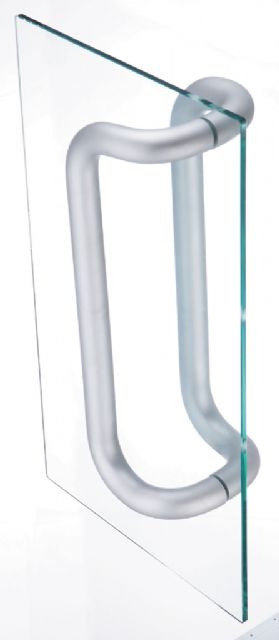 King Brass adopts production in line with boutique manufacturing.
Zona
Located in Changhua County, Zona Development Co., Ltd. is also a supplier devoted to R&D.
Zona started as subcontract metal processor and then ventured into wire furniture and accessories, like racks, shelves and hangers. However, realizing that intense competition stands in the way of sustainability of its business development, the general manager, Michael Wu, farsightedly decided to steer his company into the segment for metal-tube furniture specifically used in bathrooms about 10 years ago.
Since then the company, following years of hard work on production transformation and improvement, has effectively expanded product category to include bathroom trolleys, corner racks, utility racks, multi-form carts, telescopic shelves, bathroom cabinets, cupboard tables, glass display stands and cabinets, towel holders, toilet paper holders and bathroom fittings, which are well received and 100% exported to Europe.
Zona turns out a full line of bathroom furniture and fittings.
To secure sustainable growth, Wu noted that Zona has been actively reinforcing cooperation with subcontractors on development of functionally innovative products and multi-material applications, while exploring new markets as India and Russia over the years.
For example, Wu introduced the newest Shower Cabby series wall shelves, which are designed to meet European preference for compact, stylish and futuristic exterior, being made of aluminum alloy body coupled with high-quality glass trays. This series, he said, has better added value than ordinary models of cadmium-coated brass pipes. Besides, lighter weight and popular prices also make this series a hot-seller in Europe, especially when Europeans now tend toward economical products amid austerity.
Religious adherence to ISO standards also builds company image among customers, especially ones from Germany. "Customers believe in our quality because they know Zona implements truly by-the-book quality measures from material spot-check to pre-delivery inspection. The concept of achieving the best quality has been steeped in every worker's mind," said Wu.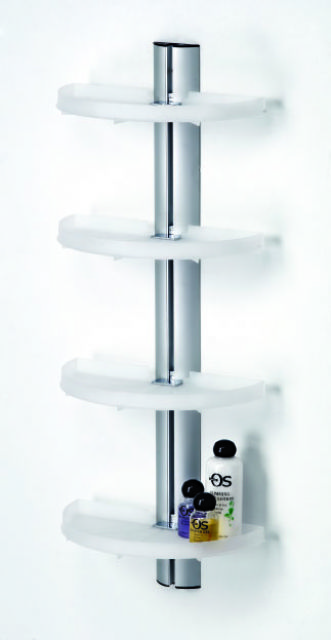 Zona's wall shelves unveiled in 2012 are among its hot-sellers.