R&D and branding pave the way to higher end markets as demand for repair and maintenance tools surge
By STEVE CHUANG

For decades, Taiwanese tool manufacturers have earned a global reputation for supplying high-profile, innovative products backed by thoughtful services that have helped customers succeed. Some of them showcased their competitive products and services at Automechanika Frankfurt, the world's top trade fair for automobiles, car repair and maintenance sectors, attracting strong attention from buyers seeking auto repair and maintenance solutions at the venue.

This year's Automechanika Frankfurt was held on September 16 to 20. It drew over 4,600 exhibitors, including some 470 from Taiwan, and more than 140,000 visitors from across the world during the five-day run. Among the exhibition's categories, repair and maintenance remained the second-biggest one, with over 920 exhibitors presenting in this group at Hall 8 and Hall 9 during the fair.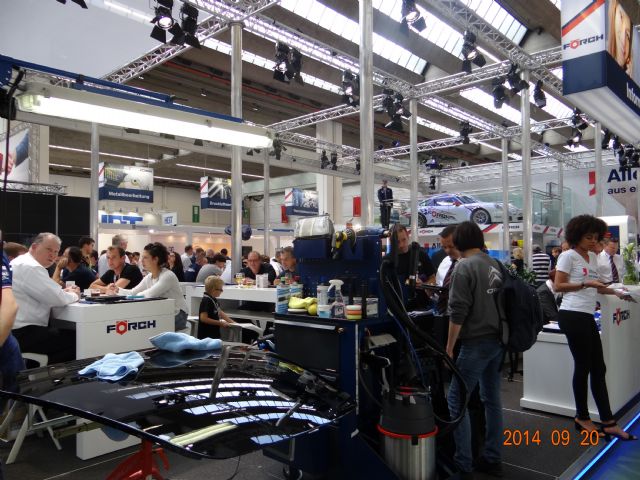 Brisk demand for auto repair and maintenance equipment drove this year's Automechanika Frankfurt.
Hall 9 was the venue for some of the world's leading providers of car service equipment and solutions, such as Bosch. Taiwanese exhibitors of tools were not eclipsed by the giants and successfully captured much of buyer attention with attractive exhibits.  
William Tools
Among the exhibitors was William Tools Co., Ltd., a top-end original design manufacturer (ODM) of torque wrenches for global brands and a professional supplier of digital tools. The Taichung-based company showcased a full line of torque wrenches ranging from 5m/n to 1,000m/n in torque and ratchet wrenches up to 3/4" inch in size, as well as Taiwan's first homegrown digital torque calibrator at its stand in Hall 9.2.
To further consolidate its lead in the sector of torque wrenches, the firm teamed up with the Industrial Technology Research Institute, a leading Taiwanese R&D institute, several years ago to jointly develop a torque calibrator. The calibrator's beefed-up processor precisely detects calibrations. The calibration data is stored in a device that can be conveniently transmitted via USB interface to computers for further analysis.
The firm's general manager, Michael Wu, said that, unlike traditional mechanical calibrators, the device provides digital data readings throughout the entire calibrating process. This way of calibrating torque wrenches is a growing trend since it better assures the most effective and accurate possible calibration to renew a tool's conditions.
William Tools also presented industrial torque multipliers to help its customers explore the emerging segments for electric car services and wind turbine construction and maintenance. The firm's torque multipliers have improved structures composed of a high-precision gearbox and components to achieve easy, effortless torque multiplication. One model can amplify input torque of 208n/m to 2,500n/m by revolting the input end 16 times with an ordinary torque wrench: ideal for fastening screws into car wheels and other processes requiring manually applied torque to be large enough and absolutely accurate to ensure safety.
William Tools general manager Michael Wu with the firm's torque multiplier.
"William Tools is showcasing various tools and accessories with diverse specifications and designs to allow for wider-ranging combinations and applications to meet demand for the highly customized solutions of professional-caliber tools, mainly for industrial purposes," said Wu. "This is part of William Tools' diversification strategy and it depends on strong R&D capability to succeed."
A technology-driven manufacturer, William Tools is finalizing development of a semi-powered digital torque wrench, Wu said. The ISO-6789 compliant wrench is scheduled to soon enter mass production. It features a built-in miniature motor that can generate torque of up to 50n/m, a prolonged lifespan and high degrees of torque precision.
Founded in 1999, the company has built a solid name as a torque wrench expert among professional buyers from the U.S., Japan and European countries. It can turn out two million units a year. With its products increasingly accepted by professionals, Wu said, the firm is expected to see 20% revenue growth this year.
Machan
Machan International Co., Ltd., Taiwan's biggest tool storage product supplier by size, received a continuous steam of visitors at its booth at Automechanika Frankfurt this year. The company arranged a spacious open booth with its Dutch distributor, Serenco, to promote a complete lineup of BOXO-branded tool storage products, such as chests, roller cabinets and trolleys, as well as various hand tools.
"Exhibiting in cooperation with Serenco at this year's show was a bigger success than we expected," said Machan marketing manager Jessy Chang. "More European buyers are recognizing our brand and giving our products a thumb's-up." Chang said that the complementary combination of Machan's manufacturing prowess and Serenco's marketing expertise is certain to boost recognition of the brand."
Chang noted that his firm's ongoing transformation from original equipment manufacturing (OEM) and ODM to original brand manufacturing (OBM) is gradually paying off. Partnerships with more foreign distributors in Europe, Australia and the U.S. are helping this strategy by ensuring its branded products are marketed properly to meet the preferences of foreign end-users. Top-notch product design, quality and functionality are also wind in the company's OBM sail and testimony to Machan's considerable know-how, R&D acumen and production capabilities.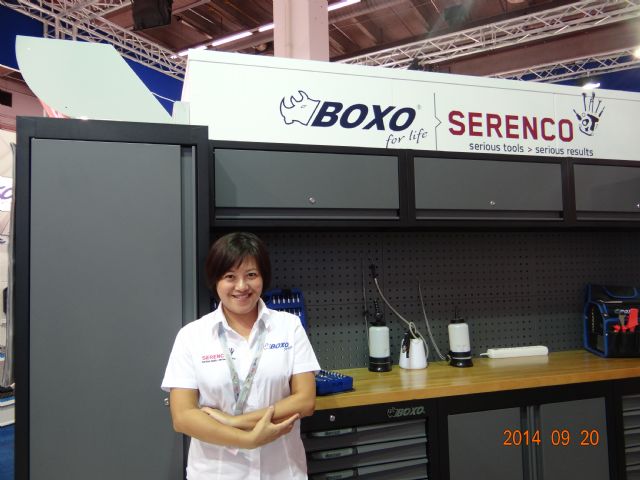 Machan marketing manager Jessy Chang, is upbeat after the positive results of the company's BOXO lineup display with the Netherlands-based Serenco.
Machan's unique two-toned tool trays are made with ethylene vinyl acetate (EVA) foam sheet and highlight efficient tool organization system. The EVA trays have lots of advantages over conventional models, including more consistent quality, firmer tool and accessory grip, and better resistance to oil and chemical corrosion. The two-toned design, with the black tray top surface and blue indentations, is a visually effective way to help users return tools to the right place on the tray.
Chang said that Machan focuses on the segment of specialty tools for auto repair and maintenance, consistent with its branding strategy. The company was picked as a tool supplier to the Polish assembly factories of Opel, Toyota and Ferrari. It is also establishing a full family of specialty tools coupled with related storage systems for each car series, as well as developing virtual distribution channels to access end-user demand.
Machan also unveiled a brand-new modular storage system at the show. The system has a value-added matte surface and compact, Euro-style exterior, as well as excellent expandability to meet a wide range of application needs. The BOXO-branded system further positions the company to tap the professional segment in the European market. "Machan aims to become a total solution provider for tool storage, and will continue to focus on branding to leverage its competitive edge," said Chang.  
A-Kraft
A-Kraft Tools Manufacturing Co., Ltd., a Taiwanese maker of top-caliber OEM hand tools based in Taichung, also promoted its one-stop service at the Frankfurt show, including a complete lineup of sockets, socket accessories and sets, socket wrenches, ratchet handles, combination wrenches, screwdrivers, bit sets, pliers, tool cabinets and tool sets. The company's products are aimed at buyers seeking efficient, all-around manufacturing services.
Louis Chen, the firm's president, said that the company promoted its one-stop shopping appeal to buyers at this year's Automechanika. He said that his company seeks to satisfy its customers' needs for quality assurance, satisfaction, shipment consolidation, online information, competitive pricing, R&D and innovative products. The company provides customers with reliable manufacturing and access to real-time, real-world information through its consummate production capabilities and excellent information management capabilities, Chen said.
A-Kraft supplies foreign buyers a wide spectrum of hand tools made in house and outsourced. It also helps customers source other types of products, serving as a portal to Taiwan's hand tool industry. With time-tested manufacturing know-how and a full line of inspection instruments, the company can also deliver assurances of consistent quality.
A-Kraft also maintains relationships with foreign customers by periodically offering online access to its latest information about new products, delivery and available inventories. "Routine paperwork related on everything from material stocking and manufacturing to pre-delivery inspections, packaging and shipments is all on computer, so we can let foreign customers monitor their orders online 24-hours a day from anywhere in the world," said Chen.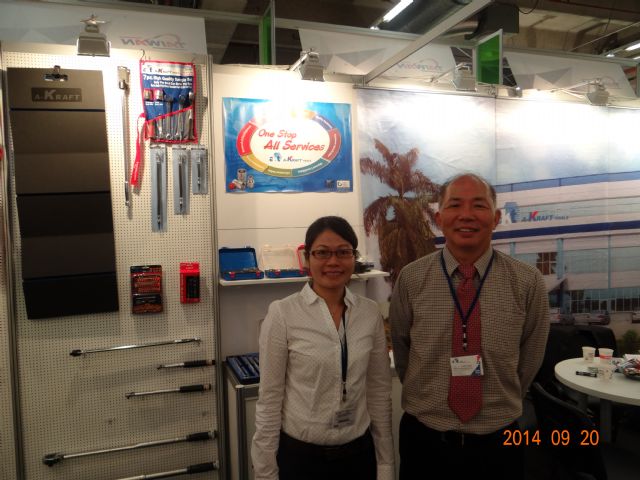 A-Kraft's president Louis Chen (right) promotes the company's all-in-one service, enabled by the firm's excellent e-management system.
A-Kraft uses its information management systems in factory assembly and packaging lines, positioning the company as a logistics center for customers who operates outlets in multiple locations. Chen indicated that his company's assembly and packaging lines are equipped with conveyor belt systems linked to advanced information management systems that can help customers with pre-delivery shipment consolidation and destination arrangement. The logistic operation is also part of the company's one-stop service.
"For years, A-Kraft has earned recognition for its e-management of daily operations and production, with over 95% of routine paperwork having already been fully computerized through enterprise resource planning (ERP) systems and related information management systems," said Chen. "This enables our company to not just better enhance operational efficiency and improve production management, but also to provide customers with an added-value all-in-one service."
Chen said that A-Kraft has also worked on optimizing its production and daily operations, including worker training, to meet customer needs for low-volume, high-mix manufacturing. This production mode is particularly vital to Taiwanese suppliers in the face of growing rivalry from emerging competitors and the increasingly challenging global market. "Since competitors survive by attacking your weaknesses, I think from another viewpoint that low-volume, high-mix production is the only way for most of Taiwanese suppliers to develop sustainably in the future."
On the payoff of the abovementioned efforts, Chen confirmed that his company's performance has increased by 15-20% year-on-year during January-September, and is very likely to see a rosy year in 2014.  
Genius Tools
Tian Fu Industrial Co., Ltd., a specialized supplier of power and hand tools mainly for professionals, demonstrated a wide array of exhibits aimed at boosting the profile of of its "Genius Tools" brand. Products on display included the Dr. Metric Mechanic Tool Set with various storage solutions, mainly targeted at workshops and garages segments.
The tool set series have various options for functional storage, including tool chests, top chests and roller cabinets. Among other storage solutions on display, the roller cabinet, for example, is a safety-driven product, with a safety lock and double brakes in one wheel. Only one drawer can be opened at a time to reduce injury risk. Further, the series come with durable plastic trays that can be customized with different combinations of assorted tools and organizers, helping users to get needed tools more easily and faster.
Terence Tsai, the executive assistant, noted that his company has continuously expanded its portfolio of power tools to sanders, grinders, nail pullers, paint guns spray guns, and many other items. It has also constantly improved the quality and functionality of its hand tools to supply professional users with a wide range of product collections featuring exceptional quality and value-added functions.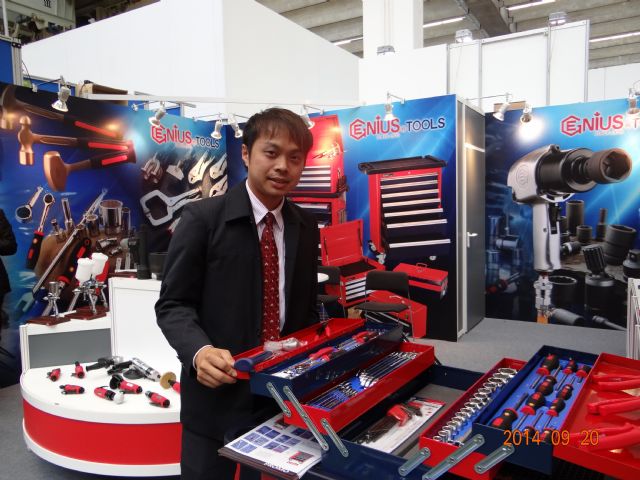 Genius Tools executive assistant Terence Tsai introduces the Dr. Metric Mechanic Tool Set series.
"Over the past years, we have actively promoted Genius Tools in the professional-user segment. Our products have gradually been recognized and accepted by such users for industrial production and construction, thanks mostly to their competitive pricing and great performance," said Tsai. "This achievement has been partly driven by our continuous participation in Automechanika Frankfurt over the past decade."
Genius Tools' products are sold in over 84 countries of the world and widely used in the automotive, hardware, heavy industries, mining, shipbuilding and other manufacturing-related sectors. The company has offices and warehouses in North America, Asia and Europe and an extensive distribution network to ensure on-time delivery and timely service.
Looking ahead, Tsai said that his company will focus more on Argentina, Brazil and other emerging countries in Central and South America in the short term. "We aim to establish a distinct profile as a professional branded supplier of industry-caliber tools through concerted promotions." Tsai said that steady growth in branded sales helped Tian Fu to advance strongly in the first half of 2014. The company expects to finish the year with promising growth.  
Kingtool
Kingtool Co., Ltd., a veteran supplier of auto repair tools, showcased its diesel engine repair kits and other products at Automechanika this year. The company has positioned to meet growing demand in Europe for car services as cash-strapped consumers have been spending more on maintaining older vehicles instead of buying new cars since the outbreak of the debt crisis.
The firm's KA-7191D diesel engine compression tool kit includes a large 2-1/2, 1,000psi gauge with rubber bumper, straight and right angled connect fittings and a variety of glow plug and injector adapters applicable to vehicles from most of world's most popular brands, such as Ford, Toyota, Mercedes Benz, Mazda, Mitsubishi, and Nissan. The kit making is suitable for repairing diesel engines in cars, vans, trucks, buses, vessels and agricultural machines.
Kingtool also received increasing inquiries from eager buyers for its wiper removal tool kits at the venue, confirming expectations of the firm's export manager, Jaymie Chiang, that demand for various auto repair tools would grow this year.
"After years of efforts to venture into specialty tools for auto repair and maintenance, Kingtool has become increasingly well known and respected by buyers worldwide, mostly due to its dedication to offering end-users greater balance of prices and quality," stressed Chiang. The manager emphasized that, while moving upward to higher segments of the global market for tools, Taiwanese suppliers have to satisfy increasingly fussy clients with reasonable, user-friendly prices to secure sustainable growth.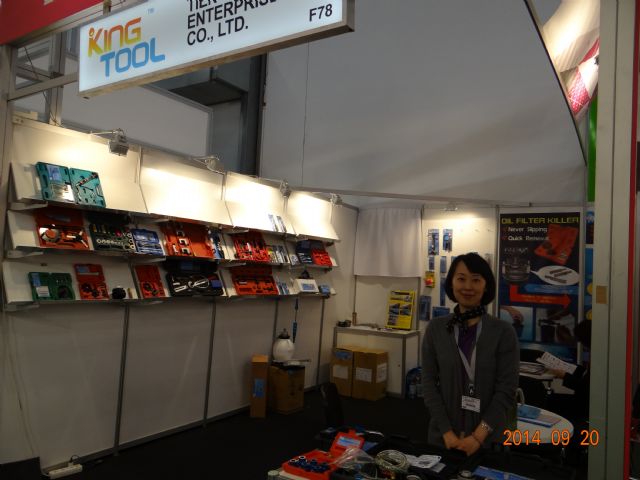 Kingtool export manager Jaymie Chiang noted increased buyer demand for auto repair tools at this year's Automechanika Frankfurt.
Established in 1969, Kingtool supplies a full spectrum of auto repair tools, including engine tools, timing tools, under-car tools, body tools, diagnostic and testing tools, electrical tools, brake tools, specialty sockets, air conditioner tools, insulated tools, and many others, which have been marketed to North Africa, Australia and Japan under its own brand.
After seeing profits significantly grow in 2013, mainly on strong shipments to Europe, Kingtool will begin penetrating the markets in Myanmar, China and other emerging countries in South America in the near future, Chiang said. The company hopes to tap business opportunities from the steady growth of car sales worldwide.
Kymyo
Kymyo Industrial Co., Ltd., a professional pneumatic tool manufacturer founded in 1986, showcased a variety of products at Automechanika this year. The company's Diamond series sanders were particularly sought-after by buyers, according to Stanley Lu, the general manager, who noted an increase in potential buyers at the show.
The Diamond sanders have an ergonomically shaped housing for comfortable grip. They also feature one-hand operation and reduced user fatigue; an innovative bearing seal and retainer that can keep the bearing free of dust while lowering temperature to achieve longer lifetime of the bearing; a specially hardened cylinder of modular cast steel, which has twice the lifespan of ordinary models; and a patented dust-proof structure to enhance dust collection to facilitate maintenance of the tool. For easier maintenance, this sander has a drop-in motor coupled with a high-precision plastic rotor with five composite blades, and a unique, easy-to-disassemble motor shaft balancer, and lubricant-free operation.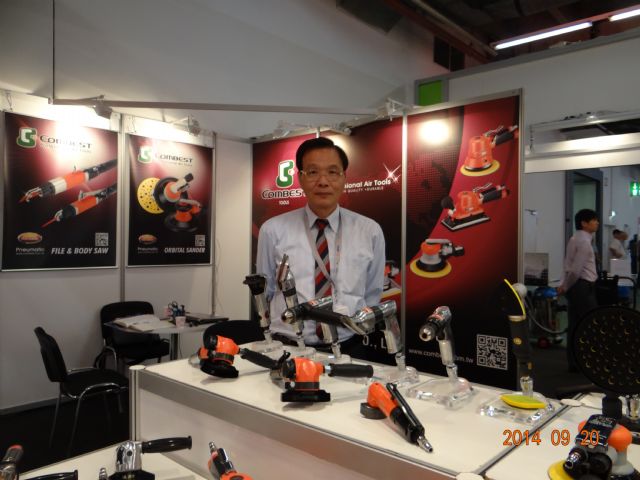 Kymyo general manager Stanley Lu says that the Diamond series sanders attracted intense buyer interest at the show.
Lu said that Kymyo's products have been widely used by professionals for woodworking and auto maintenance, mainly because of their easy maintenance and long lifespan, achieved through professional engineering and use of high-quality parts and components. The company's product line embraces sanders, wheel sanders, belt sanders, saws, drills, screwdrivers, wrenches, riveters, sanding paper and pads and sponge wheels, mostly marketed under its "COMBEST" brand in Asian countries, such as Japan, Korea, China, Vietnam, Malaysia, Thailand and Indonesia.
"Kymyo scored banner growth in the first half of this year, when shipments to Europe, the U.S. and China all surged," said Lu. "In the coming years, our company will focus more on markets in Southeast and Northeast Asia and America, while continuing the R&D for new products to attract customers."  
Kae Dih
Just adjacent to Kymyo's stand was the display of Kae Dih Enterprise Co., Ltd. The firm's high-quality, high-performance vacuum cleaners also attracted strong interest among foreign buyers.
The JS3024T1 vacuum cleaner has a stainless steel drum and 24-liter capacity. It consumes 1,100 watts of power, generates a maximum suction of 2,200 mmH20, and has an air flow of 2.6 cubic meters per minute. The product has an Intelligent Service System (ISS) that can memorize working time and control speed to automatically notify users of the liquid levels. It also has a practically storage system, composed of hooks and holders, for tools, hoses and racks. For better utility, it is equipped with a dust removing system and allows connections to other power tools. The lightweight and compact device is CE-approved and noted for outstanding mobility.
James Tsai, general manager, attributed success of the firm's vacuum cleaners mainly to their exceptional functionality, convenient operation, and ability to meet real-world demand. "Kae Dih is familiar with the market and able to work out marketable, practical products catering to end-users," the general manager said.
Kae Dih general manager James Tsai says that the company's vacuum cleaners are sought-after by professionals for their outstanding performance and convenient operation.
Since its founding in 1983 in Changhua County, central Taiwan, Kae Dih has been devoted to manufacturing and developing vacuum cleaners for residential and industrial use. All of its products are manufactured in line with ISO-9001 requirements. Backed by strong R&D capability, the company can also help customers improve their products for win-win results.
After posting solid growth in the first half of this year, Tsai noted that the company will actively explore new customer segments and continue developing new products. The company will also participate in more exhibitions worldwide to maintain growth momentum in the years ahead.