Justin Su, president of Hotai Motor Co. Ltd., local agent of Toyota and Lexus, recently raised his forecast of overall new-car sales in Taiwan this year to 410,000 units, from 390,000 estimated previously.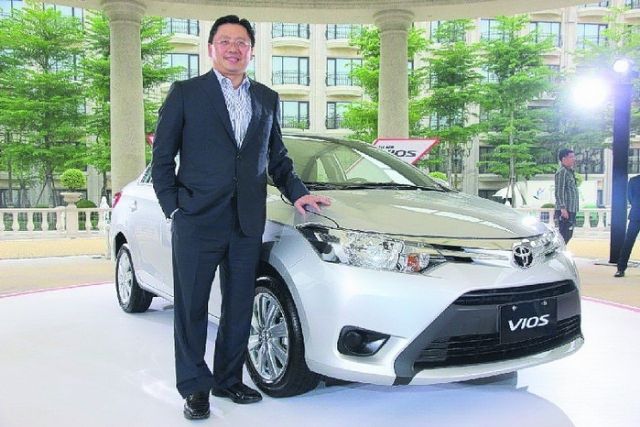 Justin Su, president of Hotai Motor, local agent of Toyota and Lexus. (photo from UDN)
Taiwan's year-end elections for municipal and county councilmen, says Su, will not impact Hotai as much as the other vendors, and may actually drive demand in early 2015.
In contrast, Kenneth Yen, chairman of the Yulon Group, vendor of Nissan, Fuso, Mitsubishi, Luxgen, says the year-end elections will upset new-car sales and forecasts overall new-car sales on the island to stay below  400,000 units, or drop to some 385,000. The executives of  Yulon's other brands are relatively optimistic to forecast the overall volume of about 400,000 units.
Mercedes-Benz Taiwan forecasts  the overall yearly volume to rise a little.
According to Su, Taiwan's car-buying willingness is affected more by the stock-market performance. For most of this year the local market has been bullish to have boosted new-car purchase willingness, with the overall volume to likely climb to maybe 420,000 units without political elections this year.
Statistics compiled by Taiwan's  Ministry of Transportation and Communications (MOTC) show  34,746 new cars sold in Taiwan in September, up 49.9% month on month (MoM), and 20.1% year-on-year (YoY). In the first nine months this year, overall volume totaled 313,756 units, up 15.1% YoY, being only slightly behind  2013's annual total of 378,546 units.
Hotai accounts for about one-third of Taiwan's new-car sales volume of Toyota and Lexus. In the first half, strong demand for luxury imports as Lexus has clearly ramped up the overall market. In conjunction with Su's optimism toward the overall market, Hotai has raised its targeted sales volume of Lexus to 13,000 units, from 11,000, and as many as 140,000 new Toyotas and Lexus this year, a new record since 2005.
Hotai recently demonstrated its newly imported Lexus NX300h hybrid, having booked per-launch  firm orders for 650 units, more than half of the model's annual  quota of 1,200 units. Hotai is very optimistic about achieving record high annual sales volume, driven by hot sales of its restyled Toyota Altis, Vios, Yaris, as well as  Lexus imports.