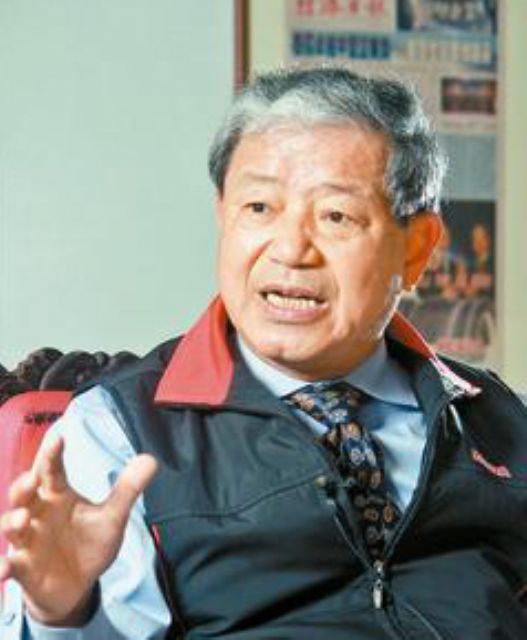 Yang Yin-ming, chairman of Kenda, a major tire maker headquartered in Taiwa. (photo from UDN)
Yang Yin-ming, chairman of Kenda Rubber Ind. Co., Ltd., a major tire maker headquartered in Taiwan, recently said the company plans to accelerate  business deployment in the Association of Southeast Asian Nations (ASEAN) market to take advantage of booming motorcycle and bicycle sales.
Kenda plans to pour US$100 million to build a factory in Indonesia and is looking for a suitable locale for its first factory in that country, said Yang.
The Taiwanese tire maker is also scheduled to kick off a capacity expansion at its existing factory in Huizhou, Guangdong Province, China in 2015 for about US$100 million, with the plant focus on producing bicycle, motorcycle, and industrial tires.
The decision to set up the Indonesian factory is based on the country's rapid economic development, large domestic demand, and relatively low production costs, especially after the sharp depreciation of the rupiah. The chairman added that Kenda plans to buy a 30-hectare site in the Jakarta area for the plant, which will initially focus on bicycle and motorcycle tires but may expand to passenger car radial (PCR) tires, said Yang at a bicycle industry forum about future development trends globally, where the speakers included King Liu, chairman of the Giant Manufacturing Co., and Ike Tseng, chairman of the Merida Industry Co.
Global demand for assembled bicycles is about 100 million to 130 million a year. The European and U.S. markets are mature and have stagnant demand, while Asia and emerging markets in other areas show strong growth trend, said Yang.
Giant's Liu said that in oder to further consolidate his company's global lead as well as further strengthen development of the bicycle industry in Taiwan, Giant will kick off construction of its global operations headquarters and R&D center in the Central Taiwan Science Park (CTSP) next year.
Yang also suggested that assembled-bicycle manufacturers should strengthen R&D and marketing of mid-level products, and more aggressively develop business in Asia and other emerging markets. The European Bicycle Manufacturers Association (EBMA), he said, has confirmed plans to propose anti-dumping tariffs on bicycles from China, Indonesia, Malaysia, Sri Lanka, and Tunisia, to expected to last until June 2019, which should provide temporary relief for Taiwan's bicycle industry amid fierce global competition.
Kenda's Major Investment Plans
Location

Huizhou, China

Kunshan, China

Jakarta, Indonesia

Investment

US$100 million

US$33.3 million

US$100 million

Products

Motorcycle, bicycle, and industrial tires

Truck and bus radial (TBR) tires

Motorcycle and bicycle tires in initial stage

Scheduled Start of Construction

2015

Q4, 2014

2015

Source: Kenda