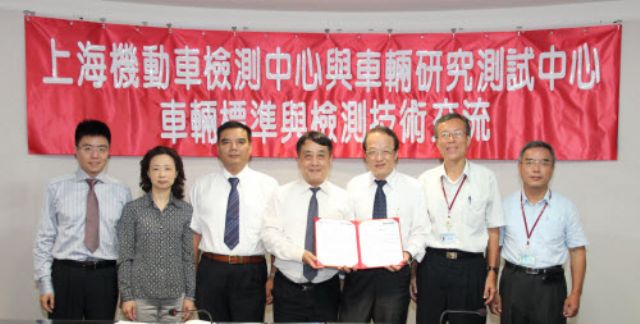 J.R. Huang (fourth from left), director of China's SMVIC, and Joe Huang (fifth), president of ARTC in Taiwan, pose after signing MOU for cooperation in new-energy vehicle standards and testing. (photo from ARTC)
Technicians of the Automotive Research & Testing Center (ARTC), a transportation vehicle testing and R&D body in Taiwan, and Shanghai Motor Vehicle Inspection Center (SMVIC), a national-level integrated motor vehicle inspection body in China, met for the second time in Taiwan at a technical forum held recently to jointly map out standards by the end of 2014 for electric scooters (e-scooters) for Taiwan and China.
To set up and promote standards for electric vehicles (EVs), a standard-setting platform was established in mid-2013 under a cross-strait standards, metrology and inspection cooperation plan between Taiwan and China, with its first task targeting e-scooters.
Commissioned by the General Administration of Quality Supervision, Inspection and Quarantine (AQSIQ), SMVIC was assigned to map out EV-related standards in partnership with ARTC, which was commissioned by the the Bureau of Standards, Metrology and Inspection (BSMI) under Taiwan's Ministry of Economic Affairs (MOEA). ARTC says that bilateral experts gathered to discuss standards to be the reference for market management in Taiwan and China.
TES in Taiwan
Taiwan kicked off an e-scooter industry development project in 2009, with the MOEA then having begun to map out the TES (Taiwan E-Scooter Standard) to regulate e-scooter, lithium-ion battery pack for e-scooters, and onboard charging system, as well as tapping related institutions and organizations on the island for their ample know-how and expertise in such regulations. Both the Taiwanese government and local governments have been  subsidizing e-scooter purchases. The current TES is adopted by Taiwan and China.
According to ARTC, the first-stage cooperation between ARTC and SMVIC this year focuses mainly on common standards for e-scooter cruise range, power consumption, and residual power display etc., with the e-scooter task group to work on lithium-ion battery charging.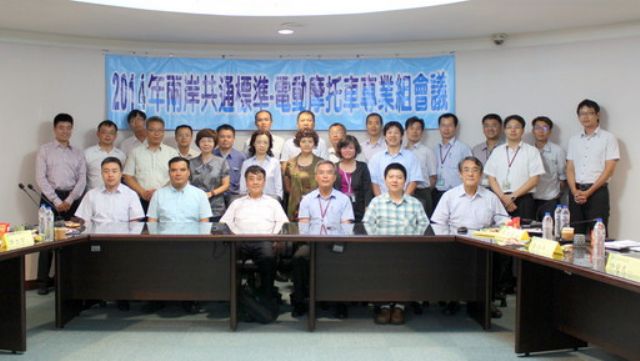 The e-scooter task group in Taiwan attended by ARTC and SMVIC representatives. (photo from ARTC).
The ARTC says it has long-term friendship with SMVIC, and that the cooperation memorandum of understanding (MOU) signed with SMVIC is expected to bring closer cooperation and exchange with joint efforts to map out the e-scooter standards, while gradually expanding cross-strait partnership in traditional vehicle testing, inspection, and certification, as well as new-energy vehicle technological exchanges, and the longer-term goal being the joint development of e-scooter markets and industry in Taiwan and China.
ARTC and SMVIC at the latest forum exchanged views on electro-magnetic compatibility (EMC)-related fields, with the two parties agreeing to further engage in technical exchanges related to executing details, result evaluation, to minimize bilateral differences in e-scooter test results.
ARTC has been playing a major role to help local automotive industry develop key parts and systems, certify product, improve product quality and functionality etc., as well as being a key bridge for bilateral motor-vehicle industry exchanges, also claiming to continue to support local industrial upgrading.