The Taiwan-based China Economic News Service (CENS), a leading media company offering print and online information on the automotive, motorcycle, machinery, hand-tool, hardware, and other industries, recently announced that it will lead an exhibitor group consisting of 120 Taiwanese auto-parts suppliers to Las Vegas for the 2014 Automotive Aftermarket Products Expo (AAPEX) on Nov. 4-6 and the 2014 Specialty Equipment Market Association (SEMA) show on Nov. 4-7.

At the two shows, CENS will provide global buyers with the services they need to help them get the most comprehensive information on targeted Taiwanese suppliers, whether at the exhibition sites or in Taiwan.

TTG Magazine
 
The September 2014 issue of the Taiwan Transportation Equipment Guide (TTG), the largest, longest-running, and most influential sourcing guide on automotive product and service suppliers in the Greater China area, will be traveling to the 2014 AAPEX and SEMA shows together with CENS representatives to promote trade between Taiwanese suppliers and buyers worldwide.

CENS emphasizes that it looks forward to meeting and serving international buyers, exhibitors, and other interested parties at the upcoming shows, with exhibition booths offering practical information on key events and subscription services.

To help buyers who urgently need products from Taiwanese suppliers, CENS staff at the AAPEX and SEMA shows will immediately relay buyers' inquiries to CENS headquarters in Taiwan for match-making using the company's data bank of suppliers on the island.

AAPEX 
AAPEX caters to the US$477-billion global motor vehicle aftermarket, and more than 130,000 professionals from around the globe will participate in Automotive Aftermarket Industry Week in Las Vegas. Its organizer notes that AAPEX provides a connection to automotive aftermarket industry leaders and innovators, all in one place. Automotive parts wholesale distributors, retailers, service chains, jobbers, and service professionals will all be there.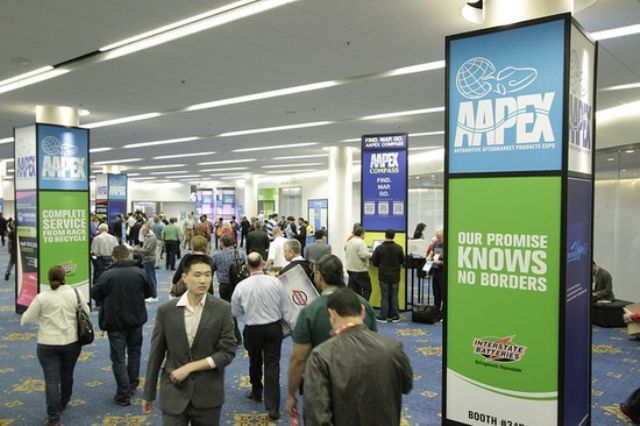 Global buyers crowd 2013 AAPEX. (photo courtesy AAPEX)
Manufacturers and suppliers attending AAPEX will be divided into these categories: Air Conditioning, Automotive Lighting, Electrical Systems & Batteries, Cooling Systems, Friction & Brake Systems, Undercar, New & Remanufactured Replacement Parts, Suspension & Front End, Engine & Transmission Parts, Chemicals and Functional Fluids, Equipment & Tools (Including Diagnostic, Hand Tools, Machine Shop, and Service & Installation), Computer Systems & Software, Paint and Body, and Retail Warehouse Fixtures.
AAPEX 2014 will be held on Tuesday, Nov. 4 through Thursday, Nov. 6, at the Sands Expo facility in Las Vegas, with nearly 2,400 exhibitors and approximately 5,000 booths.
CENS booth: 8220
.
SEMA
The SEMA Show is the world's premier trade event for automotive specialty products, drawing the industry's brightest minds and hottest products to one place, the Las Vegas Convention Center. In addition, the show provides attendees with educational seminars, product demonstrations, special events, networking opportunities, and more.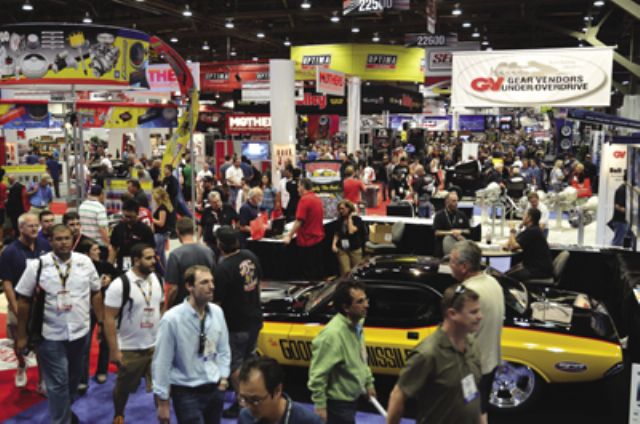 The SEMA Show is the world's premier trade event for automotive specialty products. (photo courtesy SEMA)
This year's SEMA Show will be divided into 12 sections: Business Services, Collision Repair & Refinish, Global Tire Expo Powered by TIA, Hot Rod Alley, Mobile Electronics & Technology, Powersports & Utility Vehicles, Racing & Performance, Restoration Marketplace, Restyling & Car Care Accessories, Tools & Equipment, Trucks, SUVs & Off-Road, and Wheels & Accessories.
CENS booth: 32237.