The rapidly changing market for electric vehicles (EVs), including hybrids (HEVs), plug-in hybrids (PHEVs), and battery electric vehicles (BEVs), is a small but growing part of the global automotive industry. Keen to see increasing usage of EVs due to environmental, economic, and energy-security benefits derived, governments encourage  automakers to develop EVs and also provide incentives for buying such green vehicles.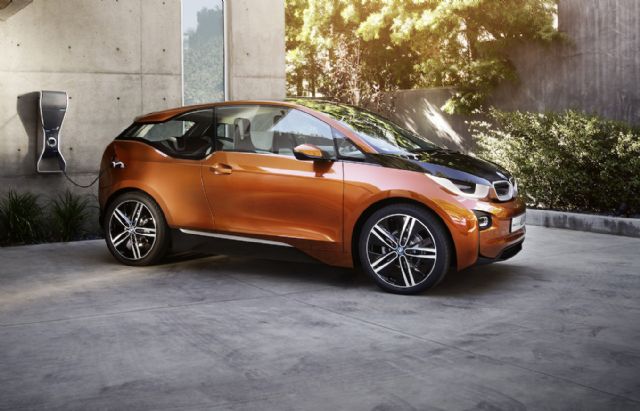 German carmaker BMW officially announced the all-electric i3 in 2013. (photo from BMW)
According to a new report from Navigant Research, plug-in EVs (which include PHEVs and BEVs), are expected to make up 2.4% of global light-duty vehicle (LDV) sales by 2023.
"The EV market is in a state of flux," says Scott Shepard, research analyst with Navigant Research. "Plug-in EV markets are expanding rapidly, and are set to grow much more quickly as several major automakers are slated to introduce vehicles in the high-volume SUV segment."
At the same time, according to Navigant Research, luxury brands, which have benefited in recent years from increased interest from the developing markets of Asia Pacific, have committed more strongly to plug-in EV platforms. This is expected to increase global sales of plug-in EVs dramatically in the near term. Sales of plug-in EVs from upscale carmakers as Tesla, Mercedes-Benz, Audi, and BMW are expected to grow significantly through 2018 before leveling off at around 50% of the plug-in EV market, the firm's report concludes.
Li-ion Battery Revenue Up
Automakers have yet to agree on battery performance standards, but Navigant Research says that Lithium ion (Li-ion) batteries have emerged as the leading battery technology for a wide variety of applications, including mobile devices, grid-scale energy storage, and EVs. Driven by rising market development of plug-in EVs, the market for automotive Li-ion batteries is expected to expand rapidly over the next 10 years, with BEVs creating the largest share.
Worldwide revenue from Li-ion batteries for all consumer EVs is forecast to grow from US$5.7 billion in 2014 to US$24.1 billion by 2023, with BEVs accounting for US$15.1 billion of that total, according to Navigant Research.
"The capabilities of Li-ion batteries have overtaken other technologies in most electrified light duty transportation applications. They are up to 95 percent efficient and  have potential lifespan of 20 years, and costs could be reduced significantly in high-volume production in the coming years," says David Alexander, senior research analyst with Navigant Research.
One challenge for suppliers of Li-ion batteries, according to the research firm, is that automakers have not yet agreed on battery performance standards. Almost every vehicle manufacturer uses its own battery pack specification to customize products for individual buyers, which stops manufacturers from optimizing production facilities.