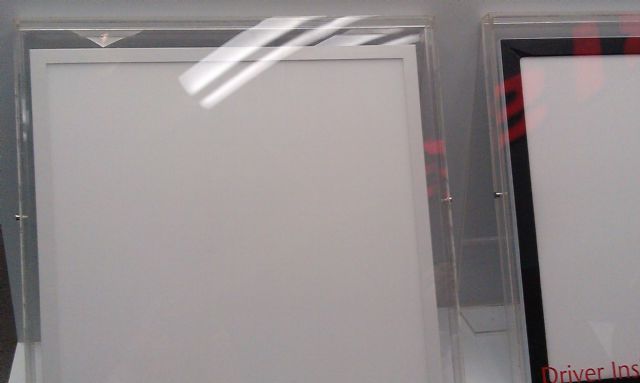 The Lextar panel light has a one-piece frame.
Lextar Electronics Corp. rolled out a unique LED panel light with a seamless aluminum frame at the Autumn edition of the Hong Kong International Lighting Fair 2014, which was held on Oct. 27-30.
Unlike most LED panel lights available on the market, the Lextar light is equipped with a one-piece aluminum frame which provides a smooth exterior. The panel, which is designed mostly for pendant applications, has been patented.
The company is currently Taiwan's only LED maker with an integrated manufacturing capability encompassing almost every production process, from epi-wafer and chip making to module and lighting fixture production. It is owned by the electronics manufacturer BenQ Corp.
Although it has a built-in power driver, the panel light is only eight millimeters thick. Lextar executives reported that the light drew intense attention from buyers at the show, especially from earthquake-rattled Japan and the West, because its smooth exterior and light weight make it less dangerous should it fall in an earthquake.
According to company executives, the seamless-frame lighting fixtures come in 34W and 50W models that generate 3,200 to 5,000 lumens of light. For all of the white-light LED lighting fixtures, the color rendering index (CRI) is 80. The fixtures emit a comfortable light intensity with a glare index under 19.
Already recognized as Taiwan's No. 1 supplier of LED panel lights, Lextar is likely to continue prospering since the market for panel lights is promising as incandescent lights are increasingly replaced with LEDs.
The company has integrated Internet technology into some of its high-end panel lights, enabling users to control the lights using their smart phones. (KL)