Driven mainly by sales increase of imported cars again, overall new-car sales in Taiwan climbed 6.6% year-on-year (YoY) in October to 34,327 units, but down 1.2% from 34,746 units in the previous month, according to statistics compiled by Taiwan's Ministry of Transportation and Communications (MOTC).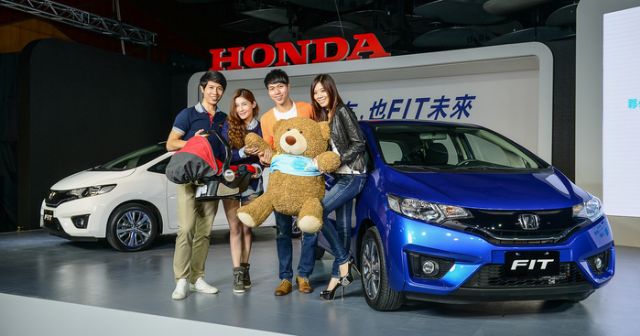 Launch of the Honda Fit subcompact helps Honda Taiwan gain a 33.6% YoY increase in October sales. (photo from UDN)
Three of the top-five auto brands, all of which sell mainly locally assembled vehicles, saw month-on-month (MoM) shipment drops, a rare phenomenon. Many imported brands, driving H2 sales in Taiwan, enjoyed sales gains in October. Imported cars have won  over-30% market share in the past three straight months, also rarely seen in the domestic market.
The top-two import brands in Taiwan, Mercedes-Benz and BMW, retained YoY sales increases of 4.0% and 22.9%, respectively, in October; while Volkswagen (VW) saw 82.5% YoY sales increase in the month due to inventory clearance. The German automaker has set up a fully owned Taiwanese subsidiary to start up early 2015, and the  current distributor is clearing  inventory by providing incentives.
Many auto vendors forecast slowing Q4 new-car sales due to the uncertainties from the combined political elections in year-end, with most believing overall new-car sales in Taiwan to hit a nine-year high exceeding 410,000 units in 2014.
Hotai Motor Co. Ltd., local agent of Toyota and a major vendor in Taiwan, retained its lead in October by selling 11,531 new cars, a 6.2% YoY increase to take market share of 33.6%. China Motor Corp. (CMC), in partnership with Mitsubishi, overtook its affiliate Yulon Nissan Motor Co. (Nissan brand), to take the No. 2 by a minor volume lead of less than 200 units, by selling 3,421 units, down 4.5% YoY. Yulon Nissan delivered 3,255 new cars, a 8.3% YoY drop.
Driven by launch of the New Honda Fit subcompact, Honda Taiwan Motor Co. sold 2,451 new cars, up 33.6% YoY to take market share of 9.5% to return to the No. 4. Ford Lio Ho Motor Co.'s (Ford brand) October sales fell 19.1% YoY due to shortage of some models will  shift from local production to importing.
Top-10 Car Vendors' Sales in Taiwan (Jan.-Oct., 2014)
Vendor/Brand

Oct. Volume

YoY

Share

Jan.-Oct. Volume

Hotai Motor / Toyota

11,531

6.2%

33.6%

113,261

CMC / Mitsubishi

3,421

-4.5%

10.0%

37,041

Yulon Nissan / Nissan

3,255

-8.3%

9.5%

39,776

Honda Taiwan / Honda

2,451

33.6%

7.1%

19,009

Ford Lio Ho Co. / Ford

1,912

-19.1%

5.6%

19,869

M-B Taiwan / Mercedes-Benz

1,699

4.0%

4.9%

15,760

Pan German/ BMW

1,630

22.9%

4.7%

13,229

Taikoo / Volkswagen

1,347

82.5%

3.9%

11,250

Sanyang / Hyundai

1,226

1.9%

3.6%

13,070

Luxgen / LUXGEN

1,109

98.0%

3.2%

14,574

Overall

34,327

6.6%

100%

348,083

Source: MOTC