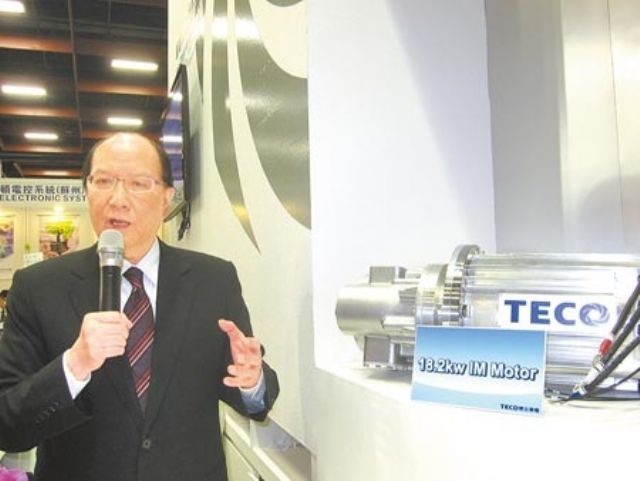 Teco President C.K. Liu introduces his group's EV motor at the 2014 Taipei Int'l Auto Parts & Accessories Show. (Photo from UDN)
Teco Group, a leading electro-mechanical and home-appliance conglomerate in Taiwan, recently announced that it is accelerating plans to set up an electric vehicle (EV) factory in the Philippines.
The group said previously that it would invest about US$10 million to set up an EV production base in the Philippines with monthly production capacity of 200 electric jeepneys and 500 electric tricycles initially.
Teco is scheduled to deliver the first batch of 14- and 21-seat electric jeepneys to the largest fleet operator in Manila, capital of the Philippines, by the end of 2014. The fleet operator has signed an agreement with Teco to purchase 1,000 electric jeepneys per year. In addition, Teco has tied up with the top three powered two-wheeler (PTW) distributors in the Philippines to develop local sales of electric tricycles (e-trikes), with estimated annual volume of some 5,000 units.
Teco has no intention to face off directly with international players such as Tesla, BMW, Toyota, Honda and Nissan. By focusing on its core expertise in motor and electrical control systems, the group opted to concentrate on developing special-purpose EV products to test the waters in the EV business.
Prior to the Philippine EV venture, Teco had won a tender to supply 800 special-purpose utility EVs to the Xiluo Agriculture Market.
The Taiwanese group landed a 1,000-unit annual order with the largest jeepney fleet operator in Manila in early 2014. It recently claimed that it has successfully developed its second 21-seat e-jeepney model, but the client has required some additional equipment, including hydraulic steering and suspension systems. Teco is scheduled to complete the third 21-seat e-jeepney prototype model in mid-November and ship the first 50 units such by the end of the year.
A manager of Teco's EV business pointed out that some 3.5 million 2-stroke, gasoline-powered tricycles are being operated in the Philippines as short-distance taxis, including about 350,000 in the Manila region. Jeepneys are modified American military jeeps with used Japanese diesel engines. Every day about 70,000 to 80,000 Jeepneys run in urban Manila, with about 4.6 million persons riding Jeepneys daily in the Philippines.
To cut air pollution in the Philippines, the Asian Development Bank (ADB) is providing US$300 million towards a groundbreaking project that will replace 100,000 gasoline-burning tricycles with clean, energy-efficient e-tricycles. Teco has entered the final-stage e-trike replacement government bid, rivaling Korean and Japanese counterparts. Teco Group Chairman Theodore Huang visited the Philippines in early 2014 to introduce the company's e-trikes, including 3+1-seat, 6+1-seat, and 14-seat models to ADB representatives and Philippine government officials.
The e-trike project in the Philippines had been slowed by the US$5,000 to US$6,000 price tag of the vehicles, which was too expansive for some regional governments in the Philippines. Teco responded by forming a partnership with major PTW distributors in the nation to jointly develop affordable e-trike sales. In the initial stage, Teco said, the Filipino PTW distributors are scheduled to purchase up to 5,000 such vehicles per year. They hope Teco will set up an assembly plant in the Philippines to reduce import tariffs.
Teco believes that the PTW-distributor partners can provide both sales channels and bank loans for the e-trike models. The Taiwanese group is therefore scheduled to set up an EV assembly plant in the Philippines by the second quarter of 2015 to make various EV models.