Delta Products Corp. of Taiwan-based Delta Group, the global leader in power and thermal management solutions, recently unveiled its new smart electric vehicle (EV) charging technology, targeting large scale deployment of smart charging systems at low cost.

The demonstration, held at the Detroit headquarters of DTE Energy, a diversified energy company, was attended by representatives from the U.S. Department of Energy (DOE), National Labs, DTE, kVA, and many international automakers such as Mercedes-Benz, GM, Ford, Chrysler, Nissan, Toyota, as well as global automotive tier-1 Bosch. DTE Energy, a project partner, also presented their advancements and projections on smart EV charging.

Delta said that its smart-grid-capable EV chargers have communication capabilities and a site management system that enable them to prioritize and optimize EV charging activities of a group of EV and Plug-in Hybrid EV (PHEV) workplace charging stations based on utility energy profiles. The smart-charging system will help utilities to reduce infrastructure costs and manage load during peak hours. It will also benefit consumers by taking advantage of off-peak electricity rates for EV charging. Delta leveraged its knowledge in advanced power electronics technology to develop the energy-efficient solution for EV/PHEV power charging and energy conversion, including external EV chargers, site management systems, on-board chargers and DC-DC converters.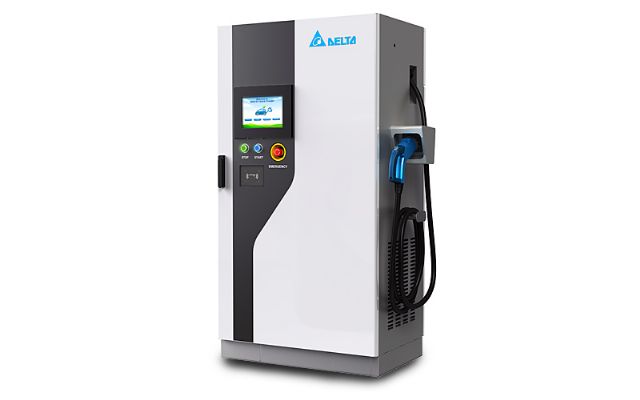 Delta's DC quick charger for EVs (Photo from Delta)
In partnership with DTE, Delta has deployed 24 smart-grid-capable charging stations in the MGM Grand parking garage adjacent to DTE Energy headquarters, making it the largest cluster of smart-grid-connected charging stations in Michigan. The chargers are available for use by DTE employees and MGM guests.
"The cooperation with Delta has been outstanding in this DOE project," said Vince Dow, DTE Energy vice president for distribution engineering. "By the end of 2015, we hope to show how clusters of charging stations such as the one in this project, can be reliable adjuncts to the electric grid."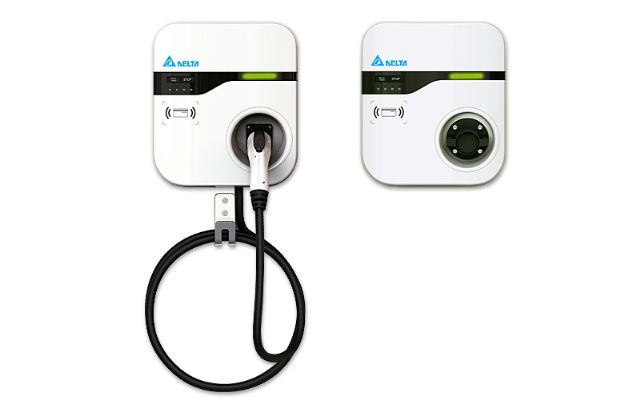 The company has also developed an AC charger. (Photo from Delta)
"We are thrilled to work with the DOE, DTE Energy, Mercedes Benz, and kVA on this research project," said M.S. Huang, president of Delta Products. "The achievement of smart EV charging technology aligns with Delta's mission to provide innovative, clean, and energy-efficient solutions for a better tomorrow."
The advance of EV charging is a major milestone of a three-year DEO program that Delta joined in 2012. Delta has achieved considerable results in the global EV charging market, including a quick charging solution installed at Hong Kong International Airport, direct current quick chargers and site management system (SMS) installations for a major utility company in Thailand, and EV charging stations at Sun Moon Lake in Taiwan.
According to Delta, DTE Energy is a Detroit-based diversified energy company involved in the development and management of energy-related businesses and services nationwide. Its operating units include an electric utility serving 2.1 million customers in Southeastern Michigan and a natural gas utility serving 1.2 million customers in Michigan. The DTE Energy portfolio also includes non-utility energy businesses focused on power and industrial projects, natural gas pipelines, gathering and storage, and energy marketing and trading.