Wang Wen-chao, a member of the Group Administrative Office of Formosa Plastics Group (FPG), Taiwan's leading manufacturing conglomerate, recently announced that FPG is planning to set up an automobile assembly plant in Taichung, central Taiwan, to locally produce two light-truck models, the IVECO Daily, in 3.5- and 7-ton versions.

Formosa Plastic Transportation Corp. (FPTC), a FPG affiliate, won the Taiwanese agent right of leading European light-truck brand IVECO in 2013. FPG is also the local agent of DAF heavy-duty trucks from the Netherlands.

FPG has been developing its automotive business for years. Three FPG affiliates jointly set up Formosa Automobile in 1998 with a capitalization of NT$1.5 billion (US$50 million) and bought the Tatu plant from Sanfu Motors Industrial Co., Ltd., the former local producer of Renault passenger cars, in 1999. Formosa Automobile bought the production rights for the Magnus four-door sedan and Matiz mini-car models from Daewoo and introduced the locally made cars in 2000 and 2001, respectively, under its own Formosa logo. However, Formosa Automobile withdrew from the passenger-car production business in 2004 due to meager sales.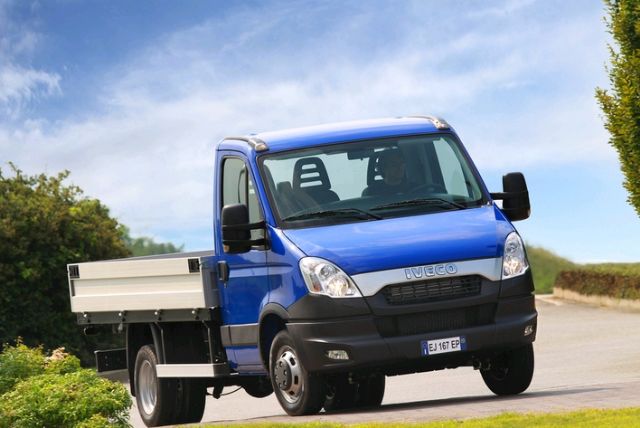 FPTC plans to locally assemble the IVECO Daily light trucks. (Photo from IVECO Taiwan)
According to Wang, FPTC is importing the 3.5- and 7-ton IVECO Daily trucks to give local consumers a greater choice of high-quality, safe, high-load, and comfortable light commercial trucks other than Japanese makes and models. Founded in 1975, IVECO is a commercial-vehicle joint venture between five European automakers, including Fiat, Lancia, Magirus, OM and UNIC. Its Daily series light trucks have been welcome by global users with an accumulated global sales volume of more than 2.6 million units in the past 35 years, making it the most popular series of its kind in the European truck market.
To further promote sales of IVECO Daily light trucks, FPTC aims to win the local production rights, making Taiwan the first Asia-Pacific production base for IVECO.
S.K. Chen, chairman of FPTC pointed out that the IVECO Daily has a large cargo space and high loading capacity. In addition, the vehicle frame is made of high-strength steel that is highly durable and reliable under heavy loads.
As the local agent of DAF trucks, FPTC has sold about 2,000 heavy-duty DAF trucks in Taiwan, including about 1,000 units delivered in the past two years, making the Dutch truck brand No. 1 in domestic two- and three-axle truck segment. DAF trucks now have a 16% market share in Taiwan, and accumulated sales volume on the island is expected to reach some 5,000 units by 2016.
Currently, FPTC sells FTG, FT, FAR series DAF trucks. It will also soon introduce the first hybrid heavy-duty truck model, the DAF LF Hybrid, to Taiwan.
To match the business development of affiliate Formosa Lithium Iron Oxide Corp. (FLIC), a lithium-ion power cell maker of the same group, FPTC plans to import a pure-electric DAF 12-ton truck. It expects the advanced truck model to gain popularity with domestic buyers within next five years. In 2014, FPTC successfully developed a hybrid garbage truck (with electric trash compressor), the first vehicle of its kind in Taiwan, with local technical partners.